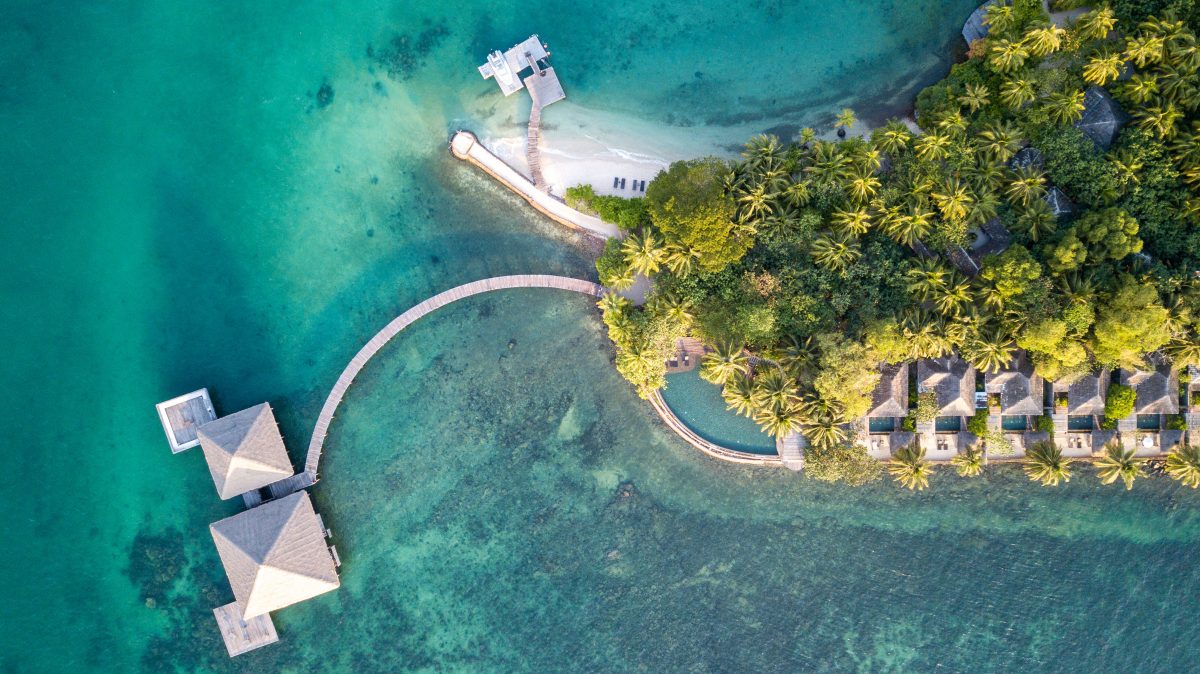 18 Jul

Song Saa Private Island Introduces "Journeys of Change"
4-Night Stay Package Celebrating 10 Years of Sustainable Luxury Tourism in Cambodia
Song Saa Private Island and Foundation is celebrating its ten-year anniversary of pioneering work in sustainable luxury tourism with the launch of a unique, soulful 4-night escape stay package, 'Journeys of Change'.
"I am thrilled to celebrate this significant 10-year milestone for Song Saa Private Island and the Foundation," said Melita Koulmandas, Founder and CEO of Song Saa Collective. "We designed 'Journeys of Change' to create guest experiences that redefine luxury travel and stimulates deep connections the self, with others, and the world around us.
The package reflects our own 10-year journey of change, as a leader in developing wellness and sustainability practices that are grounded in local culture and community-led initiatives."
"Journeys of Change" – Package Overview
Inspired by a passion for Cambodia and a deep commitment to sustainability, Song Saa Private Island has become a leading destination for luxury travelers seeking an intimate escape that embraces nature, conservation and social mindfulness.
"Journeys of Change", is a one-of-a-kind stay experience designed for travellers seeking a deeper connection to the world, desiring to understand their personal impact while embracing ethical and responsible travel.
A Song Saa Journey Curator will curate each guest's stay to their unique interests and preferences, including personalised wellness offerings, immersive biodiversity and conservation experiences, cultural expeditions, and socially mindful initiatives.
Details of Package
"Journeys of Change" invites guests to indulge in the ultimate curated island escape, beginning the experience with an inspiring Discovery Guidebook designed to help create a truly bespoke and memorable journey before arrival. A dedicated Song Saa Journey Curator will craft a tailored itinerary, allowing guests to immerse fully in the region's inspiring transformation, compassionate local culture and rich biodiversity through its range of services and experiences.
The package offers a minimum of 4-night stay in one of the resort's One Bedroom Jungle Villa on all- inclusive basis where house wine, beers, and cocktails are available to enjoy while relaxing in the villa. Guests are also welcome to extend their stay by adding additional nights or to upgrade to a higher villa type with an additional supplement. With a focus on creating space for tranquility, the package includes three 90-minute spa treatments per person, providing an opportunity for complete relaxation and rejuvenation. A one-hour private yoga session as well as a traditional blessing ceremony by a local monk further encourage moments of restful contemplation on the island.
The 4-night package starts from USD7,050. Available to book from now until 31st October 2023 for a stay period valid until 31st October 2024. (Black-out dates apply) – Click here for more.
Personalised Experiences
[Feed the Soul and Nurture the Body with Personalised Wellness]
The resort's transformative offerings are designed to help guests connect with nature and find inner peace, drawing inspiration from the Buddhist traditions of metta bhavana. During "Journeys of Change", guests will be assisted by a Journey Curator, an onsite personal wellness guide to find the perfect light for meditation in the island's captivating landscapes or the ideal moment for an invigorating swim. Song Saa Sanctuary, comprised of several private treatment rooms positioned spectacularly in the island's rainforest and along the water's edge also provides a sacred and gentle space for guests to indulge, rejuvenate and reconnect with their inner spirit.
[Explore the Marine World with Song Saa Immersive Biodiversity Experiences]
Guests will experience moments of discovery as they immerse themselves in the world of conservation in one of the most beautiful and biodiverse places on earth. A sunset cocktail with the Foundation team will provide guests with a unique opportunity to learn about how Song Saa created initiatives, such as establishing Cambodia's 1st Marine park more than 15 years ago.
For a more hands-on experience, guests can accompany the marine biologists on their expeditions to explore coral reefs or help map and preserve seagrass to gain a newfound appreciation for the intricacies of marine conservation. Reef cleans, a highlight of the Foundation's engaging work, is also available for guests who want to get directly involved with their conservation efforts.
[Embark on Sustainable Travel Journey]
As a leading retreat pioneering sustainable travel to Cambodia, guests staying with "Journeys of Change" will have the opportunity to take part in eye-opening natural or cultural expeditions led by the Song Saa Foundation. The "Sala Song Saa" experience allows guests to join the Conservation team for a tour to Prek Svay village on the neighboring island to observe the Foundation's efforts in supporting the local community.
Guests can also venture out on the Boat of Hope or participate in the Library of Hope, initiatives are crucial in carrying essential services into local villages across the archipelago. This transformative experience offers guests valuable insights into the way local communities interact with their environment and the significance of a sustainable relationship between humanity and nature.
About Song Saa
With its dedication to sustainability and eco-tourism, Song Saa Private Island has been honoured with many prestigious recognitions including Condé Nast Traveler's Gold Standard, Condé Nast Traveler's World's Best Resort Hotel, National Geographic's Leaders in Sustainable Tourism and Winner of the Eco Award. A unique destination perfect for travelers who want to make a positive impact while enjoying an ultimate escape embracing nature and sustainability, the ethical luxury resort welcomes guests to join in celebrating this milestone for an unforgettable experience.