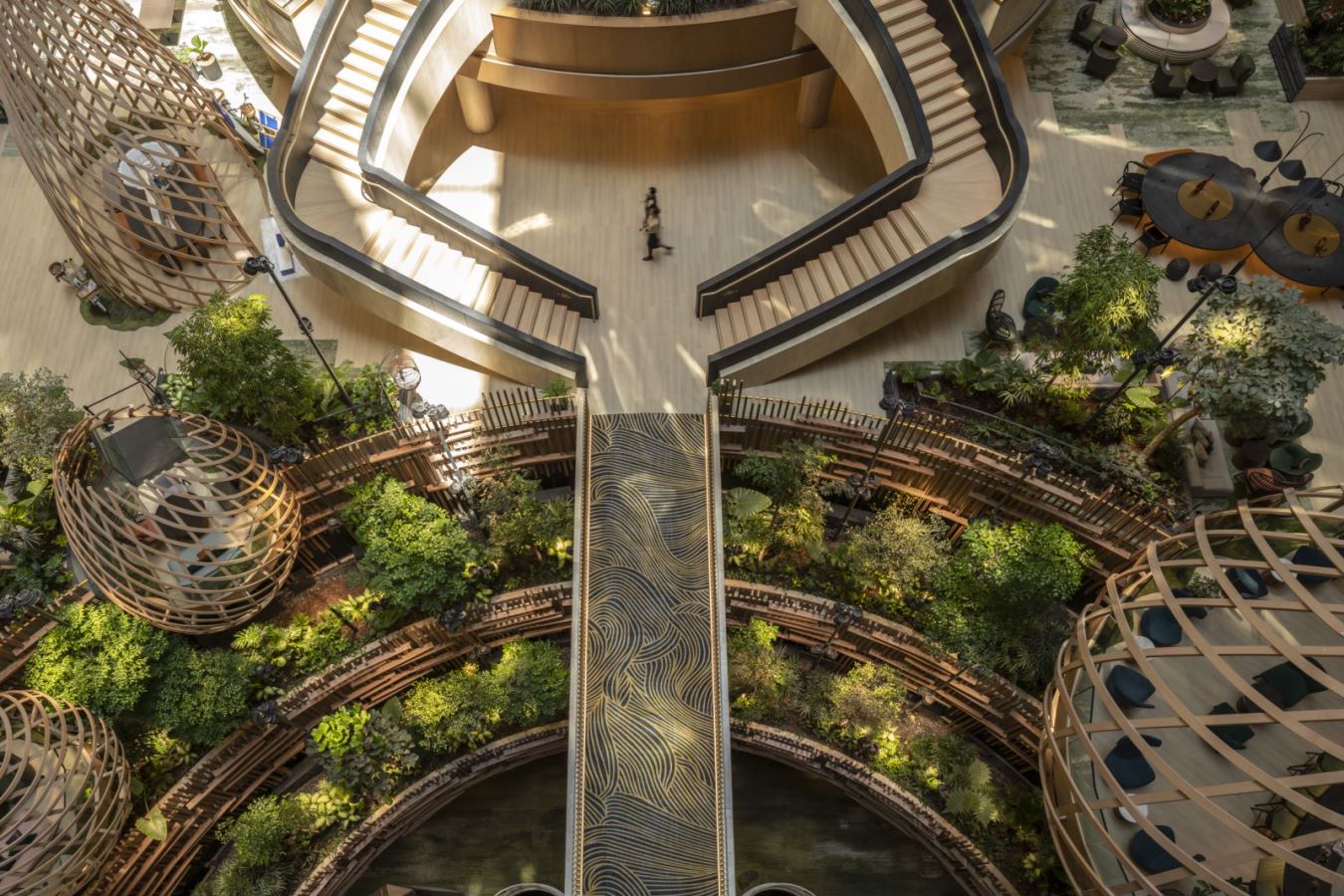 15 Sep

Petrie PR Appointed as PR Agency in China for PARKROYAL COLLECTION Marina Bay, Singapore
The Singapore's First 'Garden-in-a-Hotel' is Redefining the Green in Sustainability
Leading Asia-based luxury travel and lifestyle PR Agency, Petrie PR, is delighted to announce its appointment as the PR agency in China to represent PARKROYAL COLLECTION Marina Bay, Singapore. Owned and managed by Pan Pacific Hotels Group, PARKROYAL COLLECTION Marina Bay, Singapore has established its position as Singapore's first 'Garden-in-a-Hotel' with over 2,400 plants and trees spread across 1,400 square metres of space in the hotel.

A Holistic Approach
Within the ever-evolving, multi-faceted and highly competitive hospitality landscape in the Lion City, PARKROYAL COLLECTION Marina Bay, Singapore has proven time and again that it is possible to seamlessly intertwine award-winning hospitality with innovative and pioneering sustainability initiatives to curate unforgettable guest experiences, while providing sustainable accommodation.
At PARKROYAL COLLECTION Marina Bay, Singapore, eco-friendly practices are central to the hotel's core functions, and a holistic approach has been taken towards sustainability and regeneration, including the hotel's energy and water consumption management, plastic waste management, sustainability in MICE management, food waste management, food supply resilience, and circular economy.
Rejuvenation
In 2020, rather than reconstruction, PARKROYAL COLLECTION Marina Bay, Singapore approached its rebranding and transformation with a "rejuvenation". In doing so, the hotel avoided producing 51,300 metric tonnes of carbon emission – equivalent to 8.7 million trees or wiping out 10,000 hectares of forest, an area larger than all of Singapore's nature reserves combined.
Green Wall
Within the building, greenery features prominently, a 13-metre-tall Green Wall greets visitors as they enter the hotel lobby. The wall is installed with drip auto-irrigation, which prevents water waste. It is filled abundantly with carpet mosses and a variety of plants, interspersed by vertical metal slabs, and crowned by a "floating" cloud of lights. The delicate arrangement of the landscaping and structural elements creates a verdant, picturesque scene inspired by the traditional Chinese landscape painting.
Behind the Green Wall, cladding the rear of the main lift core, visitors ascend in bubble guest lifts to the Skybridge on level four, where they are greeted by the impressive sight of a soaring indoor atrium, one of the largest in South-East Asia. Designed by American Architect John Portman, the building was first opened in 1987. Today, the hotel's most iconic spot is the Skybridge, where light pouring in from above meets a lush undergrowth of tropical foliage.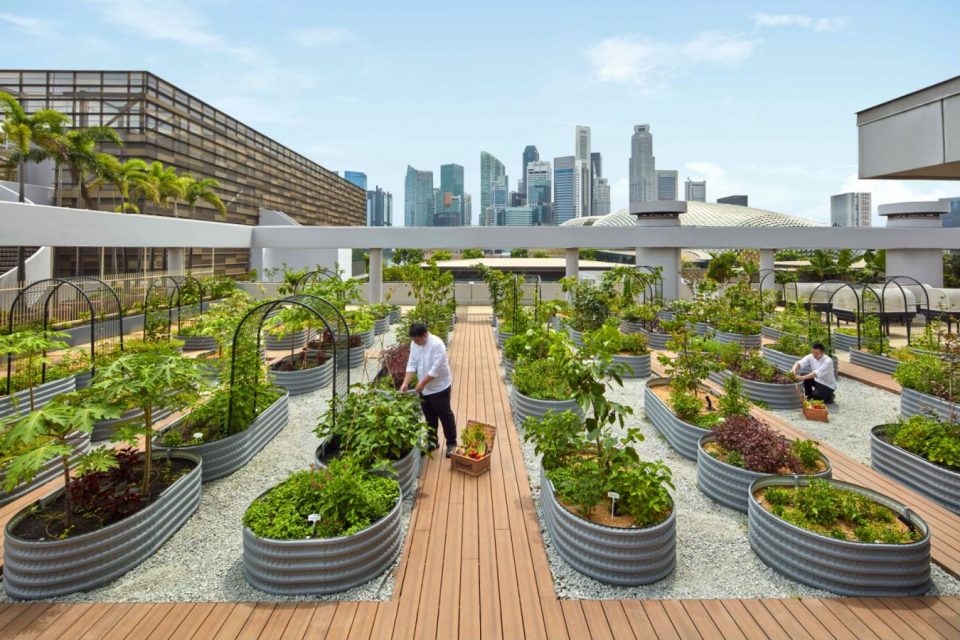 Garden-in-a-Hotel
PARKROYAL COLLECTION Marina Bay, Singapore, the country's first "Garden-in-a-Hotel" is a timeless architectural masterpiece and a beacon of sustainability, innovation, and much more.
Over 2,400 plants, trees, shrubs, and groundcovers drawn from more than 60 varieties of flora are spread across 1,400 square metres of interior space throughout the hotel. This created the distinct impression of a daytime forest that is both attractive and beneficial, with the plants acting as natural air purifiers and sinks for carbon dioxide as part of the biological carbon cycle, thereby helping to improve air quality and reduce the concentration of carbon dioxide within the hotel building.
The flora was handpicked for their resilience and suitability to indoor conditions, where minimal care is required. The planters are also installed with drip auto-irrigation, which prevents water waste. Energy-efficient grow lights are used to double up as support for the plants, and form part of the overall scene and ambience of the atrium.
Food Supply Resilience
Singapore imports 90% of its food supply, but this is set to change. The country aims to build up local food production to 30% by 2030. Among hotels, PARKROYAL COLLECTION Marina Bay, Singapore is one of the pioneers in building its food supply resilience and minimising food miles with its 150-square-metre Urban Farm, one of the largest farms in the central business district.
The output of the Urban Farm contributes to food supply resilience by providing about 20% of the hotel's requirements. With over 60 varieties of fruits, vegetables, herbs, and edible flowers, the Urban Farm exemplifies the hotel's farm-to-table, farm-to-bar and farm-to-spa concepts. The produce is used in its restaurants and bars, as well as St. Gregory. The Urban Farm has become a favourite among the chefs and mixologists as fruit and vegetables harvested at peak ripeness are freshest, unlike air-flown imports.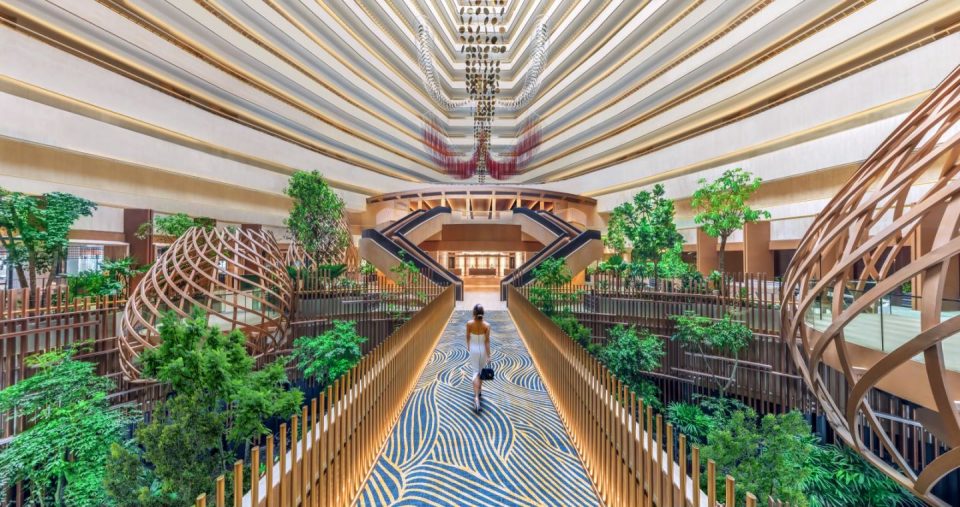 Sustainability in MICE
As sustainability increasingly becomes a mandate for businesses when it comes to selecting a venue for their events, PARKROYAL COLLECTION Marina Bay, Singapore understands the importance of incorporating sustainability into its operations to meet the demand for sustainable options. While the hotel practices responsible procurement, and only chooses to work with vendors that are credible and are able to prove their best sustainable practices, the hotel too, encourages MICE organisers to choose responsibly and work with venues that makes efforts in operating responsibly.
As part of the hotel's "Meet Lite, Feels Right" meeting package, dedicated stationery stations are stocked with eco-friendly writing materials, such as writing pads, which are printed on Forest Stewardship Council-certified paper and bamboo pens. Stationery stations are provided at meetings and events, so that participants only take and use what they need.
Water carafes are provided at meetings and events, and the provision of single-use plastic bottled water has ceased. A sustainable menu for morning and afternoon tea breaks, and farm-to-table working lunch, featuring locally sourced ingredients and plant-based meat alternatives are also included as meaningful steps towards a more environmentally friendly MICE landscape. Menus and portions are planned in advance, to prevent over-supply. The hotel ceased serving shark's fin since 2018.
The hotel's ballrooms use energy-efficient LED walls and LED lighting to reduce energy consumption. The hotel also uses energy-efficient laser projectors that project similar brightness compared to lamp-based options, which consume more energy. These projectors have higher reliability, which help to keep maintenance costs low. Furthermore, these projectors do not require lamp replacement.
Mr. Melvin Lim, General Manager, PARKROYAL COLLECTION Marina Bay, Singapore, shares, "Sustainability" has evolved beyond a fashionable buzzword. It has become an all-encompassing mindset that necessitates a shift of attitudes, redefining paradigms across the globe, and affects everyone, regardless of advanced or developing economies. As the issue of climate change and the calls for accountability grow, there is a pressing need for businesses, governments and society-at-large to collaborate for a collective impact in climate action. Sustainability is everyone's responsibility, and adopting green innovations is at the core of our hotel's green values. Sustainability is what is best for the planet, and our guests are increasingly demanding this level of commitment from us."