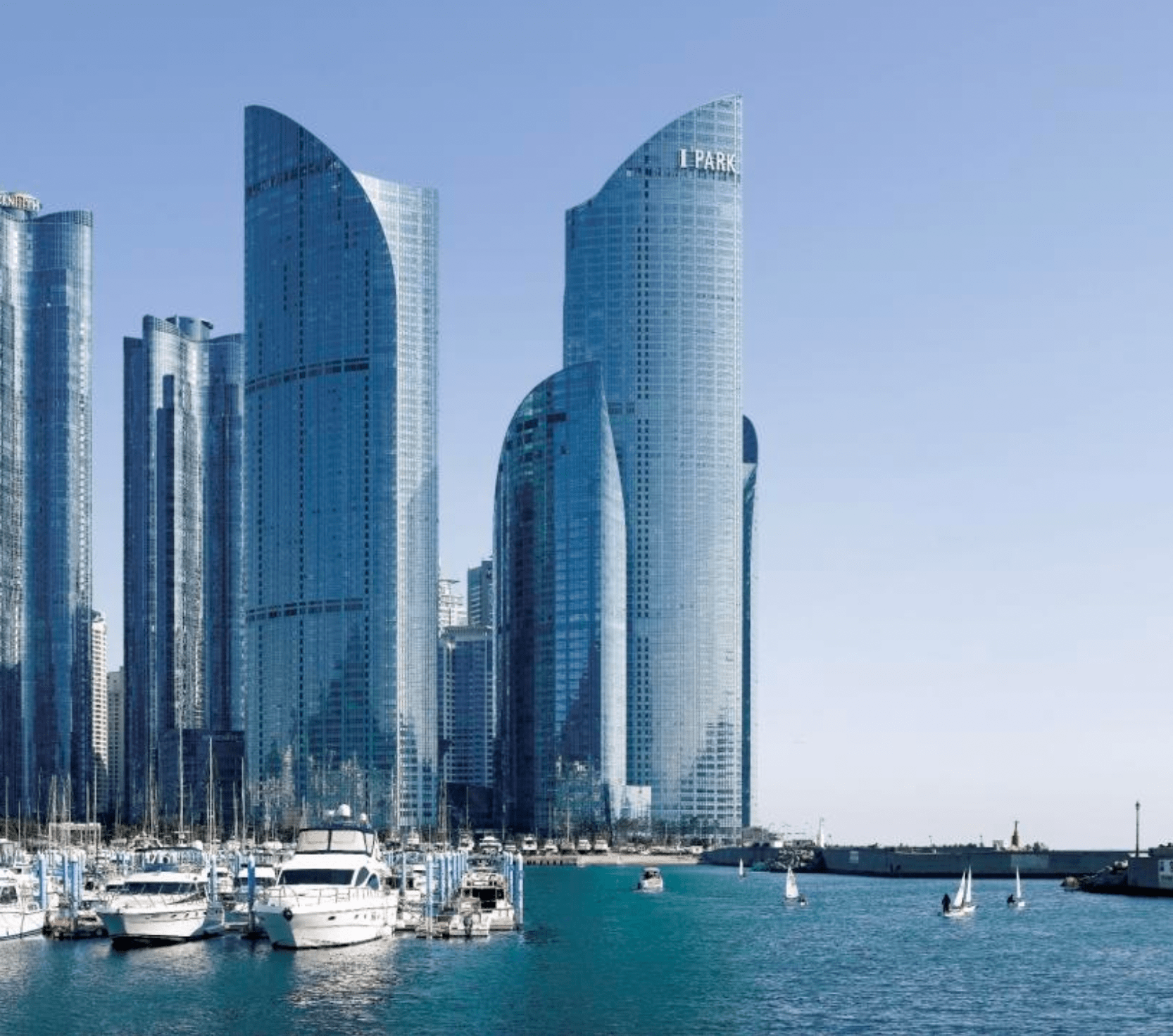 03 Oct

Park Hyatt Busan, A Luxurious Oceanfront Landmark Hotel with Artfully Tailored Experiences

Strategically situated in an area of global culture exchange in the heart of Haeundae district, the city's premier shopping and beach destination, Park Hyatt Busan is the luxurious landmark address for sophisticated travelers visiting Busan, the second largest city in Korea.

Conceived by world-renowned Polish-American architect Daniel Libeskind and Tokyo-based Super Potato design firm, Park Hyatt Busan forms part of the distinctive high-rise development in a prominent oceanfront location adjacent to Haeundae Beach, offering scenic views of Gwangan Bridge, the boundless ocean, the yacht marina and panoramic city skyline.

Set in the heart of the bustling city, Park Hyatt Busan upholds the brand's deep-rooted reputation for sophisticated style, outstanding service and accommodations, and superior facilities. Affording breathtaking views across the ocean, the hotel is centrally located in Busan's premium commercial area – adjacent to the world's largest department store, Shinsegae Centum City, as well as MICE facilities, including Busan Exhibition and Convention Center (BEXCO).
A CONTEMPORARY OASIS OF UNPARALLELED VENUES
At Park Hyatt Busan, every detail is crafted with utmost care to ensure an exceptional and seamlessly tailored guest experience. The hotel's design harmoniously integrates unique contemporary elements with authentic Korean touches, paying homage to the city's rich heritage. Set along the Busan coastline, the hotel's architecture is characterized by sleek lines and thoughtfully chosen aesthetics, offering an intimate sanctuary amidst the bustling city.
LUXURIOUS AND SPACIOUS ACCOMMODATION
Nestled in the marine city adjacent to Haeundae Beach, Park Hyatt Busan offers 269 guestrooms, including 69 suites. Inspired by the lively and dynamic energy of Busan and its ocean view, the beautiful hotel is artfully designed in a curved shape which embodies the ocean waves in the city. Nature-friendly materials, such as hardwood and natural stone were used to offer a style of residential comfort, a signature concept of the hotel's modern aesthetics. Upon stepping into a guestroom decked in beige-toned woods, guests are met with breathtaking views through the floor-to-ceiling windows. Spacious bathrooms with bathtubs and separate rain showers further elevate the comfort. An inbuilt 23-inch TV is available in every bathroom, accompanied by a selection of luxury branded amenities by Le Labo, the exclusive skincare brand offered at Park Hyatt hotels around the world.
Each guestroom features exquisite comforts to meet the unspoken needs of each guest, including a 50-inch or larger smart TV, Bluetooth speaker, premium capsule coffee machine, thoughtfully stocked minibar, individual room temperature controller, telephone and wireless internet. Through a 24-hour room service, guests can take full advantage of the highest quality dining in the privacy of their rooms.
INNOVATIVE CULINARY EXPERIENCES
Upholding Park Hyatt's tradition as a trend-setter of innovative culinary concepts, Park Hyatt Busan offers epicurean experiences across its portfolio of restaurants – Dining Room, Living Room, Living Room Bar, Lounge and Patisserie.
Nestled on the 32nd floor of the hotel, Dining Room is a Steak & Seafood Grill restaurant with an open-kitchen concept, designed with elements of traditional Korean houses with a sophisticated touch. The restaurant serves premium steak and fresh seafood cooked over the open charcoal grill, as well as classic Korean cuisine reinterpreted in Park Hyatt style, the restaurant offers a sophisticated dining experience with magnificent views of the ocean and Gwangan Bridge through its floor-to-ceiling glass windows.
Living Room, an Italian restaurant located on the 31st floor, offers a relaxing, cozy and vibrant environment while serving a selection of traditional Italian comfort foods prepared with high-quality local ingredients. This is a perfect place for enjoying simple, fresh and home-style comfort dishes paired with a selection of Italian favorites and signature beverages. Over at the Living Room Bar, located on the same level, guests can enjoy a breathtaking view of the city, while savoring stylish cocktails, wines, whiskies and cognac.
Located on the 30th floor, Lounge greets guests with amber natural daylight during the day and stunning views in the evening through its floor-to-ceiling windows. It exudes a cozy and elegant atmosphere while offering an extensive selection of snacks and beverages, as well as a luxurious afternoon tea set. Park Hyatt Busan takes special pride in Patisserie, the hotel's pastry serving homemade cakes, breads, pastries, and chocolates, accompanied with premium coffee and tea. Special packaging services are available for guests seeking convenient takeaway options or gifts for special occasions.
A PLACE OF PERFECT RELAXATION AND RENEWAL
Retreat to ultimate serenity with views of the ocean and majestic Gwangan Bridge at Lumi Spa & Fitness, featuring a fitness center, indoor swimming pool and spa that occupies a total of three floors. With the ocean and Gwangan Bridge forming the ideal backdrop, the wellness sanctuary offers an unparalleled luxury experience in beauty and body treatments in a soothing indoor setting.
The fitness center on the 5th floor provides an opportunity for guests to work on an individual exercise regime while appreciating magnificent ocean views through a glass window, while its private studios offer a range of fitness and wellness programs. The indoor swimming pool on the 4th floor provides stylish relaxation, with natural daylight streaming through a glass roof arching over the 22-meter long pool. The sauna on the 4th floor is a private space for relaxation with individual shower booths, dry and steam sauna rooms, hot and cold tubs, personal lockers, as well as a variety of skin care amenities. With seven private spa treatment rooms featuring picturesque views, the spa restores calmness and tranquility to body and mind. All treatments are performed by expert therapists with the highest standards.
ARTFULLY TAILORED EXPERIENCES
As Park Hyatt Busan is adjacent to the Suyeongman Yachting Center, hotel guests not only benefit from the stunning marina view but also get to enjoy a yacht tour at an exclusive rate. To elevate the experience, guests get to savor a specially curated Picnic Box by Patisserie's chefs that is featuring cold pasta, sandwiches, salad and a half-bottle wine.
From hosting of art fairs to the showcase of curated artwork collections that complement the hotel's locale and design, Park Hyatt Busan invites guests to embark on artistic journeys of discovery. To further enrich and tailor these guest experiences, unique artist-in-residence programs are also available.
DYNAMIC BUSAN, A THRIVING HUB OF TRADE AND TOURISM
Busan, a popular destination for Koreans and international travelers, is home to many shopping and commercial areas, museums, as well as religious and historical sites, including temples and fortresses. The city's natural charm and rich history have won them the reputation of a world-class city of tourism and culture, while also emerging as a major international convention destination.
Enrich your travel with these diverse and unique destinations, all within a 15-minute drive from the hotel – Haeundae Beach, the popular and favorite beach in Busan; Gwangalli Beach, where guests can experience a range of leisure water sports; Dongbaek Park, a natural park famous for its beautiful walking trails; Haeundae Blueline Park, a recently trending landmark where guests can enjoy ocean views from beach trains and sky capsules; Dalmaji Road, a hill with various galleries, cafés and restaurants; Shinsegae Centum City, the world's largest department store; Busan Museum of Art where guests can explore art all year round; BEXCO, a convention center where various domestic and international events, exhibitions, fairs and concerts are held in Busan; and many more.