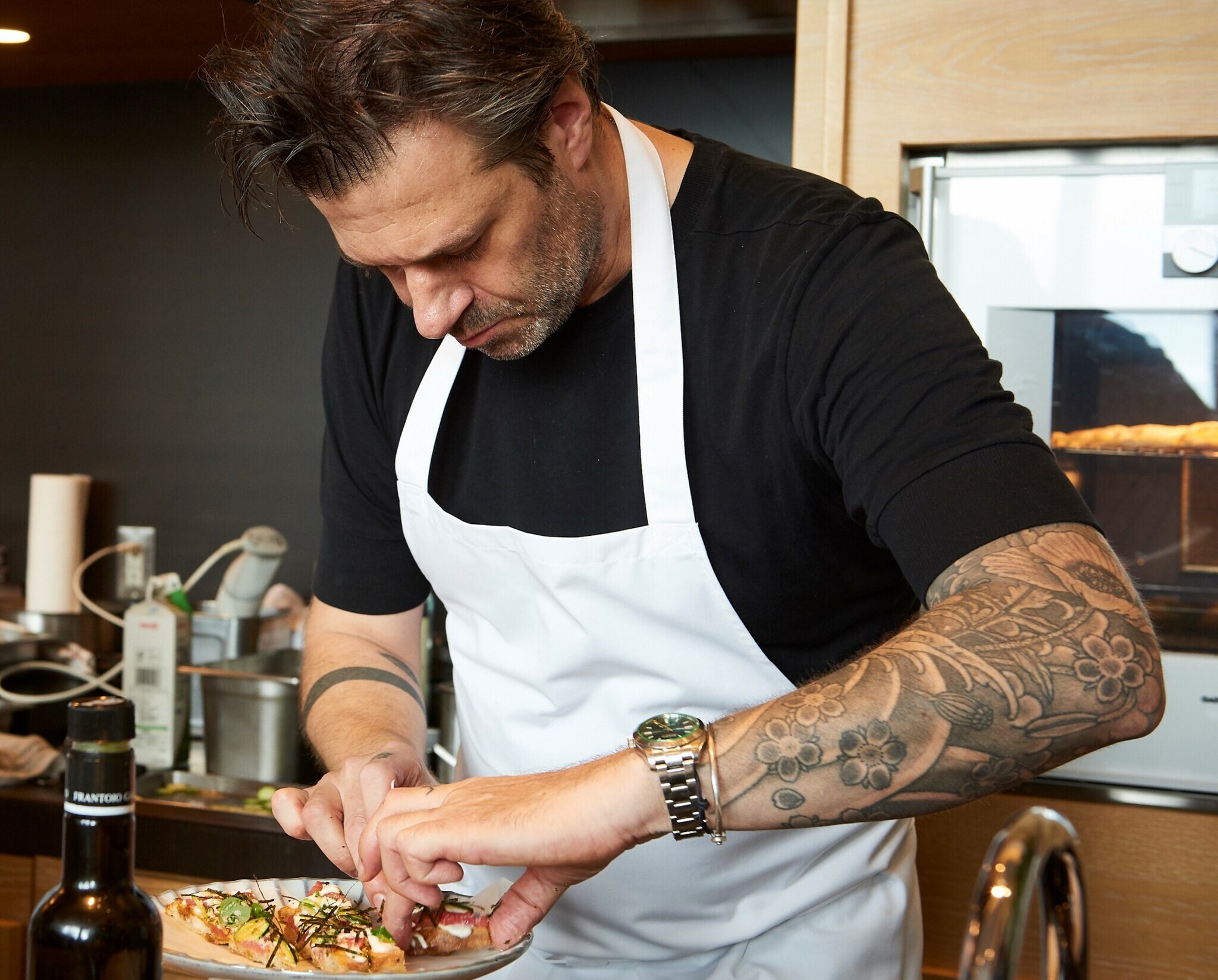 19 Aug

Hyatt and Michelin-Starred Chef Sergio Herman to Open "Le Prestine Tokyo" in Hotel Toranomon Hills

Hyatt and Sergio Herman Group has announced a groundbreaking collaboration to launch Le Pristine Tokyo, an immersive, casual fine dining restaurant and café helmed by Michelin-starred Sergio Herman in winter 2023. Le Pristine Tokyo will mark the Asian debut of the acclaimed Dutch chef-entrepreneur and will serve contemporary European cuisine with a cosmopolitan flair using thoughtfully sourced produce from Zeeland in the Netherlands and seasonal Japanese ingredients. Located on the street level of Toranomon Hills Station Tower and part of the new Hotel Toranomon Hills, Le Pristine Tokyo will elevate the dining scene in the city's newest business hub. In addition to Le Pristine Tokyo, Sergio Herman also oversees the entire hotel's food and beverage offerings, including breakfast and in-room dining.

Andreas Stalder, Hyatt's Senior Vice President of Food & Beverage Operations and Product Development, Asia Pacific, stated, "We are thrilled to join hands with Sergio Herman to introduce this one-of-a-kind culinary experience to Asia, especially to Tokyo which is one of the region's most dynamic dining destinations. With its contemporary European cuisine combined with a distinctive east-meets-west approach using produce from Zeeland in the Netherlands and Japan, Le Pristine Tokyo will be a culinary hotspot in the city given its strategic location within Hotel Toranomon Hills and the innovative Toranomon Hills development."
AN IMMERSIVE EXPERIENCE BASED ON FIVE PILLARS
The original Le Pristine opened in 2020 in Antwerp, Belgium and was awarded a Michelin star in its first year of operations and which it has continued to retain. Le Pristine Tokyo invites diners to partake in a sophisticated celebration of life and creativity expressed through food, fashion, design, art and music. The immersive experience will bring together Sergio Herman's exception eye for detail and steadfast commitment to the highest quality of gastronomy and hospitality while paying tribute to his Dutch heritage.
Sergio Herman explained, "Food First. Always. It's in our heart and is the code by which we live. Fashion is a statement. Create your own personality. It's not about how you look; it's about how you feel. It's about the spirit of the age and the pulse of time. Design is the shape of ideas. Visual expectations are real, and we deliver on them. We eat and drink with our eyes. Art is the unexpected. We believe it's food for the soul and the drive to imagine and wonder. Music is our driving force and it keeps things moving. Mixing rhythm with melancholy, the classics with the new."
The restaurant's interiors by the internationally renowned Space Copenhagen from Denmark – which also designed the original Le Pristine in Antwerp and the comfortable, stylish spaces of Hotel Toranomon Hills – will be accentuated by striking art and objets d'art by Dutch artists such as Maarten Baas, Rinus van de Velde and Rotganzen. Food at the casual fine-dining restaurant and café will be carefully served on wabi-sabi inspired "INKU" tableware by Serax from Belgium and designed by Sergio Herman.
Le Pristine Tokyo will deliver a contemporary spin on European classic, blending Japanese ingredients with produce from Zeeland, the coastal Southwest province of the Netherlands facing the North Sea. Zeeland is the largest farming region in the country with rich soils, ample sunshine, pristine waters and sea-washed riverbanks, and is known for producing some of Europe's most succulent crustaceans.
Sergio Herman stated, "Planting our flag in the heart of a dynamic city like Tokyo will broaden our culinary horizon. To open in the brand new Toranomon Hills Hotel in this much anticipated neighborhood is a dream. We are determined to make this a success and establish Le Pristine as a new classic in Japan."
■About Sergio Herman
Chef / Founder, Sergio Herman Group
Born in 1970 in Zeeland, the Netherlands, Sergio Herman began his career as a chef in his teens at his family's restaurant "Oud Sluis" in Sluis, the Netherlands, where he shared his love of cooking with his father. He transformed Oud Sluis into a culinary powerhouse that earned three Michelin stars every year since 2005 and annual placements on the World's 50 Best Restaurants. After closing Oud Sluis in 2013, he has since opened a number of restaurants in the Netherlands and Belgium. In winter 2023, Sergio will make his debut in Asia with Le Pristine
Tokyo in Hotel Toranomon Hills followed by Le Pristine Singapore at Grand Hyatt Singapore shortly after.
■About Le Pristine Tokyo
Le Pristine Tokyo is the first Asian outpost of the restaurant brand "Le Pristine" developed by Michelin-starred Dutch chef and entrepreneur Sergio Herman, following the original Antwerp restaurant in Belgium which opened in 2020. The restaurant will offer contemporary European cuisine that fuses carefully selected ingredients from Zeeland, the Netherlands, the chef's birthplace, with Japanese flavors to create a new type of immersive gastronomic experience that combines five elements: food, fashion, design, art, and music.
■About the Hotel Toranomon Hills
The hotel in Toranomon Hills Station Tower will offer modern professionals a convenient and comfortable space for rest, work and play. Aside from Le Pristine Tokyo, Hotel Toranomon Hills will feature The Lounge where staying guests as well as those who arrive too early to check in or have late flights practical and thoughtful touches such as co-working space, meeting rooms, showers, and free refreshments. The hotel's interior design by Space Copenhagen will combine simplicity and sustainability with the use of natural materials to provide guests the best in comfort and relaxation.
This is the first property in Tokyo within The Unbound Collection by Hyatt portfolio and the second property in Japan following the brand's debut in the country last year with Fuji Speedway Hotel at the foot of Mount Fuji.
■ About The Unbound Collection by Hyatt
More than a compilation of independent, one-of-a-kind hotels, The Unbound Collection by Hyatt is a thoughtful curation of stories worth collecting. Whether it's a modern marvel, a historic gem, or a revitalizing retreat, each property provides thought-provoking environments and experiences that inspire guests to seek elevated yet unscripted service when they travel. For a complete list of hotels in the collection, visit unboundcollection.hyatt.com.Follow @UnboundxHyatt on Facebook and Instagram, and tag your photos with #UnboundxHyatt.
For media inquiries
Sherman Ip / Peggy Law / Cindy Ng / Rena Tang
sherman@petriepr.com / peggy@petriepr.com / cindy@petriepr.com / rena@petriepr.com