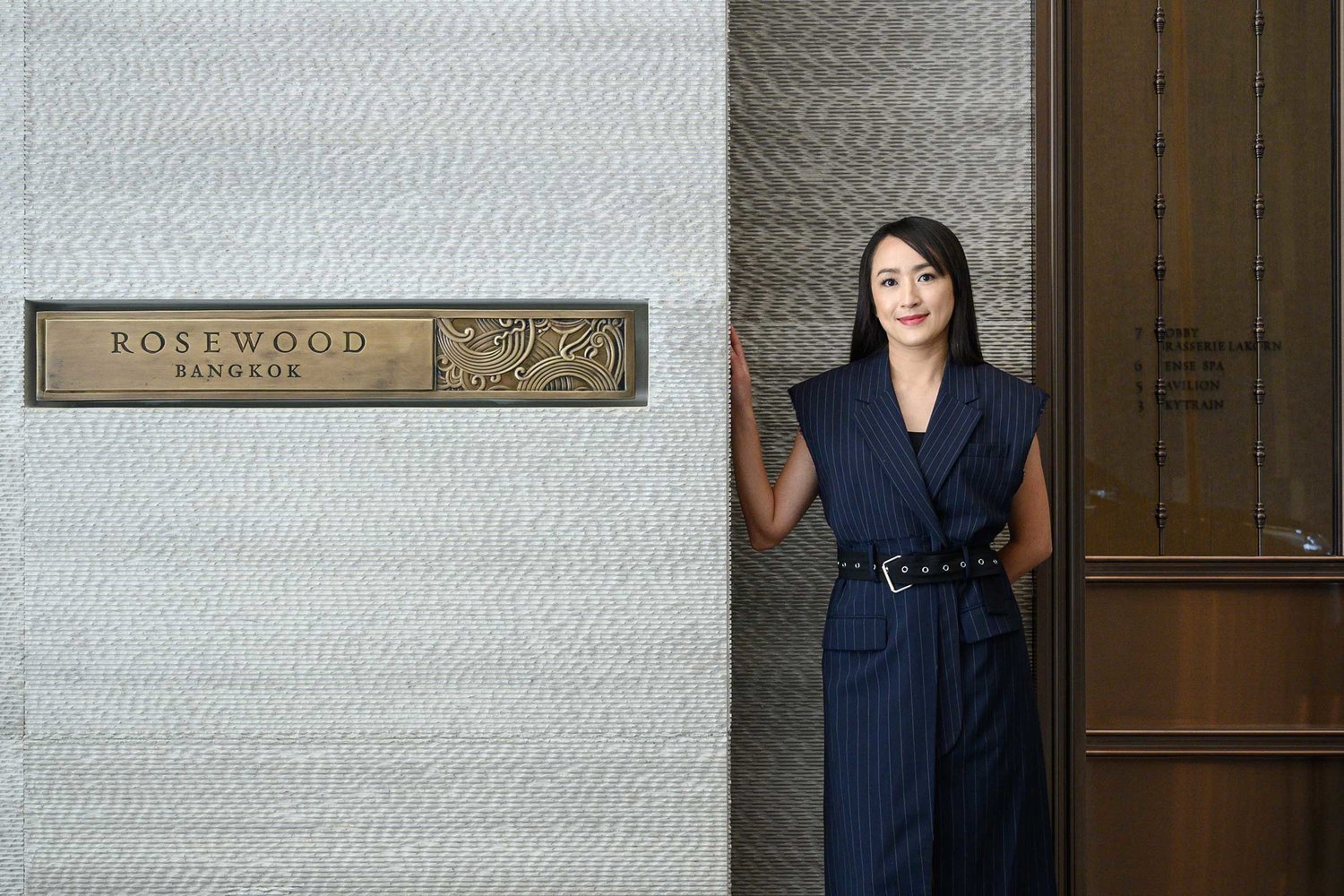 08 Oct

Embracing Artistry and Heritage: Celia Chu Design & Associates Transforms Hospitality Spaces with Vision
Inspiring Destination Experiences through Artistic Visions and Cultural Heritage by Celia Chu Design & Associates
Celia Chu, an internationally acclaimed female designer, and her team at Celia Chu Design & Associates (CCDA) embody an unwavering commitment to art and culture, evident in their remarkable accomplishments. Their work surpasses mere aesthetics, as they skillfully craft spaces that not only captivate the senses but also pay homage to local culture and heritage. Through their tireless pursuit of artistic excellence, meticulous attention to detail, and forward-thinking mindset, they have transformed mundane locations into extraordinary destinations that inspire and enchant visitors from around the world. Within the realm of exceptional design, three standout projects – the concept design for Ningbo hotel, the White Rose Chapel at Grand Hyatt Fukuoka and the Rosewood Bangkok exemplify the unwavering dedication of Celia and her team. Each undertaking serves as a testament to Celia Chu and her team's extraordinary talent and visionary approach. With their innate ability to seamlessly integrate art, culture, and innovation, they consistently create breathtaking designs that leave a profound and enduring impact on all who have the privilege of experiencing them.
Ningbo Cultural Escape with Vibrant Immersion
Celia demonstrates a thoughtful and meticulous approach to the concept design of the hotel in Ningbo, China, resulting in a seamless integration of cultural elements and art throughout the space. By incorporating local artistry and craftsmanship inspired by the Ningbo lake house and the traditional game of Mahjong, Celia showcases her careful attention to detail in the design and creates an authentic and immersive experience for guests which reflects the vibrant spirit of Ningbo, fostering a sense of authenticity and appreciation for the city's heritage.
Upon entering the hotel's lobby, guests are warmly greeted by a cozy cabin atmosphere reminiscent of the Ningbo lake house. This deliberate design choice establishes a welcoming and comfortable environment, setting the stage for an enjoyable stay. As guests move through the public areas, the hotel pays homage to the cultural significance of Mahjong, employing a seasonal color scheme of Spring, Summer, Autumn, and Winter, adding vibrancy and a distinct touch. The thematic Mahjong wall designs further enhance the atmosphere, captivating guests with visual representations of the local culture.
In the Club House, Celia has created an ambience inspired by Mahjong, evoking a wintry feel through a cool colour palette dominated by shades of blue and grey. The use of glass and metal materials introduces a contemporary touch, while a cozy fireplace becomes a focal point, radiating warmth and inviting relaxation. The elegant wall adorned with enlarged patterns reminiscent of stacked Mahjong tiles strengthens the connection to the traditional game. Playful artwork depicting hand gestures in Mahjong infuses the Club House with liveliness and a sense of playfulness. Designed as a lounge, this space proudly showcases local craftsmanship, offers valuable travel information, and displays captivating artwork, encouraging guests to fully immerse themselves in the vibrant city of Ningbo.
Aesthetic Ingenuity – The White Rose Chapel's Extraordinary Evolution
Unlike the traditional Japanese wedding chapels that benefit from scenic mountain or city views, the White Rose Chapel in Fukuoka, Japan's location between a shopping mall and a hotel presented a challenge in terms of aesthetics. Celia and her team at Celia Chu Design & Associates have demonstrated their exceptional artistic prowess by successfully transforming an ordinary pathway, positioned between the Canal City Hakata complex and the Grand Hyatt Fukuoka hotel, into an exceptionally sought-after wedding venue.
Taking inspiration from the symbolism of a rosebud, which represents the stages of love and growth in a relationship, Celia integrated rose motifs throughout the chapel. The design concept aimed to evoke the gradual blooming of a rose, starting from a narrower entrance, and gradually widening as guests progress towards the altar and the feature wall adorned with an abundance of white roses. The colour palette predominantly revolves around white, complemented by earthy tones such as green and various shades of brown. Upon entering the chapel, guests are greeted by large wooden doors leading to an outer hall featuring backlit glass archways laminated with images of white roses against a backdrop of green leaves.
The ceremony hall, accessed through another set of large doors, showcases rows of white-lacquered arched panels that collectively form a bud shape when viewed from a distance. Natural daylight filters through the windows between the panels, creating a soft and inviting ambience. A marble path guides guests towards the altar, where a glass- reinforced gypsum feature wall, adorned with blooming white roses sculpted by renowned Taiwanese artist Hsiu-Chi Wang, serves as a captivating focal point. The ceremony hall can accommodate up to 120 people, with seating provided by white, faux leather cushioned benches. Strategically placed spotlights from above illuminate the space, enhancing its elegance and charm.
Celebrate Artistic Fusion at Rosewood Bangkok
The interior design of Rosewood Bangkok exemplifies a seamless integration of timeless aesthetics and a heartfelt tribute to Thailand's rich cultural heritage. Led by Celia Chu and her team at Celia Chu Design & Associates, renowned for their unwavering commitment to artistry and local traditions, the design showcases an extraordinary dedication to capturing the dynamic creativity and contemporary design ethos that characterizes the city. By skillfully blending modern and classical elements, the interiors exude sophistication through a carefully curated selection of refined tones, exquisite surfaces, and luxurious materials, harmoniously marrying tradition with innovation. Celia's visionary approach, deeply rooted in Rosewood's "A Sense of Place" philosophy, artfully infuses indigenous elements with a fresh and contemporary sensibility, resulting in a truly exceptional celebration of the hotel's surroundings.
In the public areas of Rosewood Bangkok, Celia has created intimate and private spaces that enhance the guest's journey. The Sky Lobby, located on the 7th floor, captivates guests with its glass panels overlaid with gold leaf, reminiscent of traditional roof tiles. This design choice reflects the owner's family history of art collection and exemplifies Rosewood's philosophy of a sense of place. The Lakorn European Brasserie combines the traditional with an open, uninterrupted space, featuring curved panels that create a sense of intimacy. Intricate details, such as metallic window mesh inspired by Thai traditional dance ornaments, blend cultural elements seamlessly into every aspect of the design.
Artistry plays a central role in Celia's design aesthetic. The Pavilion, a purpose-built venue at Rosewood Bangkok, features a bespoke metal and glass chandelier inspired by traditional Thai dance. The swirling carpet design mirrors the spins and turns of the dance, creating a stunning visual representation. The Sense Spa draws inspiration from Thailand's healing culture and features fiberglass walls shaped and painted by the artist, evoking the tranquility of Thailand's countryside. These artistic elements contribute to a sanctuary of rejuvenation and relaxation within the bustling city.