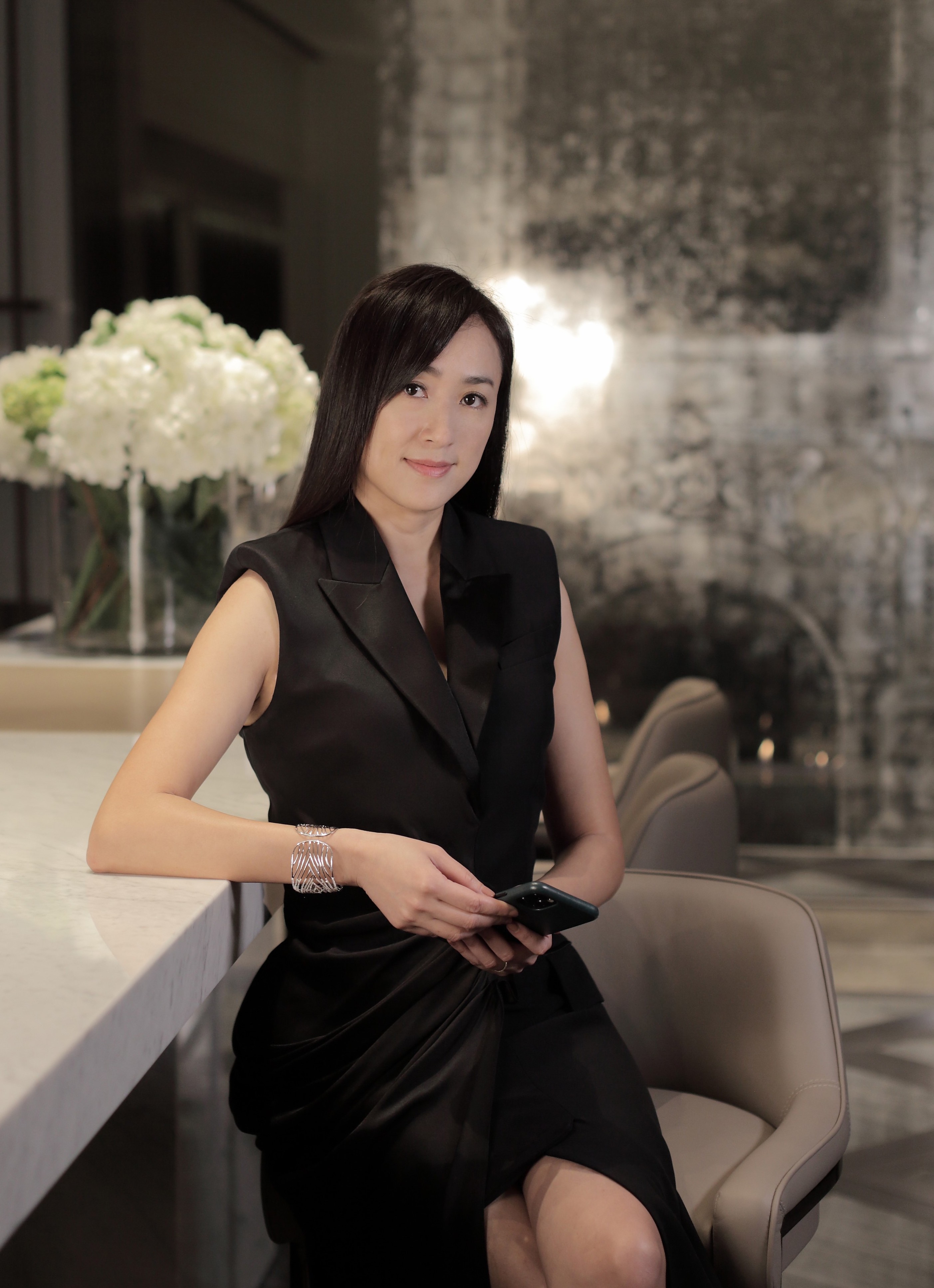 25 May

Designer Celia Chu, The Creative Mastermind Behind Award-Winning Rosewood Bangkok Joins International Artists To Celebrate Artistry And Craftsmanship In Life

Interior designer Celia Chu of Celia Chu Design & Associates (CCDA) has led collaborations with LASVIT, the Czech innovative glass designer and manufacturer and Studio Peascod, a UK-based gilded glass creations studio, blending their creative prowess and contemporary design ethos to present the timeless décor at Rosewood Bangkok.

Paying homage to Thailand's rich culture and Rosewood Bangkok's harmonious balance of the contemporary and the classic, Celia has clearly delivered a strong statement for the hotel's interior design by integrating sophisticated tones, an extraordinary fusion of surfaces, a décor of rich materials, soothing neutral colour palettes, wall mouldings and texture.

Three signature glass and lighting art pieces co-crafted with LASVIT and Studio Peascod are featured in the Hotel's prominent public areas orchestrating an interplay of reflection, shadow and motion coupling with splendid glass surfaces to redefine the spaces and the atmosphere.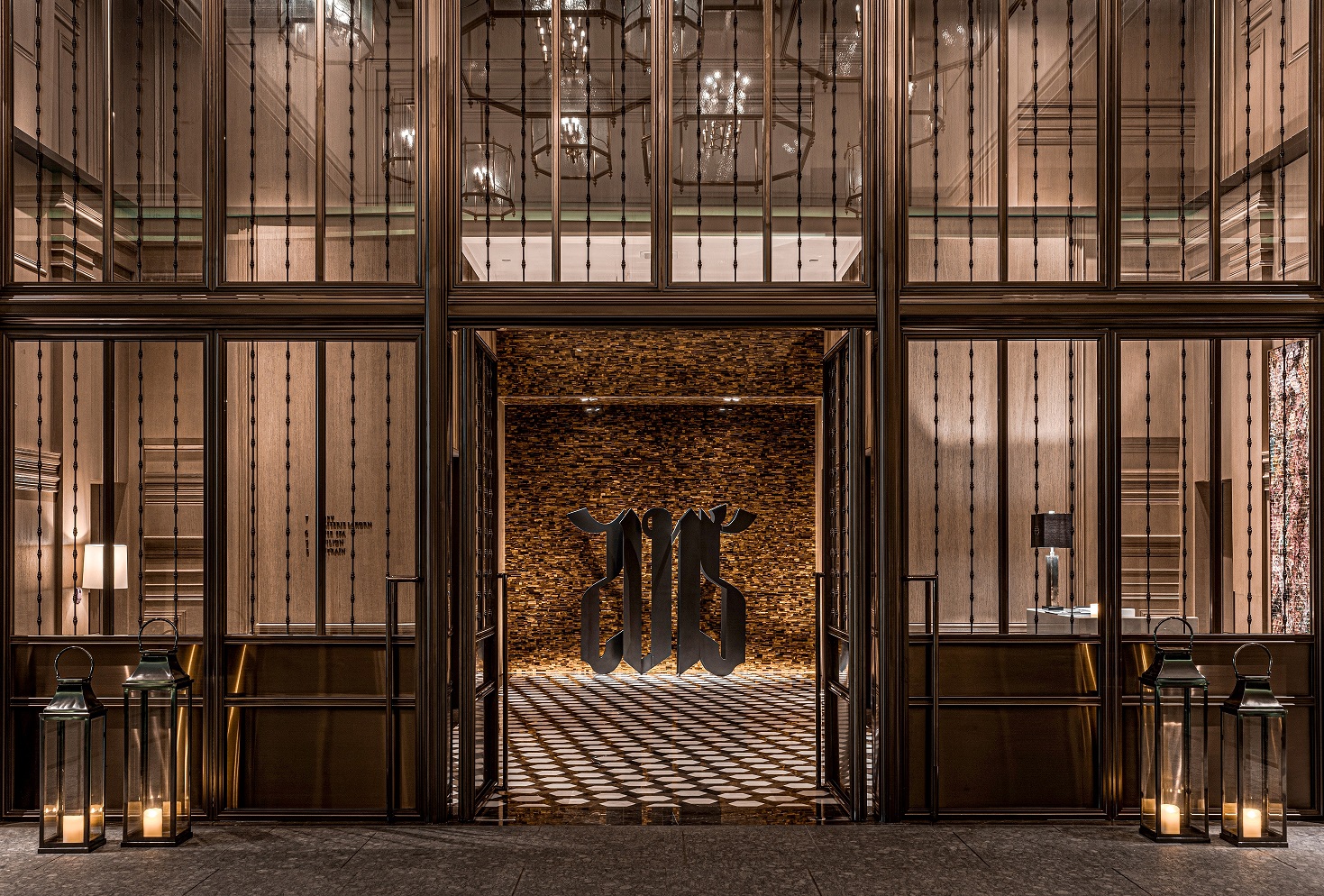 Golden Temple Tiles
From the moment guests approach the Sky Lobby on the 7th floor, a serene journey begins with a mesmerizing scene. Inspired by traditional Thai heritage, Celia's design is brought to life through the series of translucent panels, with application of rose, lemon and yellow gold in a contemporary 'scalloped roof tile' pattern which is also known as the traditional French technique of verre églomisé.
The gold verre églomisé was produced exclusively by hand by Emma Peascod, founder of Studio Peascod – internationally recognised for combining Japanese aesthetics and the traditional process of reverse glass gilding. Emma has successfully transformed Celia's strong vision of Thailand's royal ambience and Rosewood's philosophy of "A Sense of Place" into the contemporary verre églomisé Thai tile wall design.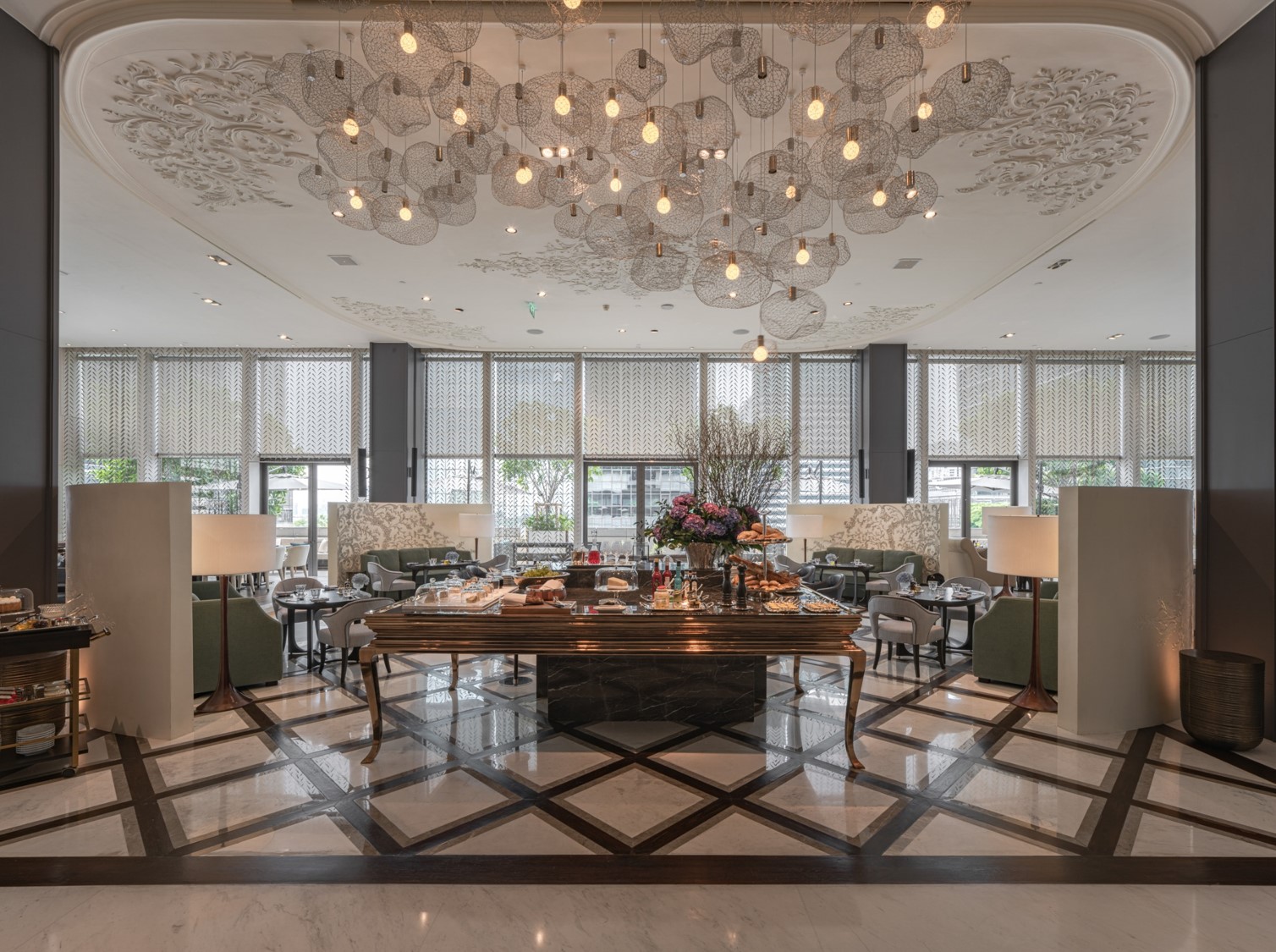 The spectacular gilded glass panels play an important role in drawing in natural light to the Sky Lobby. Different shapes and shades of gold leaves are tiled onto the glass-mirrored walls streaming a glimmering reflection of light to create a transparent and reflective space. Energy and flow are infused into the design with the mirror surface reflecting the dynamic movement of light. Elegant lighting sparkles on the panels and natural marble flooring, creating an opulent, warm and radiant space.
"Everything we make is hand crafted, processes and materials are selected specifically to suit the desired outcome. Working with Celia is always an inspired and collaborative process, we sketch and then create physical samples to review together before proceeding with the final piece." Emma comments.
Dance of Fire and Water
Decorative lighting is another highlight of Celia's design bringing each chapter of her story to life and showcasing her timeless design inspiration. Celia is proud to work with international glass specialists LASVIT, designing two original lighting fixtures to create a lavish, modern and luxurious atmosphere in the public spaces at Rosewood Bangkok.
The stunning bespoke crystal chandelier in the purpose-built spectacular residential-style venue, Celia designing The Pavilion reflects the spins and turns of traditional Thai dance and movement across the ceiling length of the ballroom. The composition of glass pieces and decorative metal set a tone of natural elements. The pervaded metal parts mirror the element of fire for its passion, strength and force, while the glass reflects the shape of water to complement the dance with a tender transparent beauty.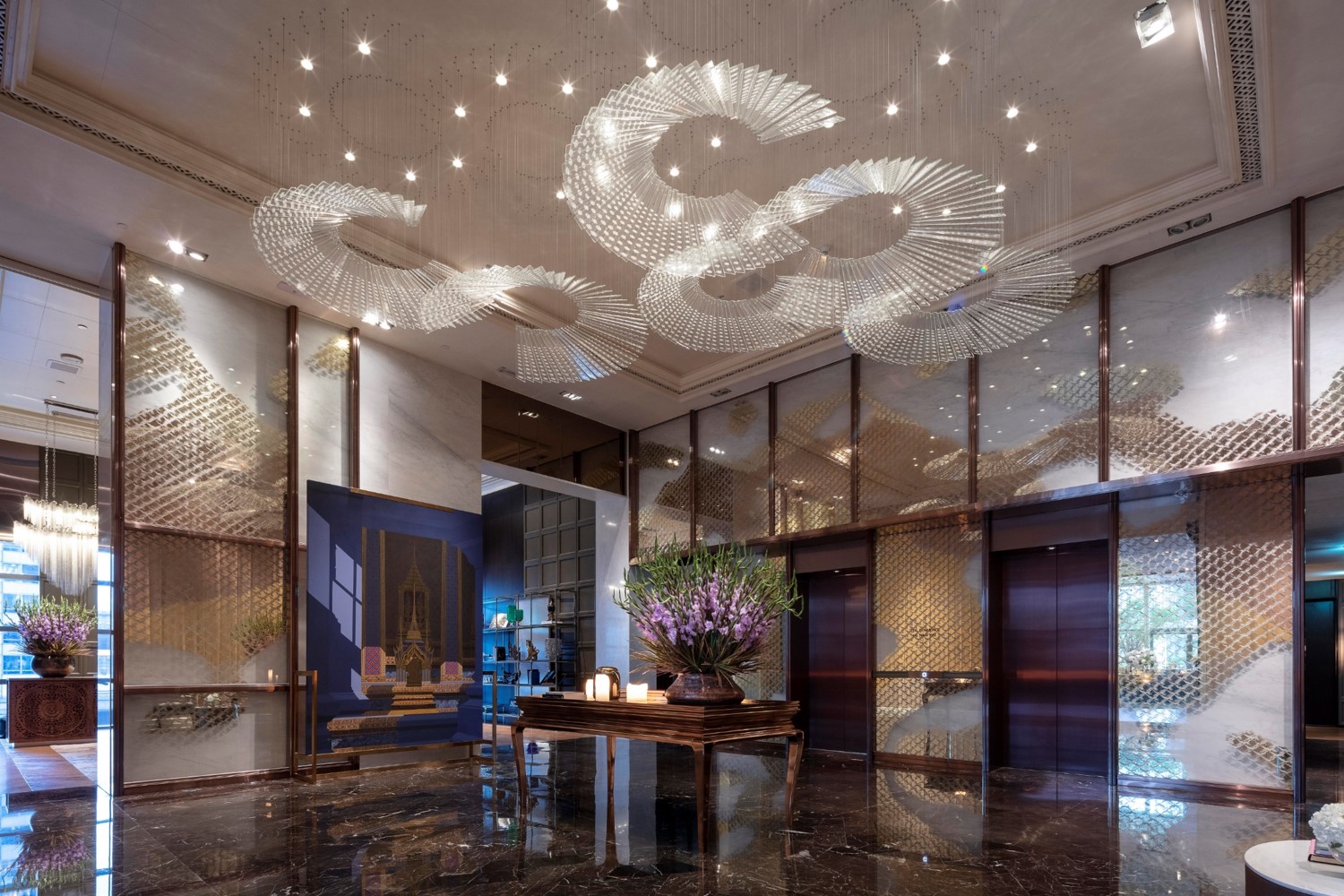 The dominant light feature in the Sky Lobby is another lighting fixture Celia Chu created with LASVIT. With its shape inspired by the traditional Thai fan, Celia's design concept is visualised in elementary geometry and reflected in the movement of an umbrella.
"We work very closely with Celia and understand her concepts. Molten glass is a very dynamic form and we shape all the components carefully by hand, therefore all the projects are unique in their own way with an interesting story behind each." LASVIT comments.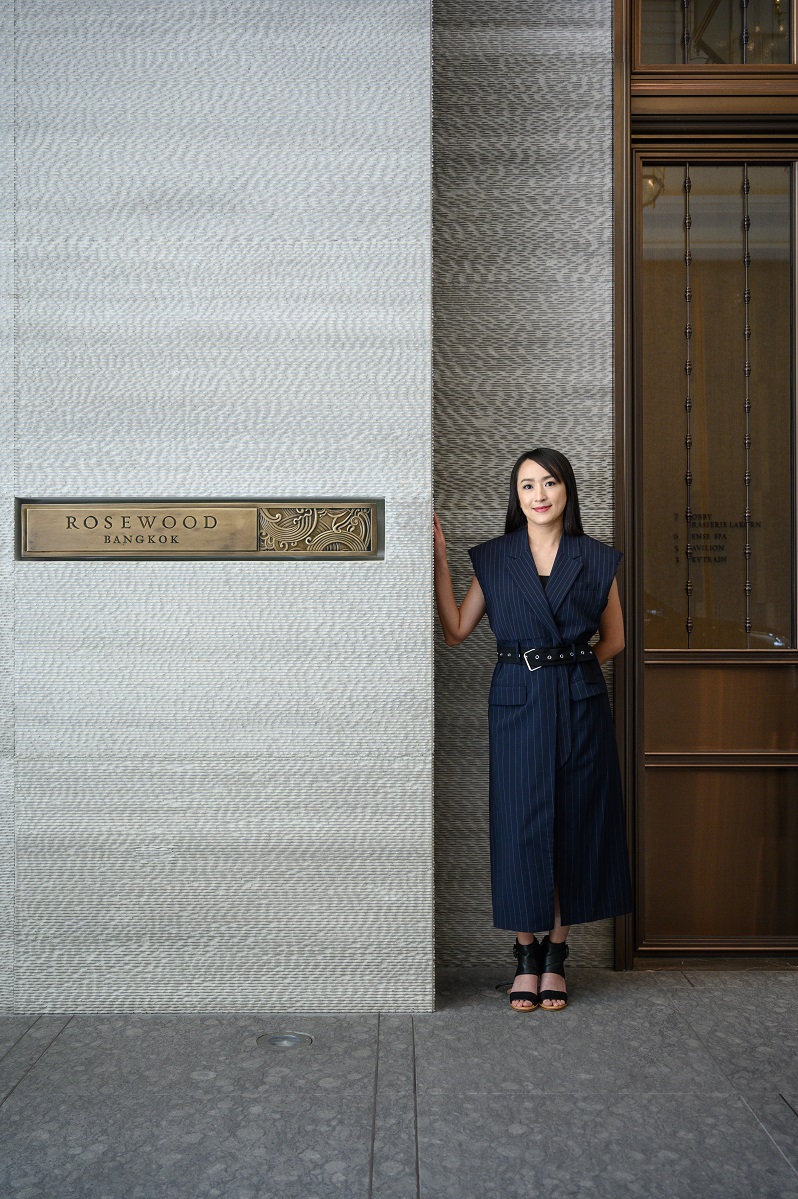 Celia shares insight to her unique relationship working with LASVIT and Studio Peascod on the Rosewood Bangkok project. "The process of how we create together is always enjoyable and especially as it is not easy to find someone to share the same collective passion. They always come back with new insights and different ways of expression based on my design concept and direction. Together with LASVIT and Studio Peascod, we explore and create pieces which are even more unique and in a new and dynamic way." Sharing a friendship, vision and passion for design, Celia has been working with LASVIT and Studio Peascod for many years and will unveil more collaborative projects to come including a high-end private residential project in Taipei.
For more project information, please visit https://www.celiachu.com/
---
Petrie PR is a dynamic boutique Asia based PR agency providing specialist communications strategy for the luxury lifestyle, travel, property, design and spa sectors.
Regionally and internationally connected, our reach spans all the most influential media in China, Hong Kong, Singapore, Taiwan and Indonesia as well as emerging markets including Malaysia, Vietnam and Thailand.
Find out more about us.