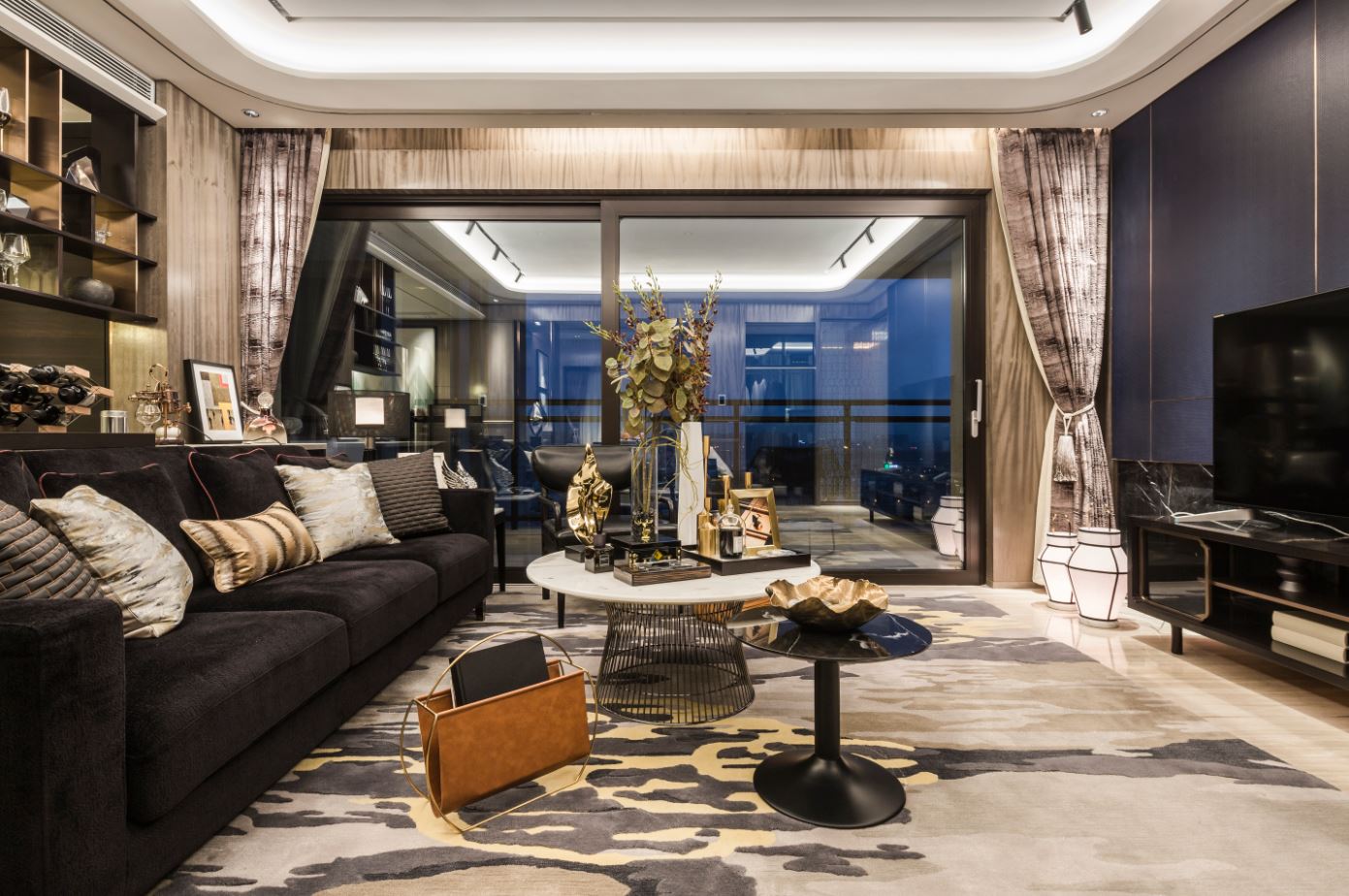 12 Jul

Wilson Associates' Groundbreaking Design of Huafa Guanggang Showflats and Sales Center Revolutionizing Residential Design in China

Wilson Associates has spearheaded the residential showflats and sales center landscape in China with the groundbreaking design of Huafa Guanggang Showflats and Sales Center, an unprecedented residential project completed in April 2017.

The concept is a celebration of a rebellious spirit felt during the French Revolution, in which  intriguing architectural icons were heralded both for being impactful and provocative. Wilson Associates shared the same spirit of innovation when designing Huafa Guanggang Sales Center and Showflats, and brought a unique and distinctive concept in residential architecture in China.

As a leading international design and architecture practice with more than 45 years of award-winning acclaim, Wilson Associates is forward thinking in every creation. Knowing that the China market has grown to embrace bolder design approaches, Wilson Associates aimed to transform the ordinary into the extraordinary and most importantly, change the perception of residential showflats in China which has always been framed within a standard modern, classic persona.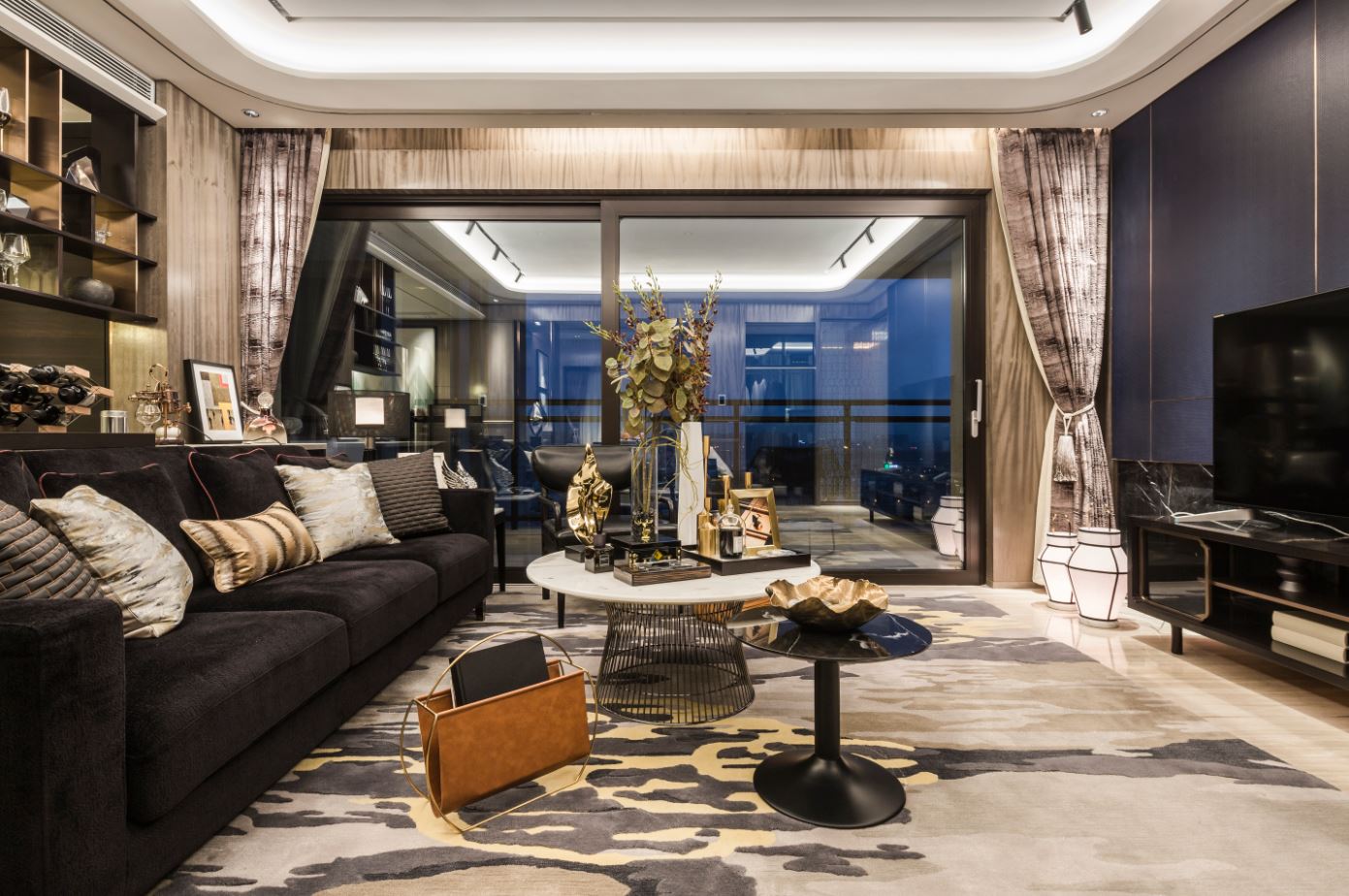 By creating very individual and intriguing pieces throughout the space and balancing those with a well-crafted modern interpretation of a classical architectural language, the Huafa Guanggang Showflats and Sales Center reflect an atmosphere of luxe and glamour. Wilson Associates has created a contemporary interpretation of a modern yet classic interior architecture with strong emphasis on black and white contrasting hues. A collection of contemporary furniture pieces was curated to show a bold sense of taste for a discerning clientele, and gives prominence to textures and tactile experiences with intuitive detailing.
With the soulful voice of modern art, Wilson Associates used an unprecedented design approach for the Huafa Guanggang Sales Center. The sensitive balance of contrasting black and white with bold furniture pieces positioned in the lobby and bar, is comparable to the engaging balance of abstract impressionism in art, where the furniture pieces perform as sculptures within a strong visual architectural canvas.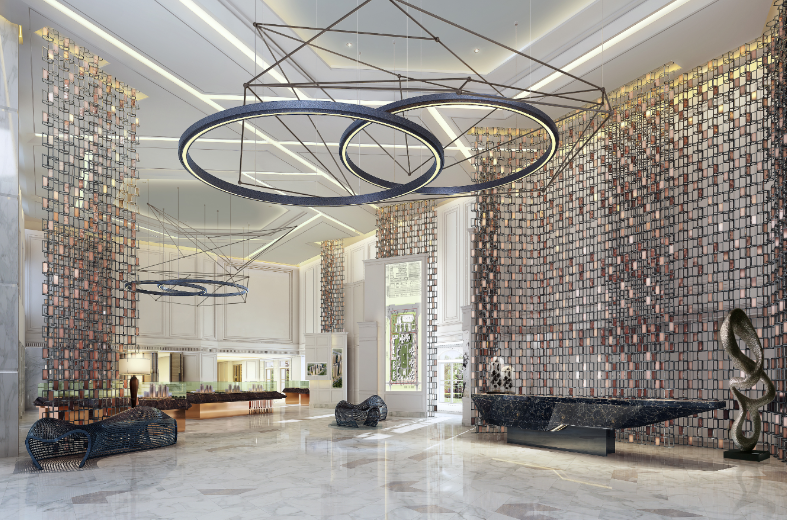 The "168" Huafa Guanggang showflat is targeted towards a mature family demographic and showcases a flexible use of space by creating distinct pockets of social zones, such as the open kitchen, dining area, and the study which can also be deconstructed into one generous-sized social zone. Minimal hues are used in the interior architecture, but complemented with bold fabric selections for the furniture pieces, and paired with other elements such as bespoke walk-in closets with leather hand-stitched drawers, curated wood veneer panels, and Italian white marble-adorned bathroom walls and countertops to create a luxurious, crafted atmosphere.
Designed for young, newly married couples, the unique layout offering and furniture placement at the "142" Huafa Guanggang showflat creates a spacious living area adjoined to the open kitchen and dining area. The unique layout for the oft-challenging small footprint presents a circulation flow by connecting spaces and creating an interesting lifestyle concept that is quite unseen in China. Another distinct feature is the guest bedroom, where the door can be opened 180 degrees allowing its en suite bathroom to transform into a powder room. These are unique features that provide flexible use of space according to individual preferences.
Understanding the needs of the market, Wilson Associates has set a bold precedent with Huafa Guanggang Showflats and Sales Center that demonstrates a unique and groundbreaking design with meticulous attention to every detail and design element.
---
Petrie PR is a dynamic boutique Asia based PR agency providing specialist communications strategy for the luxury lifestyle, travel, property, design and spa sectors.
Regionally and internationally connected, our reach spans all the most influential media in China, Hong Kong, Singapore, Taiwan and Indonesia as well as emerging markets including Malaysia, Vietnam and Thailand.
Find out more about us.