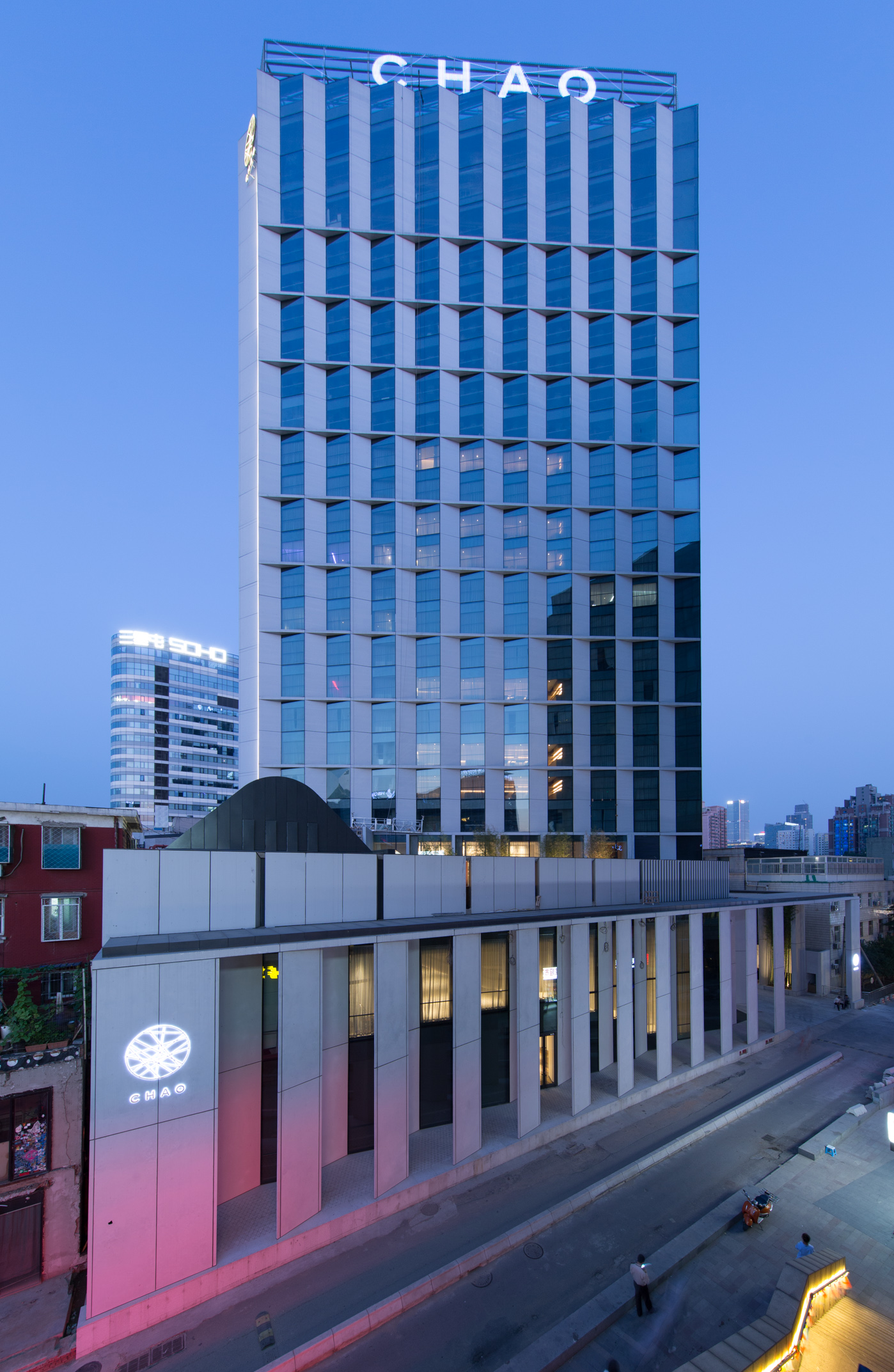 29 Jul

Ways of seeing- Annual Exhibition of CHAO Art Center

Ways of Seeing is a showcase, a manifesto of sort, of an art that focuses on the human condition. CHAO Art Center is pleased to announce that the 2019 Annual Art Exhibition "The Way of Seeing" opens on August 16th and continue until October 6th, 2019. The exhibition gather 17 acclaimed individuals/groups of both Chinese and foreign contemporary artists, including a number of "textbook-style" works, and many significant works that were first publicly exhibited in China. After more than a year of preparation, this exhibition will be presented from a variety of angles besides the text of the work. To build a deeper visual context, Ways of Seeing puts into question some normative values in contemporary art like monumentality, recency and uniqueness. From which to explore the Way of Seeing of contemporary Art.

Artists

Marina Abramović

Banksy

Joseph Beuys

Chen Chieh-Jen

Guerrilla Girls

He Yunchang

Jenny Holzer

Huang Rui

Alfredo Jaar

K Foundation

Allan Kaprow

Ana Mendieta

Yoko Ono

Ulay

Wang Guangyi

Wang Qingsong

Xu Bing

Ways of Seeing title is borrowed from the British author and critic John Berger's groundbreaking television series broadcasted on the BBC in 1972 and published as a book the following year, as an homage and a reminder that "the relation between what we see and what we know is never settled".

Not seeing, because not knowing the copy from the original. Here each piece embodies an original mind of its own. Together, arm in arm, they stand like a choir of different voices stimulating us to think, learn and understand in other ways, what contemporary art actually can be. It learns us to distinguish an art that speaks with poetry about existence, from an art that does not. Articulating a hope of sincerity and courage, of something genuine, something which at times lacks in our smartphone lives of smiles and likes.

Although the pieces in Ways of Seeing are all very different, in content, form, intention and concept, they are all linked. Together they manifest an important diversity through originality and strong artistic vision. Poetic in attitude they tell some astounding stories and shows unforgettable images that only can but trigger our imagination of the possible – and the impossible. Their critical, intuitive, unexpected and at times mindblowing content shows us what art can be and become. It is a good beginning.

Marina Abramović, Ulay | The Great Wall Walk
Portrayed in the form of dual-screen image, The Lovers. The Great Wall Walk by Marina Abramovic and Ulay opposes the spectacle in intention, form and content, as well as through its origin as a crazy romantic idea : to walk the Great Wall from each end, meet in the middle and get married.
Yoko Ono | Grape Fruit
Historically groundbreaking piece like Yoko Ono's Grapefruit today stands out as a conceptual beacon. With its poetic and empowering do it yourself instructions, to make us understand, think and imagine art beyond ourselves, empowering our own creative minds.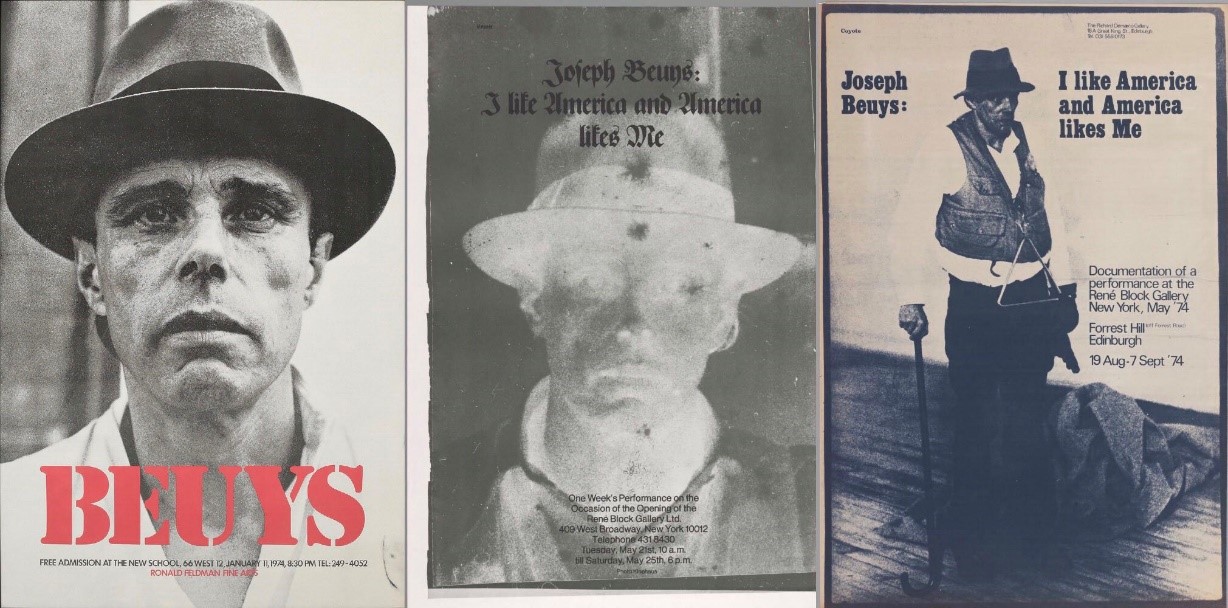 Joseph Beuys | I Love America and America Loves Me
Joseph Beuys' I Like America and America Likes Me is another legendary work that Ways of Seeing puts on show for the first time in China. Presenting the German artists' fascinating action from 1974, when he was living for three days with a wild coyote in a gallery space in New York.
K Foundation | Burn a Million Quid
Most of the art works included in Ways of Seeing formulates their proper art theory, in the spirit of Marcel Duchamp's ready-made urinal Fountain. One such work is the K-Foundations heroic yet stunning and still controversial Money : A Major Body of Cash (1994), whose final part and action Burning of A Million Quid shows its two members Jimmy Cauty and Bill Drummond burn one million British pounds, the current equivalent of 25 million RMB. A paradigmatic work engaging not only human courage, but a monumental mind. A work speaking to us about art and life and of course the value of money and capital in our lives.
Banksy | Di-Faced Tenner
A conceptual work which Banksy indirectly paid hommage to exactly ten years later with his Di-Faced Tenner (2004). When the famous yet anonymous street artist distributed one million British Pounds in fake ten notes for free at the Notting Hill Carnival. An illegal action for which he could never take any official responsibility.
Ways of Seeing puts into question some normative values in contemporary art like monumentality, recency and uniqueness as well as notions of copyright and distribution. If the art works in Ways of Seeing spans a 65 year period from Yoko Ono's first instruction in 1954, this is a conscious choice. It articulates a conception of the contemporary that is not reduced to the date of creation. Instead it replaces the notion of recency, with the more conceptually expansive idea of influence. Implying that what is significant is not whether the work was produced yesterday or fifty years ago. But if it still has influence, if it still speaks to us today. As such Ways of Seeing formulates an open lingering perspective on time and the contemporary. Not conditioned by date of creation, but by the works current meaning and influence. Where the intellectual and emotional significance in the present is what gives its contemporary validity. Its aura of now.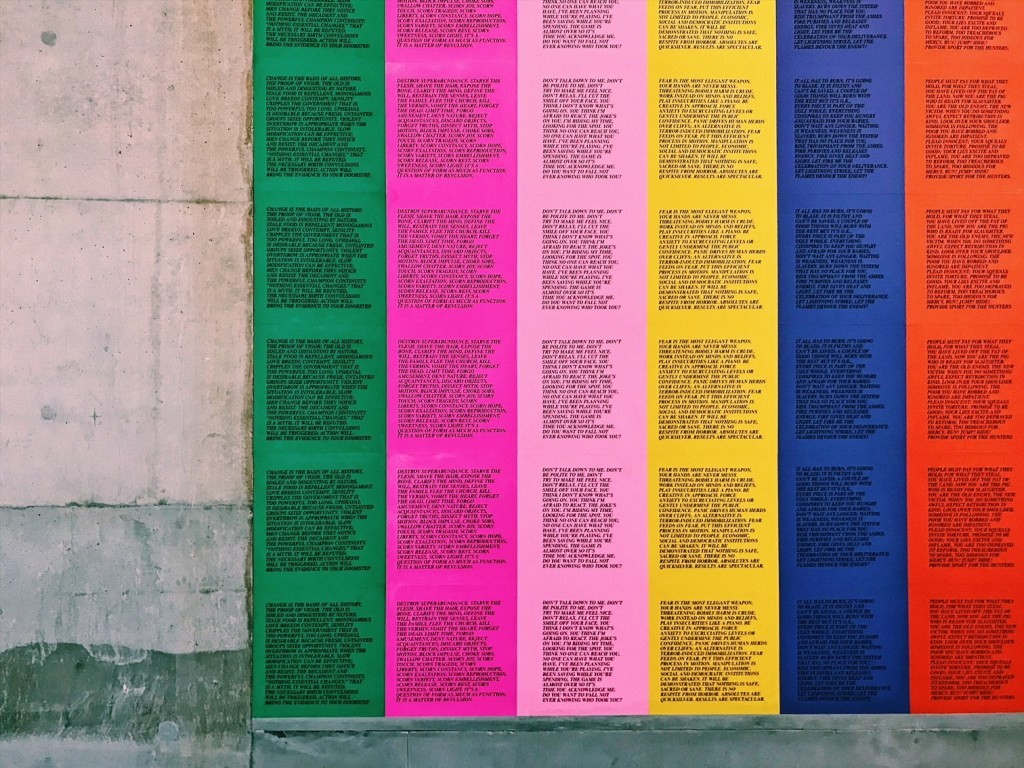 Jenny Holzer | Inflammatory Essays
Jenny Holzer's Inflammatory Essays is one example, of a work which probably is more contemporary today than it was when it was created 40 years ago.
Guerrilla Girls | Do Women have to be Naked to Get into the Met. Museum?
In the numerous of works of the Guerrilla Girls, they often use advertisements, especially banner posters, as their visual language to convey their message in a prompt and direct way. In 1989, their acclaimed poster "Do women have to be naked to get into the Me. Museum?" For the first time they advertised on a public bus in New York City.
In its visual discourse Ways of Seeing's questions monumental dimension as a value criteria in the appreciation of contemporary art. Physical size is something that anyone can feel and understand. Massive scale carries not only symbolic weight but affects us in a physical way. It is an impressive, efficient and to some extent populist way to evoke admiration and awe. Yet it has nothing to do with artistic significance. On the contrary it can be used as an aesthetic surgery, as a camouflage of the artistic wrinkles and flaws and hide an emptiness.
For the mindful visitor Ways of Seeing questions how we understand the notion of the monumental. Works like Yoko Ono's Grapefruit, Allan Kaprows' How To Make A Happening, Guerrilla Girls Do Women Have to Be Naked to Get into the Met, Jenny Holzer's Truisms, or for that matter Banksy's Di-Faced Tenner are all physically small objects. Yet monumental in their mode of distribution or through their empowering capacity of imagination and conceptual significance. A monumental idea is not something that everyone can seize or see. It needs a receiving mind. Imagination and/or knowledge. A works size might be humble yet have conceptual dimensions and theoretical consequences of a mountain.
Allan Kaprow | How To Make A Happening
The recurrent use of mechanical or digital reproduction visualizes a critical discourse on the contemporary art object's uniqueness and exclusive diffusion. Issues fundamentally related to the economics of art, and not to any criteria of artistic appreciation. The market value is by praxis established by the artists' signature, the authenticity and the unique quality of the object. Ways of Seeing problematizes these notions, in showcasing works destined for unlimited reproduction and a stated intention of mass communication. But also of works that for some reason cannot be authentified. The unlimited reproduction of an art work, consciously used by artists like Yoko Ono, Allan Kaprow and Joseph Beuys, or for that matter Banksy and the Guerrilla Girls eliminates effectively any consideration of market value.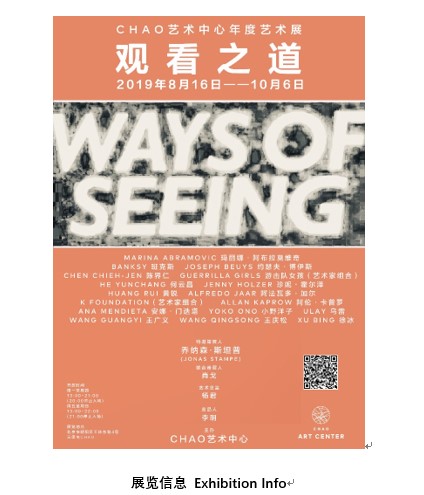 Ways of Seeing is also a showcase of originality through the artists use of non-conventional objects and mass media formats to realize innovative work. Whether it is through books, mass media advertisements, toy puzzles, vinyl records, TV-commercials, posters, photocopies, leaflets, bottle etiquettes, cigarette imprints, or give away objects, Ways of Seeing showcases a poetry of everyday life. Implying other and broader modes of distribution, far beyond the art gallery or the museum.
The works chosen for Ways of Seeing are all very different, in content, form, intention and concept. They do manifest a diversity. Some are simple, others are more complex. Some uses text and print, others sound, or a configuration of different media, some are pure actions, visualized through video, photographs or objects. What they have in common is a profound mind. They all showcase a strong artistic vision exemplifies a high degree of originality. The fundamental criteria of artistic excellence, alongside artistic courage, human sincerity and formal innovation, all core criteria for the selection of works to Ways of Seeing.
Ways of Seeing is not a walk-through exhibition but intended to honour the critical, the intuitive, the unexpected and the mindblowing. It is an exhibition which you need to give time, during as well as in the thoughtful afterglow of your visit. For the theoretically inclined Ways of Seeing gives a lot to think about. For the public at large it tells some astounding stories, visualizing unforgettable images, triggering the imagination of the possible.
---
Petrie PR is a dynamic boutique Asia based PR agency providing specialist communications strategy for the luxury lifestyle, travel, property, design and spa sectors.
Regionally and internationally connected, our reach spans all the most influential media in China, Hong Kong, Singapore, Taiwan and Indonesia as well as emerging markets including Malaysia, Vietnam and Thailand.
Find out more about us.