29 Nov

Tired of shopping, mainlanders are seeking sports holidays… and the next big thing could be skiing

Sports tourism in China is tipped to grow 30 to 40 per cent annually, according to analysts

On a Thursday night in Hong Kong last week, a collection of wannabe-skiers gave the sport a try.

Outside it was a brisk autumn night, but inside Kwun Tong's 321Play, skiers were trying out a real-life skiing simulator which mimicked the thrill of downhill skiing – minus the snow.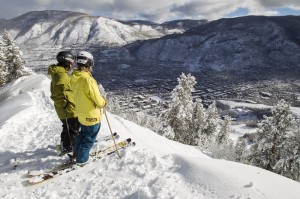 The event, organised by US' Aspen Skiing Company, was part of the company's push to get Hongkongers and mainland Chinese travellers on the ski slopes.
Aspen is well known for attracting celebrities. But the scenic Colorado spot has also been drawing in a small but growing number of Chinese visitors over the past decade.
With the sport only just gaining traction with mainlanders, the company's sales and marketing manager Sonia Bekhaazi thinks there's huge room for growth and hopes to see 10 per cent of all visitors from China in 10 years. Currently about 30 per cent of its 1.4 million annual visitors are from overseas.
"We've got our eye on this market," she told the Post.
Part of the growth will be driven by the Beijing Winter Olympics 2022, which has prompted the government to roll out initiatives aimed at encouraging winter sports in China, she said.
"Because it's so early in the industry, we don't know what's going to happen," Bekhaazi said, noting that Chinese travellers to Aspen had doubled in the last few years.
"I think that the Beijing Winter Olympics in 2022 is a big driving force, that has definitely moved things along at a rapid speed. But I think the Chinese in general are changing, they're getting more interested in action sports."
The growth of Chinese tourism in Aspen is only the tip of the iceberg. Sports tourism – the combination of sports and travel activities – is the fastest growing segment in China's booming travel industry thanks to rising health consciousness and a consumption shift to lifestyle experiences, according to a Citi Research report published in October.
Last year, China's sports tourism market was valued at 206.5 billion yuan, but CIC consulting expects that to grow at between 30 to 40 per cent annually to reach 1 trillion yuan by 2020.
The growth of sports tourism was thanks to a growing awareness of healthy living, and a trend among affluent Chinese of feeling they no longer needed products to prove their place in society. Instead, they place greater value on the experience, said HSBC's global co-head of consumer and retail research Erwan Rambourg, who is also the author of The Bling Dynasty: Why the Reign of Chinese Luxury Shoppers Has Only Just Begun.
An HSBC report released earlier this year, and authored by Rambourg, found a majority of wealthy Chinese consumers would rather spend money on travel and entertainment rather than shopping, and prioritised nature, hiking and dining over retail therapy when choosing their destination.
Rambourg said the trend towards sports tourism – and skiing more broadly – would be led by people who have already been on a number of overseas trip.
"It's only going to be the elite who will be brave enough to try something new."
He expects sports and snow tourism to continue to grow, although skiing is unlikely to ever be a mainstream tourism activity.
"You can pretty much take the view that you'll have a minimum of 10 per cent growth for anything that's not Hong Kong-related [tourism]."
As for Aspen's Bekhaazi, she wants to see Chinese business grow steadily over the next few years, "not explode overnight", so she can ensure customers are getting a good level of service.
Fifteen years ago, there were around 80 ski resorts in China – now there's more than 500 and a number of managers from mainland resorts had toured Aspen in the last few years, looking to see how they could learn from the mature market, Bekhaazi said.
Aspen's moves to attract Chinese travellers range from working with mainland ski operators to build relationships, to making sure their amenities are "China ready" with Putonghua translations, as well as tea-making amenities in rooms.
Katie Ertl, Aspen's ski schools managing director, who was also visiting from the US, said the ultimate goal was to encourage Chinese skiers to take their next holiday at Aspen.
"But to be honest, if we can keep them in the industry, that is a great goal as well," she said.
This article appeared in the South China Morning Post print edition as:
US firm taps skiing demand in China