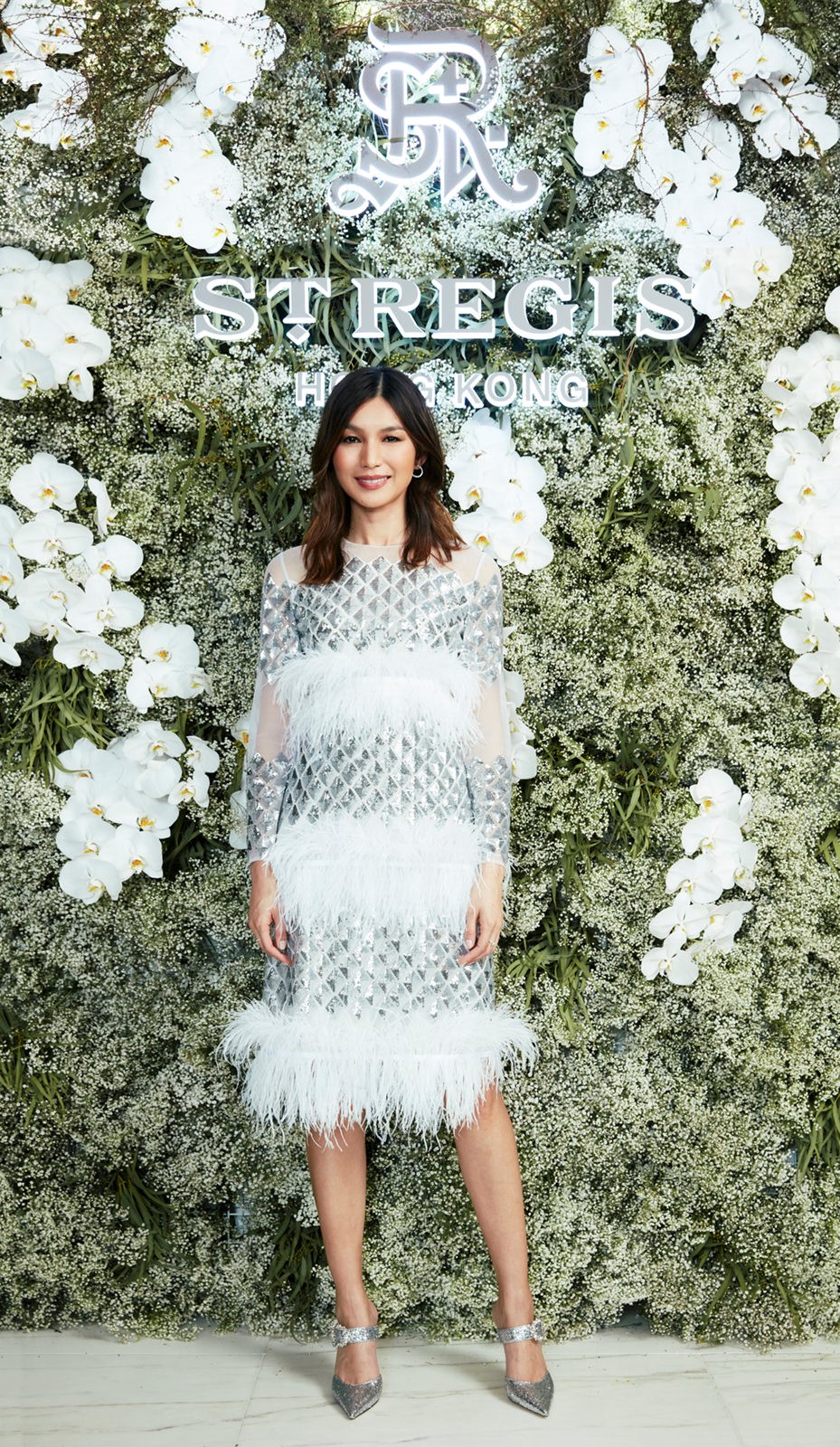 15 Apr

St. Regis Hotels & Resorts Welcomes Gemma Chan as its First Guest at an Exclusive Midnight Supper to Celebrate the Opening of St. Regis Hong Kong

St. Regis Hotels and Resorts, part of Marriott International, Inc. took great pleasure to welcome Ms. Gemma Chan, British actress who has starred in Crazy Rich Asians and Captain Marvel, as its first guest at an exclusive Midnight Supper to celebrate the opening of The St. Regis Hong Kong, a new landmark of bespoke luxury in Hong Kong.  The event was hosted by Tina Edmundson, Global Brand Officer and Peggy Fang Roe, Chief Sales & Marketing Officer, Asia Pacific Marriott International. The Midnight Supper also welcomed celebrities, socialites and media as well as other Marriott International representatives including: Stephanie Linnartz, Chief Commercial Officer, Karin Timpone, Global Marketing Officer and Derek Flint, General Manager of St. Regis Hong Kong to be part of this milestone celebration.

Gemma is no stranger to the St. Regis brand. In the movie Crazy Rich Asians, Gemma's character Astrid Teo made the first entrance at the Astor Bar in the St. Regis Kuala Lumpur, which was transformed into a jewellery store. "I am honoured to be part of this special Midnight Supper event celebrating the first St. Regis hotel opening in Hong Kong and to have the chance to have a firsthand experience of its exceptional service," comments Gemma.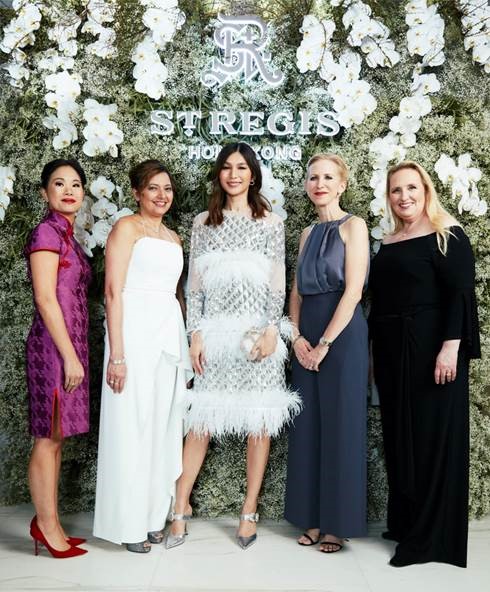 (From Left to right): Peggy Fang Roe, Chief Sales & Marketing Officer, Asia Pacific, Tina Edmundson, Global Brand Officer, Gemma Chan, Actress, Stephanie Linnartz, Global Chief Commercial Officer and Karin Timpone, Global Marketing Officer
Image courtesy: Jason Capobianco
Caroline Astor, mother of the St. Regis founder and doyenne for Gilded Age high society, established the original after party with these legendary events.  Traditionally commencing at midnight, they now conclude at this hour.  These coveted, intimate gatherings were, and remain, treasured chapters in the St. Regis brand's social heritage to celebrate grand debuts and the bestowing of "connoisseurship" on selected Luminaries.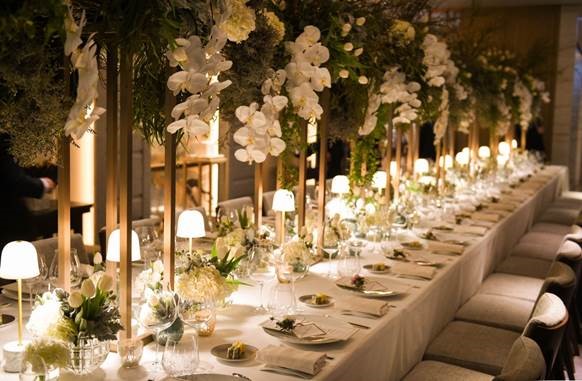 Elegant flower set-up and candles, inspired by French Gardens to create a Midnight Supper at L'Envol French Restaurant in the St. Regis Hong Kong
Award winning French chef and Culinary Director of L'Envol, Olivier Elzer curated a beautiful, flavorful 5-course menu at the St. Regis Hong Kong Midnight Supper with dishes that are full of verve and originality.  The "Signature" menu boasts beef jelly and horseradish water cress emulsion, poached Brittany blue lobster with hazelnut butter and French milk-fed veal fillet cooked in lime-tree, all paired with a special wine selection by Tristan Pommier, Chief Sommelier at St. Regis Hong Kong.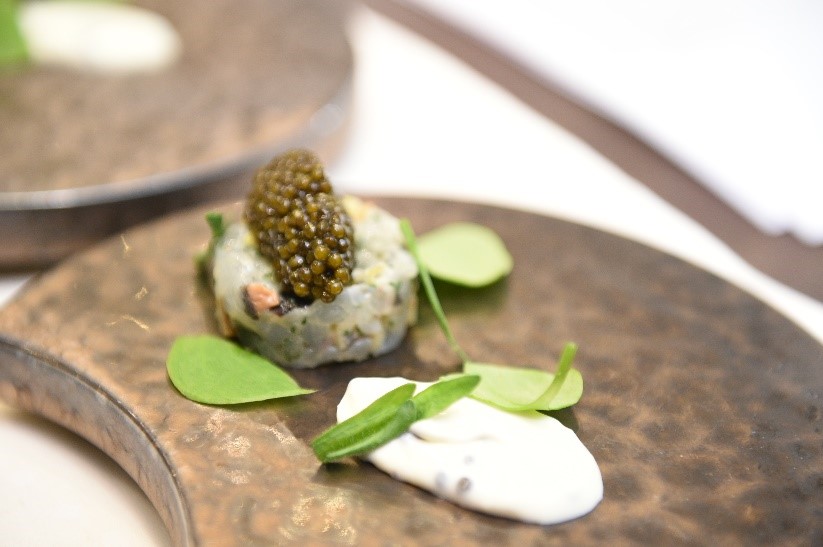 Le Caviar Krystal En Dégustation, presented by Oliver Elzer, Culinary Director at L'Envol and renowned chef with an accumulative 18 Michelin stars
The St. Regis Hong Kong reflects the vision of interior designer André Fu of a Hong Kong mansion, blending the timeless elegance of the St. Regis legacy to the silhouettes of Hong Kong's architectural and cultural diversity. Thoughtfully-designed accommodations featuring 129 rooms and suites are complemented by East meets West elements that provide the perfect setting to offering personalised St. Regis Butler Service. L'Envol French restaurant and Rùn Chinese restaurant feature culinary highlights by Michelin-starred chefs, while The Drawing Room hosts a redefined Afternoon Tea experience with The St. Regis Bar signature cocktails complemented by live jazz music.
---
Petrie PR is a dynamic boutique Asia based PR agency providing specialist communications strategy for the luxury lifestyle, travel, property, design and spa sectors.
Regionally and internationally connected, our reach spans all the most influential media in China, Hong Kong, Singapore, Taiwan and Indonesia as well as emerging markets including Malaysia, Vietnam and Thailand.
Find out more about us.