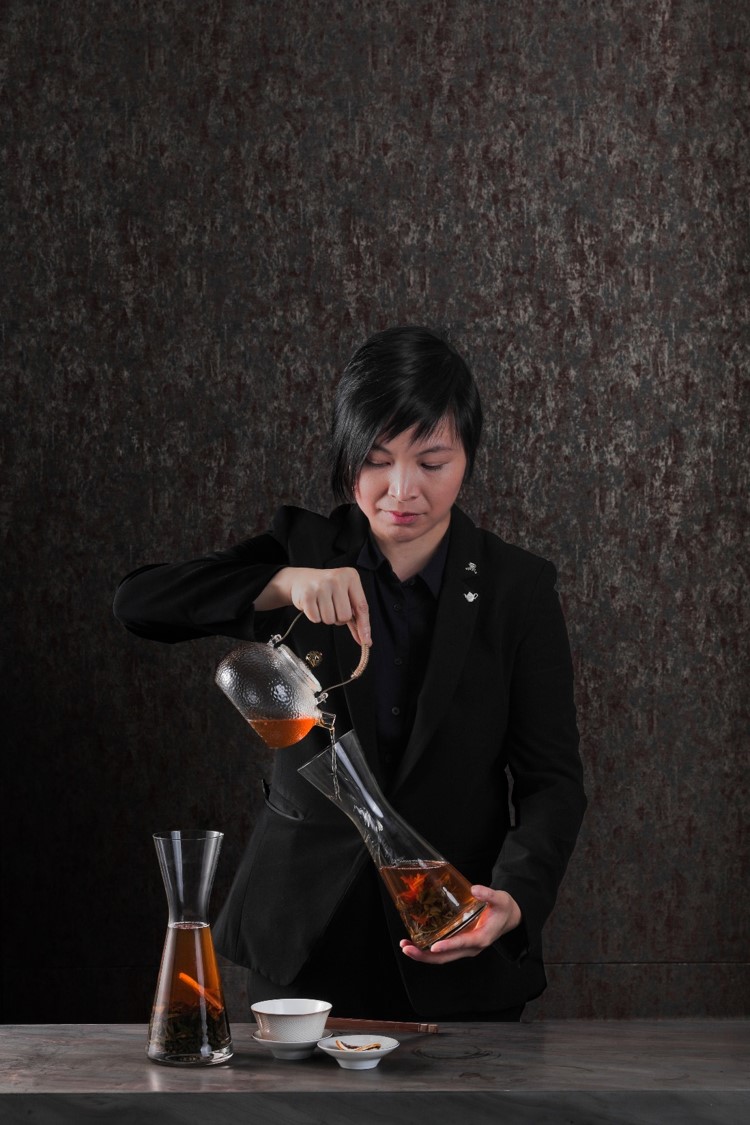 13 Sep

St. Regis Hong Kong Introduces Unique Tea Pairing Menu At Rùn Chinese Restaurant

The newly opened St. Regis Hong Kong has introduced an exceptional culinary experience supported by new dining and bar concepts.  From September onwards, Chef Hung Chi-Kwong and Tea Master Kezia Chan has partnered up to  introduce an all-new Tea-Pairing Menu with an 8-course menu that takes guests on a gastronomical journey with beautifully crafted tea and food combinations that are paired to enhance dishes and bring out similar and complementary notes in perfect harmony. There will be two different Tea-Pairing options – a pure pairing of perfectly matched teas to Chef Hung's creations to the same blended teas infused with different spirits to enhance the gastronomic experience.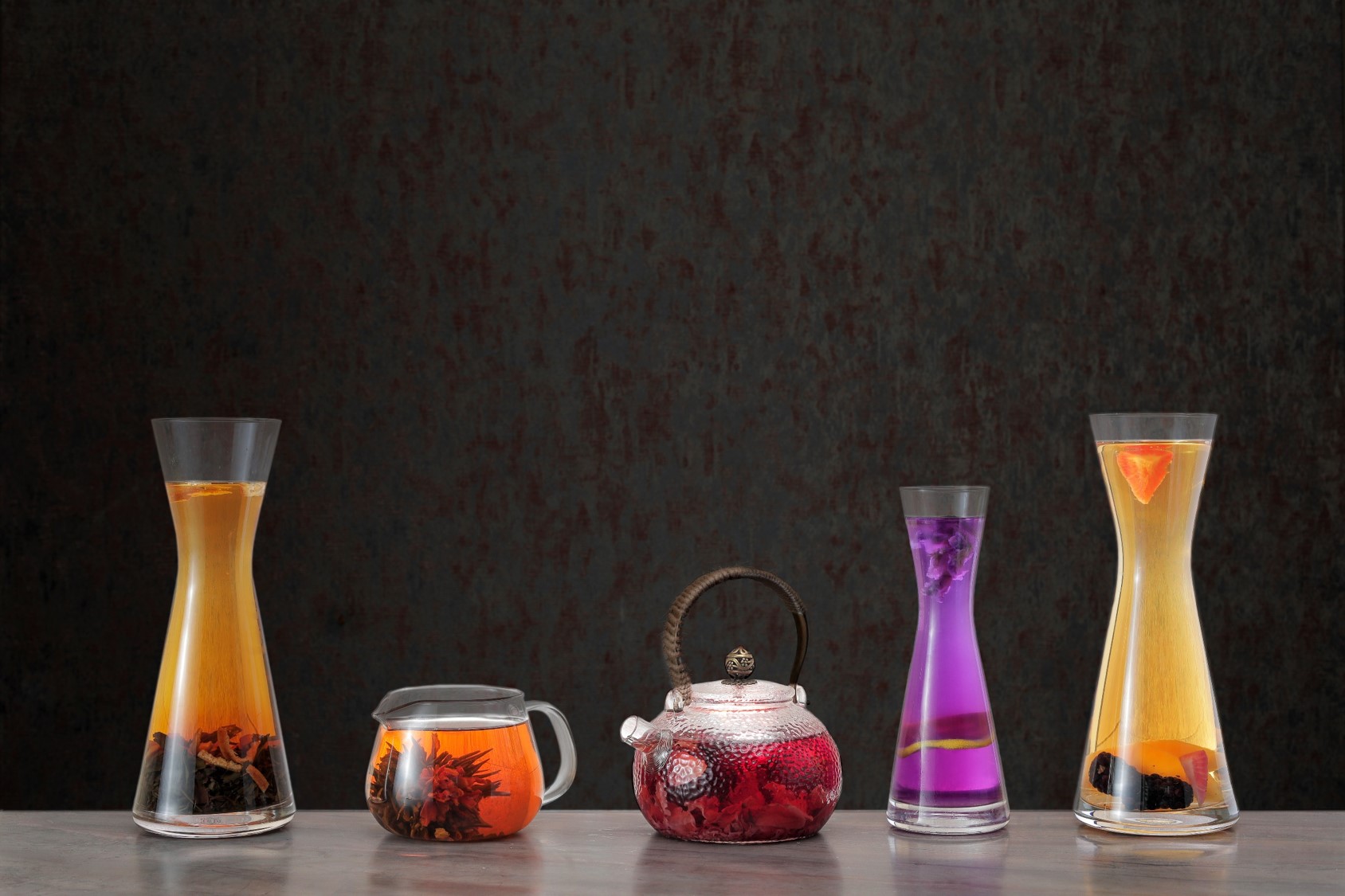 The menu showcases the gastronomic mastery of Chef Hung's decades of knowledge and experience using the best quality ingredients to create delicate and innovative seasonal dishes. To start, guests are presented with a trio of Chef's signature including Roasted crispy suckling pig, Baked diced Wagyu beef puff, black pepper sauce and Chinese marinated foie gras and the second course is one of Chef Hung's signature, the nourishing Double-boiled abalone soup, kelp, goji, cooked in a baby coconut. Chan chooses to pair the rich barbeque flavoured appetisers with a Cold-Brew Dan Song Red Tea with Rose mixed with Champagne Blanc de Blanc because Dan Song tea leaves carry a natural fruity tone like lychee, while the roses and the mix of champagne help to open up the sense and elevate the taste bud, marking a great start to the tasting menu.  Dan Song or Song Zhong Feng Huang Dancong, as it is widely known, is considered as one of the most premium grades in the Oolong tea category, typically produced in the Guangdong Province. It has a sweet aftertaste with fragrant aromatic persistence with natural flowers.
Chef Hung's third course is a Simmered tiger prawn, crab roe sauce. Hung chooses to use tiger prawn from Vietnam as the region is well known for their premium quality tiger prawn, paired with the rich and creamy crab roe sauce.  Chan pairs this with a Cold Brewed Silver Needles Tea with Five kinds of flower including Lily, Jasmine, Chamomile, Thousand Red and Osmanthus, mixed with a Grapefruit flavoured vodka. The Silver Needle Pekoe is considered as the King of white tea. Produced in Fujian, China, the tea buds are lustrous and silvery and the tea has a cooling and thirst quenching effect which helps to elevate the rich flavour of crab roe.  Guests will first taste the richness of the tea followed by an immediate floral tone, which is from the five different kinds of flower Chan uses to brew the tea. The aftertaste along with the bold use of the flavoured vodka helps to keep the dish balance and light.
This is followed by the Steamed spotted garoupa fillet, Konjac, pickle chili which Chan pairs with a Cold Brewed WuXi Shui Sin Tea with Lily and Orange peel. The Wuyi Ji Lan Shui Xian is from the Wuyi mountains, a mild and sweet tea with roasted and woody flavours from the mineral in the soil, Chan adds the orange peel to enhance the tea's natural fruity aroma and nutty aftertaste which contrasts the pickle chili. The next course is a Wok-fried Wagyu beef, garlic with Cold Brewed Butterfly Pea Flower with Pear Barley mixed with Chardonnay. Butterfly-pea flower tea or more commonly known as Blue tea is a caffeine-free herbal tea known to have medicinal effect; with health benefits to eyes and liver. Presented in a shorter glass, Chan adds dried ginger peel and lemon to help balance the rich flavour of Wagyu beef and the Fried rice, crab meat, salted duck yolks.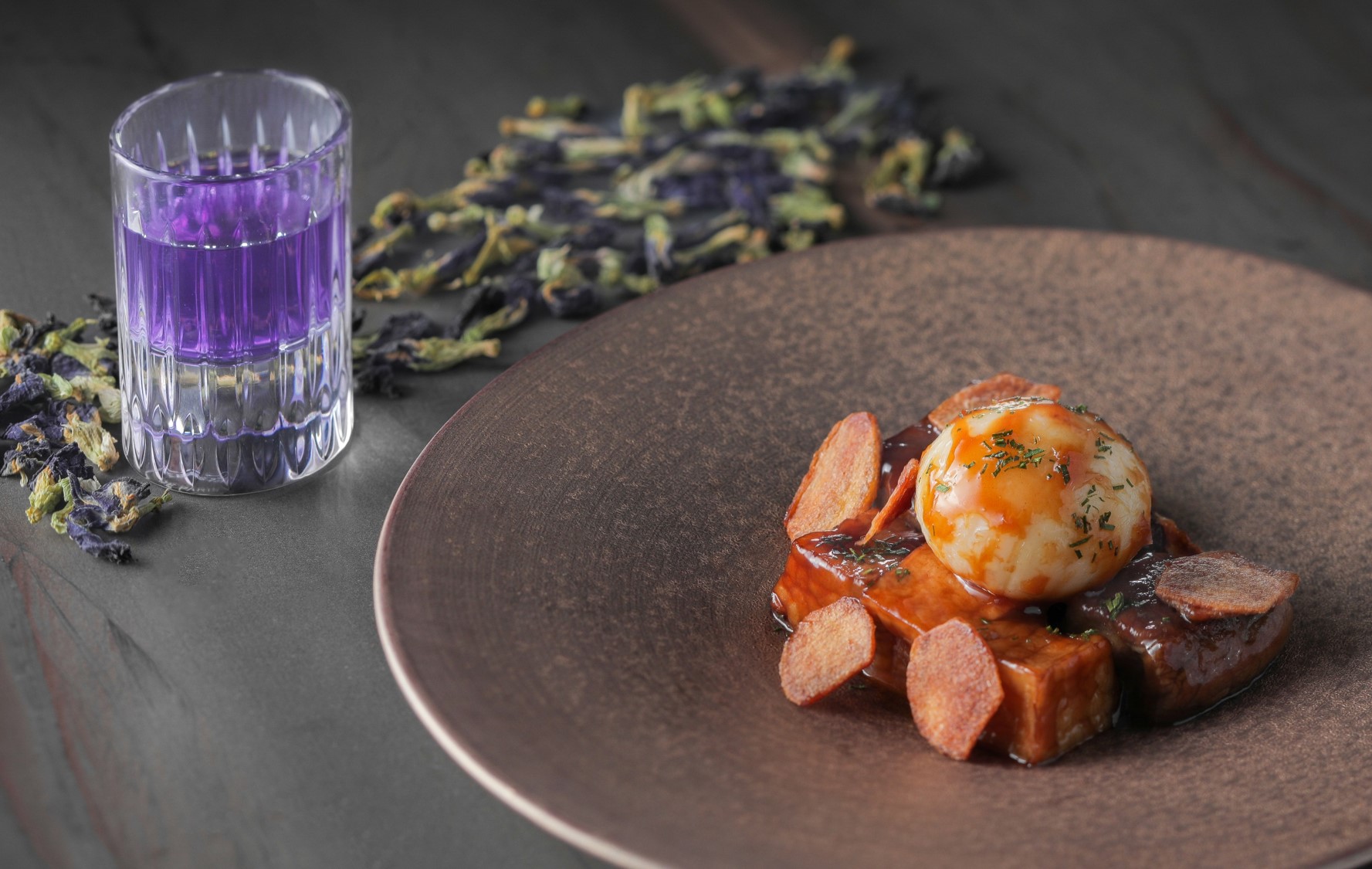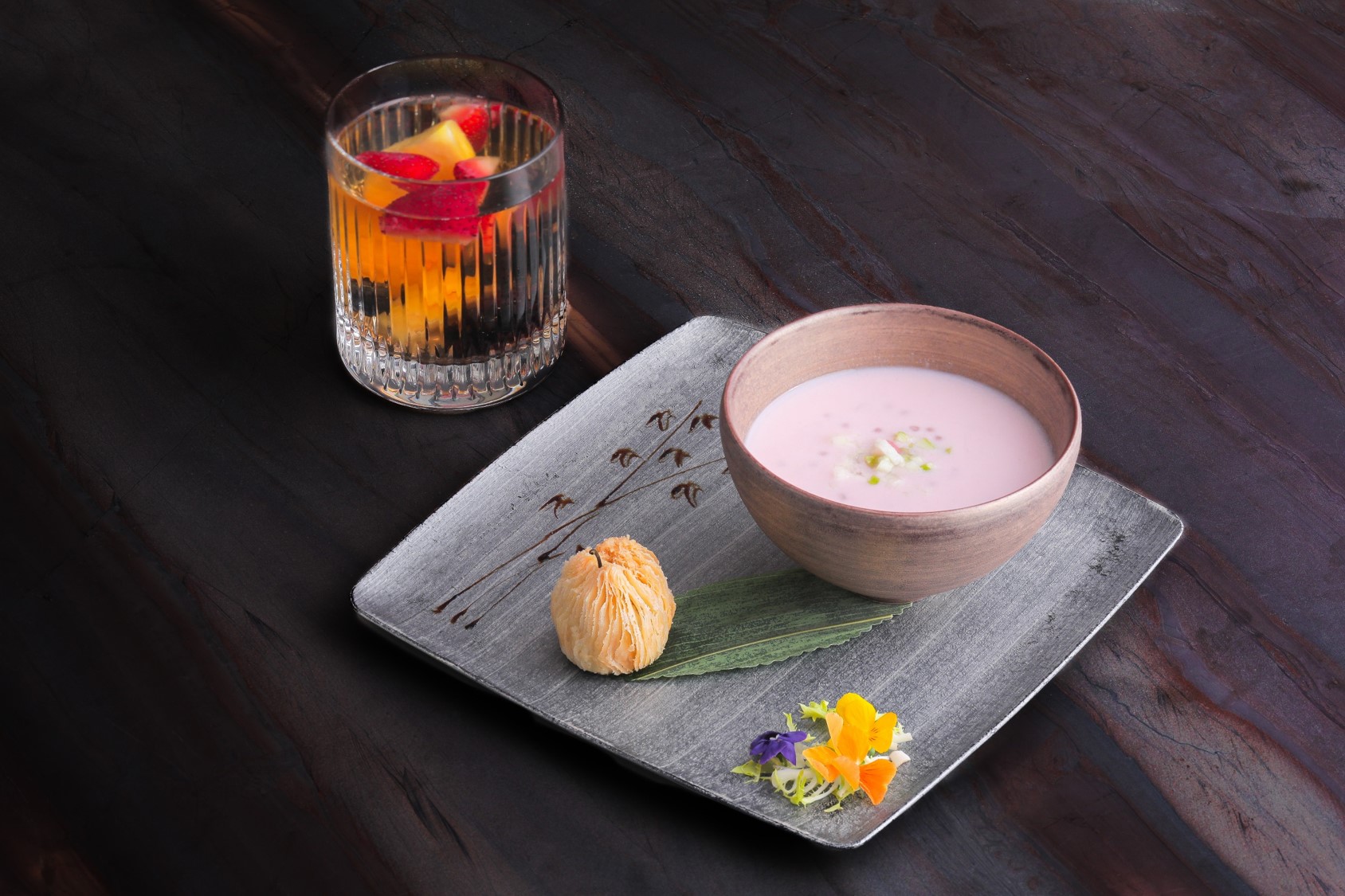 Guests can finish an exquisite meal with a dessert of Chilled pink guava cream, sago, coconut jelly, baked purple sweet potato puff, rose paired with Cold brewed Puerh Tea with Tangerine Peel and fruit, mixed with Sake. Puerh tea is one of the black tea categories, produced in Yunnan, China and typically serves as a digestive tea at the end of the meal. Chan chooses a seasonal mix of fruit as the base of the cold-brew tea which is soaked for more than 8 hours, typically a Puerh tea can be more bitter on the taste but with the added fruit, this elevates the tea and also brings out the flavour of the dessert that Chef Hung has selected.
The Tea-pairing menu is available for both lunch and dinner services at HKD1,938, guests can choose to pair with hot or cold-brew tea; and guests can choose to upgrade to an alcohol-infused cold-brew tea at an additional HKD400.
Lunch service is from 12:30pm – 2:30pm; and dinner service is from 6:00pm – 10:30pm. For reservations, please call 2138 6808 or email srhk.run@stregis.com
---
Petrie PR is a dynamic boutique Asia based PR agency providing specialist communications strategy for the luxury lifestyle, travel, property, design and spa sectors.
Regionally and internationally connected, our reach spans all the most influential media in China, Hong Kong, Singapore, Taiwan and Indonesia as well as emerging markets including Malaysia, Vietnam and Thailand.
Find out more about us.