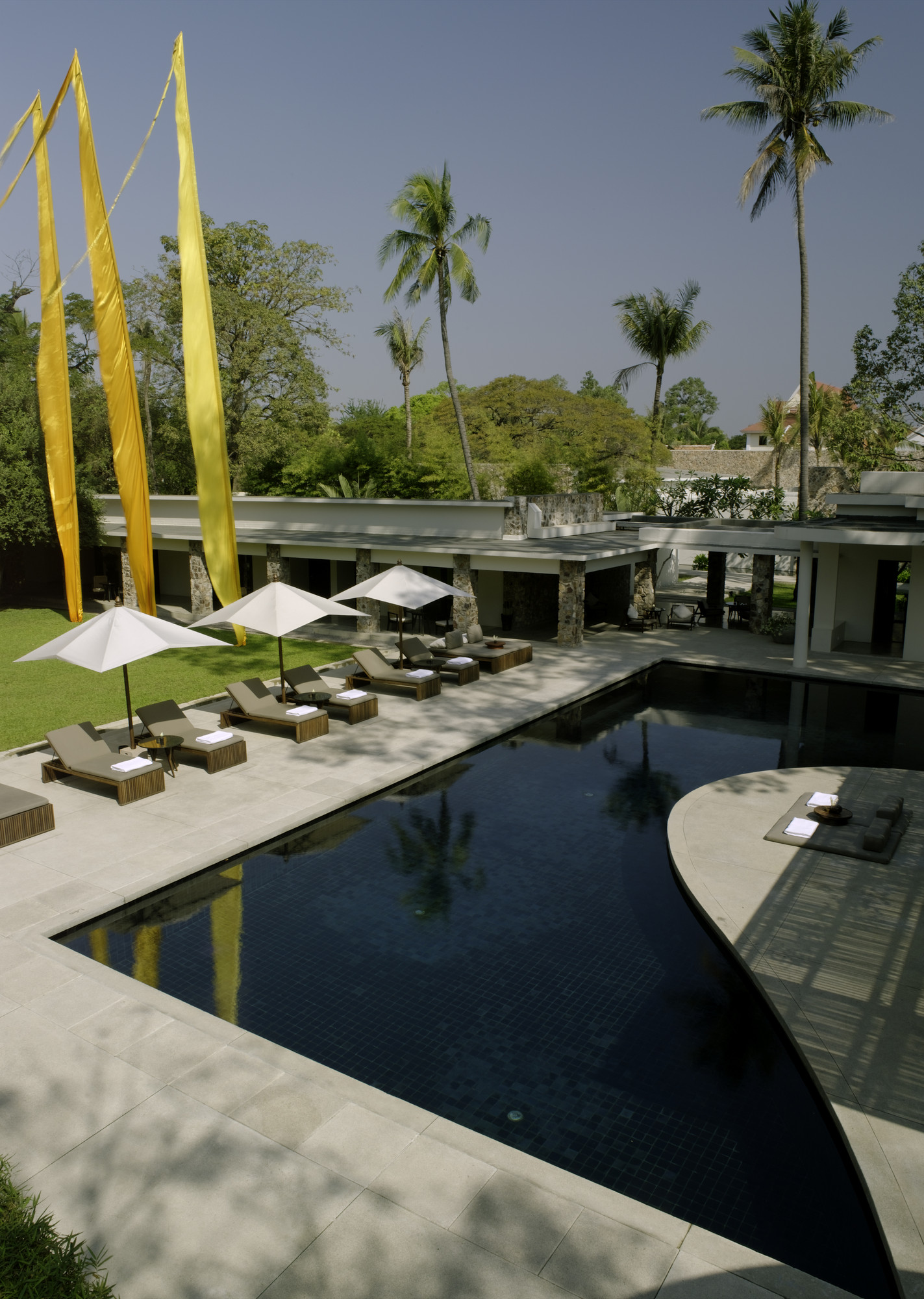 19 Aug

New Gym and Movement Studio at Amansara

Formerly a guest residence of Cambodia's King Sihanouk, Amansara is a masterpiece of 1960s New Khmer architecture in the heart of Siem Reap. Carefully and sensitively restored back to its former glory in 2002, Amansara boasts original monochrome minimalism and is a subtle contemporary take on Indo-Chinese styling, providing guests with a sophisticated base from which to explore the nearby temples of Angkor. On 1 August, Amansara reopens from a short closure with a series of enhancements, including the launch of a new gym and movement studio and the introduction of several new movement experiences, complementing the hotel's existing Khmer holistic traditions.

The new gym at Amansara is nestled amongst the resort's bamboo trees, and features floor to ceiling windows. Located just moments away from the resort's iconic lap pool, the gym features Technogym equipment, providing guests with the opportunity to work up an appetite before embarking on a street food tour of Siem Reap or dinner at Amansara's Khmer Village wooden house in Angkor.

The new movement studio benefits is flooded with light with unobstructed views of the surrounding spa garden, with its canopy of mature indigenous trees and serene courtyards. The studio will offer a range of activities inspired by Khmer culture, designed to relax and stretch muscles after a day spent exploring the complex temples of Angkor.

Amongst the new movement sessions will be classes in Apsara Dance, a classical Cambodian ballet, inspired by Apsara carvings and sculptures of Angkor. Lessons are led by Sophea-Kagna, an Aspara ballerina who has been performing and teaching this elegant form of dance for over 15 years. Sophea will guide guests through the traditional dance elements, whilst also teaching the story and meaning behind every movement, which are designed to tone and balance the body and improve posture.

For those looking for a more active session, Amansara's resident martial arts instructor, Makara Phok, who has boxed competitively for Cambodia, will teach guests the art of Pradal Serey, a Cambodian Martial Art and national sport. Focusing on cardio fitness, Pradal Serey is most well-known for its kicking practice, and consists of four types of striking techniques: pinches, kicks, elbows and knee strikes.

Aerial yoga will also be available, and will see guests suspended from a sling to support the body, immersing them in a more relaxing and creative approach to yoga, designed to elongate muscles and decompress the spine using traditional yoga poses. Much like traditional yoga, aerial yoga promotes stretch relief, better focus, greater flexibility and strengthened muscles.

Weekly complimentary classes in NIA (non-impact Aerobics), a mind and body condition technique that combines martial arts, modern dance and yoga, will also be on offer for those who prefer a lower impact and more mindful form of exercise.

The new gym and movement studio at Amansara will complement the resort's wellness offerings, which include the forthcoming Journey to Peace retreat, taking place from 12-18 November 2019.
---
Petrie PR is a dynamic boutique Asia based PR agency providing specialist communications strategy for the luxury lifestyle, travel, property, design and spa sectors.
Regionally and internationally connected, our reach spans all the most influential media in China, Hong Kong, Singapore, Taiwan and Indonesia as well as emerging markets including Malaysia, Vietnam and Thailand.
Find out more about us.