27 Jan

*New* Experiences For Thrill-Seekers At Alila Jabal Akhdar, Oman In 2017

Far more than thread linen counts, suite sizes, and amenities, what most guests remember when they stay with Alila Hotels & Resorts is the experiences they get and the memories they take away.

2017 will see one of Alila's flagship resorts, Alila Jabal Akhdar, reach new heights. The stunning property, which lies 2,000 metres above sea-level in the Al Hajar mountain range in Oman, has drawn on its dramatic surroundings to offer guests the chance to see the region through a Via-Ferrata – a protected climbing route built to international standards. Offering two different experiences at Level 2 and Level 5 and lead by expert Omani guides, this is perfect for adventure seekers of all levels.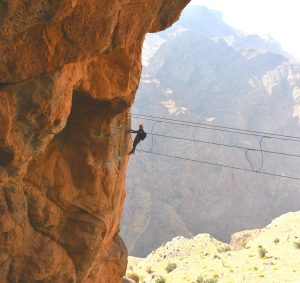 BEST FOR THRILL-SEEKERS – VIA FERRATA CAVE EXPERIENCE
Adrenaline junkies will love the Via Ferrata Cave Affair. After completing a short trek, guests will cross an exposed 20-metre high rope, walking over a cave mouth, traversing along the side of the canyon and ascending into a steep gully. The adrenaline-pumping route is interspersed with gentle hiking through the wild olive trees and mountain greenery.  It is led by expert guides who share stories of the local region whilst assisting with the climb. Finally, the hike winds its way back up the mountain so guests can spend the rest of the stay enjoying the hotel's stunning views from their own private balcony. The new Via Ferrata Cave Affair Experience starts from OMR 35++ / US$ 90++ per person for a 2-hour experience. It is level 5 and requires a degree of fitness.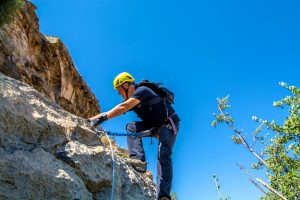 BEST FOR A TASTE OF FUN  – THE ADVENTURE TREK
Guests still wanting to enjoy the spectacular views from the Via-Ferrata without the hair-raising heights of the Cave Experience will love this 90-minute trek. After the initial steep decline down the mountain face guests will follow a path which gradually leads down into the wadi, passing through some of the most spectacular mountainous scenery. Here discover Al Khutaymi, a hidden village within a cave in the wadi floor. After trekking for a further 15-minutes, guests will have the chance to enjoy a refreshing dip in a stunning pool in the Green Mountains before hiking back to the hotel for some well-deserved R&R. The new Adventure Trek Experience starts from OMR 30++ / US$ 78++ per person for a 1.5-hour experience. It is level 2 and require some level of fitness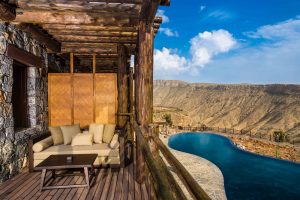 Jabal Akhdar – The Green Mountain in Arabic – is one of Oman's most remarkable regions. Part of the Al Hajar mountain range, Alila Jabal Akhdar lies 2,000 meters above sea level and overlooks the dramatic gorge and spectacular mountain range. Guests at Alila Jabal Akhdar can relax and unwind whilst enjoy the stunning views of the canyon from the mountain-top infinity pool or at 3 strategic 'jabals' vantage look-out points. Those looking to explore can make the most of additional exploratory expeditions available at the hotel across this rocky terrain by bike or on foot, enjoying some romantic cliff-side picnics along the way. All the 86 suites and villas come complete with their own balconies or terraces perfect for relaxing in private and watching the night's sky come alive with stars.
Rates at Alila Jabal Akhdar start from US$570 for a Mountain View Suite on a Bed & Breakfast basis, excluding tax. For further information, visit www.alilahotels.com/jabalakhdar or call +968 2534 4200
---
| Petrie PR is a dynamic boutique Asia based PR agency providing specialist communications strategy for the luxury lifestyle, travel, property, design and spa sectors.
Regionally and internationally connected, our reach spans all the most influential media in China, Hong Kong, Singapore, Taiwan and Indonesia as well as emerging markets including Malaysia, Vietnam and Thailand. We provide effective, integrated solutions, offering a tailored bespoke approach to support objectives and determine the best results to help drive business.
Find out more about us here. |