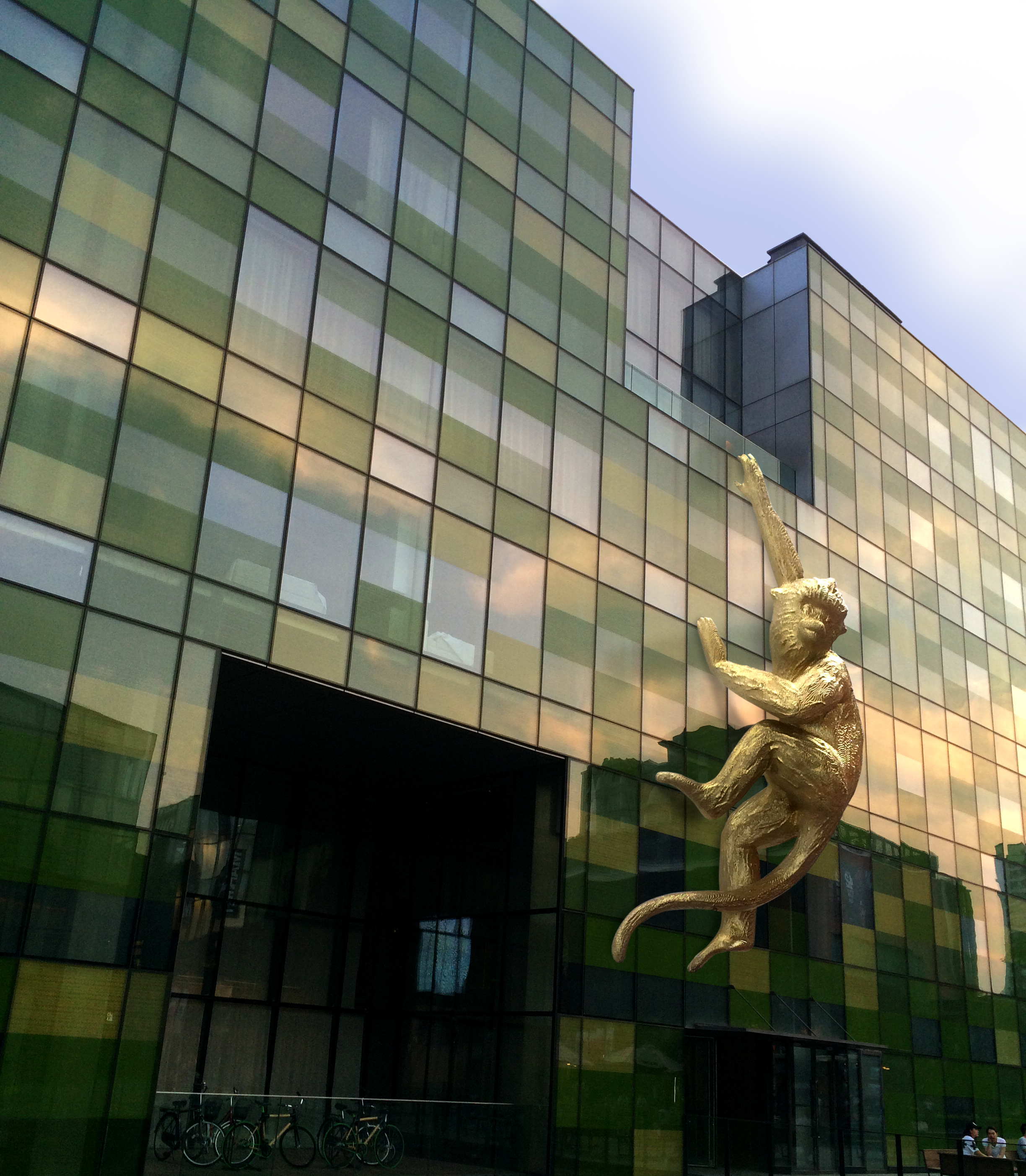 19 Aug

Lisa Roet's Golden Monkey Takes Over The Opposite House for Beijing Design Week

To celebrate Beijing Design Week and Golden Week with a creative flair, The Opposite House collaborates with acclaimed Australian artist Lisa Roet to install a giant inflatable sculpture of a golden snub-nosed monkey on its iconic façade in the vibrant Sanlitun art and commercial district.

Entitled "Golden Monkey", the sculpture measures 14 metres tall and will be displayed from 22 September to 30 October. Elevated 30 metres off the ground, it will hang from the front of the hotel's green geometric façade as though it is climbing the hotel building and looking down on passers-by.

The sculpture is styled after the golden sneezing snub-nosed monkey, a rare species native to the forest region along the China-Myanmar border, with only about 400 left as a result of aggressive hunting and habitat destruction. It is also the same species that the famous mythological Monkey King 'Sun Wukong' from the Chinese epic 'Journey to the West' is popularly styled after.

In additional to its cultural significance, the sculpture carries a global message about conservation. The snub-nosed monkey is now critically endangered due to heavy logging, dwindling habitats and human consumption. It is also named for its distinctive flat nose, the product of thousands of years of evolution. The shape of its nose helps it survive in cold climates by catching melting frost, and also causes it to sneeze in rainy weather. With temperatures rising around the world at a rapid pace, it may be forced out of its natural habitat to seek more suitable climates, placing the entire species at risk.

The fragility of the inflatable sculpture represents the vulnerability of this treasured mascot, while the urban surroundings of Sanlitun draw a strong contrast to its woodland habitat in Yunnan, expressing its displacement from its natural home.

Roet's work will be featured both outside and inside The Opposite House, with a collection of her avant-garde jewellery displayed in the hotel foyer. Fashioned after primate features, each exquisitely detailed piece matches with the wearer's human features to create a visual expression of the close connection between humans and apes.

"The Opposite House is known for its brand philosophy of presenting cutting-edge art to its community, and we are lucky to receive huge support from the hotel to bring this project to fruition. Through my work, I want to empower the ape or monkey with whom we share in excess of 98% of our DNA, and invite humans to connect with these relatives and reflect on who we are," said Roet.

Roet, a Melbourne native, has spent the past 25 years working with the image of the ape and monkey to express her lifelong passion for the science of genetic evolution. She has been represented by galleries in Australia, Belgium and the USA, and has held over 25 solo exhibitions worldwide. In recent years she has made her mark in China's art scene, featuring at prestigious events such as the Shanghai Biennale and Chengdu Biennale, and collaborating with local artist Shen Shaomin.

"We felt Lisa Roet's sculpture was the perfect way to celebrate Beijing Design Week and Golden Week, as it is light-hearted yet culturally significant. Its deeper message on conserving the environment and China's precious natural heritage is also something we at The Opposite House hold close to our hearts," said Mark Passmore, general manager, The Opposite House.

This activity is supported by Hong Kong's flagship carrier, Cathay Pacific Airways. The sculpture and jewellery collection will be transported by Cathy Pacific Airways between Melbourne and Beijing.

"We are delighted to be involved as we believe the show will increase people's awareness to the importance of environmental protection," said Cathay Pacific General Manager China Titus Diu. " As a responsible carrier, we take all matters of an environmental nature very seriously and are committed to sustainable development. Cathay Pacific will continue to support worthy initiatives such as this going forward."

Since opening in 2008, The Opposite House has gained a reputation as a strong supporter of the local and international art scene, playing host to a number of acclaimed exhibitions and installations, including works by Li Yan, Michael Downs, Zha Songgang, Shi Zhongying, Sen Ye and more. The Opposite House was also the official hotel partner for Art Beijing in 2016 and 2015.