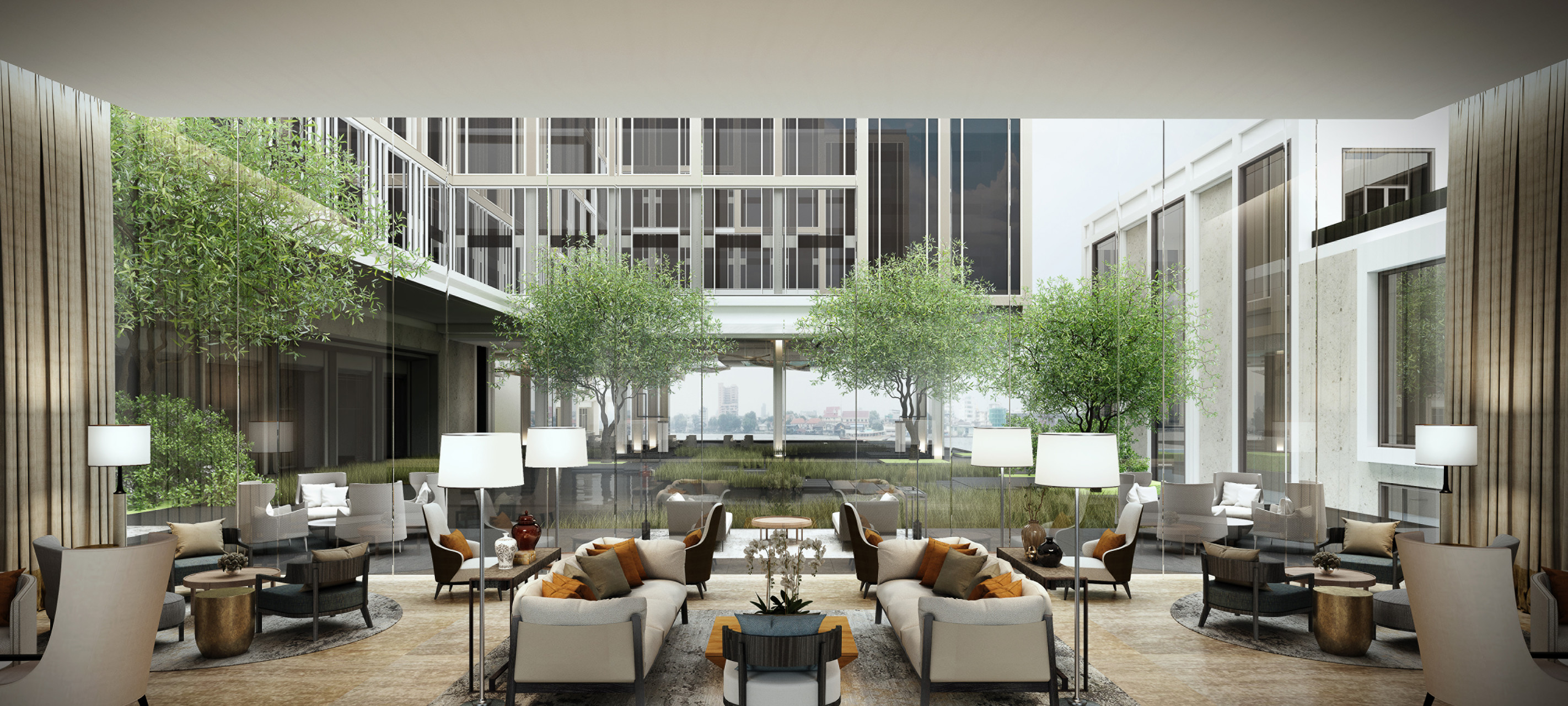 16 Jan

Legendary Architect Jean-Michel Gathy's Latest Masterpiece Four Seasons Hotel Bangkok at Chao Phraya River Opens in Early 2020

Designed by award-winning architectural and interior design legend Jean-Michel Gathy, Four Seasons Hotel Bangkok at Chao Phraya River is now accepting reservations for arrivals beginning early 2020. Jean-Michel Gathy, the mastermind behind the new spectacular riverfront hotel in the capital of Thailand, reveals his definitive interpretation to the interior and landscape design of the hotel – the dominance of water features blending successive indoor and outdoor spaces and integrating elegant touches of Thai influence throughout the design delivery.

Occupying 200 metres of pristine river frontage, exceptional design immerses focus into the natural riverfront landscape. Four Seasons Hotel Bangkok at Chao Phraya River provides a unique environment for a superlative sensory guest experience within the environs of a luxury urban resort.  The hotel will also introduce modern meeting and function spaces, including a riverfront Grand Ballroom with expansive outdoor terrace; and world-class entertainment offerings along the hotel's waterfront promenade featuring an array of restaurants and bars.

"The core challenge that drew me to this extraordinary project was the chance to craft the ultimate urban resort experience and at the same time to create an incomparable city hotel that would not only complement but also enhance its unique, expansive riverside location" comments Jean-Michel Gathy, founder and principle designer at the multiple-award winning firm Dennison.

Four Seasons Hotel Bangkok at Chao Phraya River's 299 guest rooms including suites with garden terraces provide a warm and sophisticated welcome with their contemporary interiors and hand-selected furnishings, which combine with abundant natural light to provide a genuine sense of place along Bangkok's riverfront.

The two-story Presidential Suite is the most lavish suite with three light-filled bedrooms, uninterrupted river views and ceilings that soar to twice the regular height. A rooftop terrace overlooks panoramic river views, a stunning backdrop for hosting events or simply relaxing in the private pool.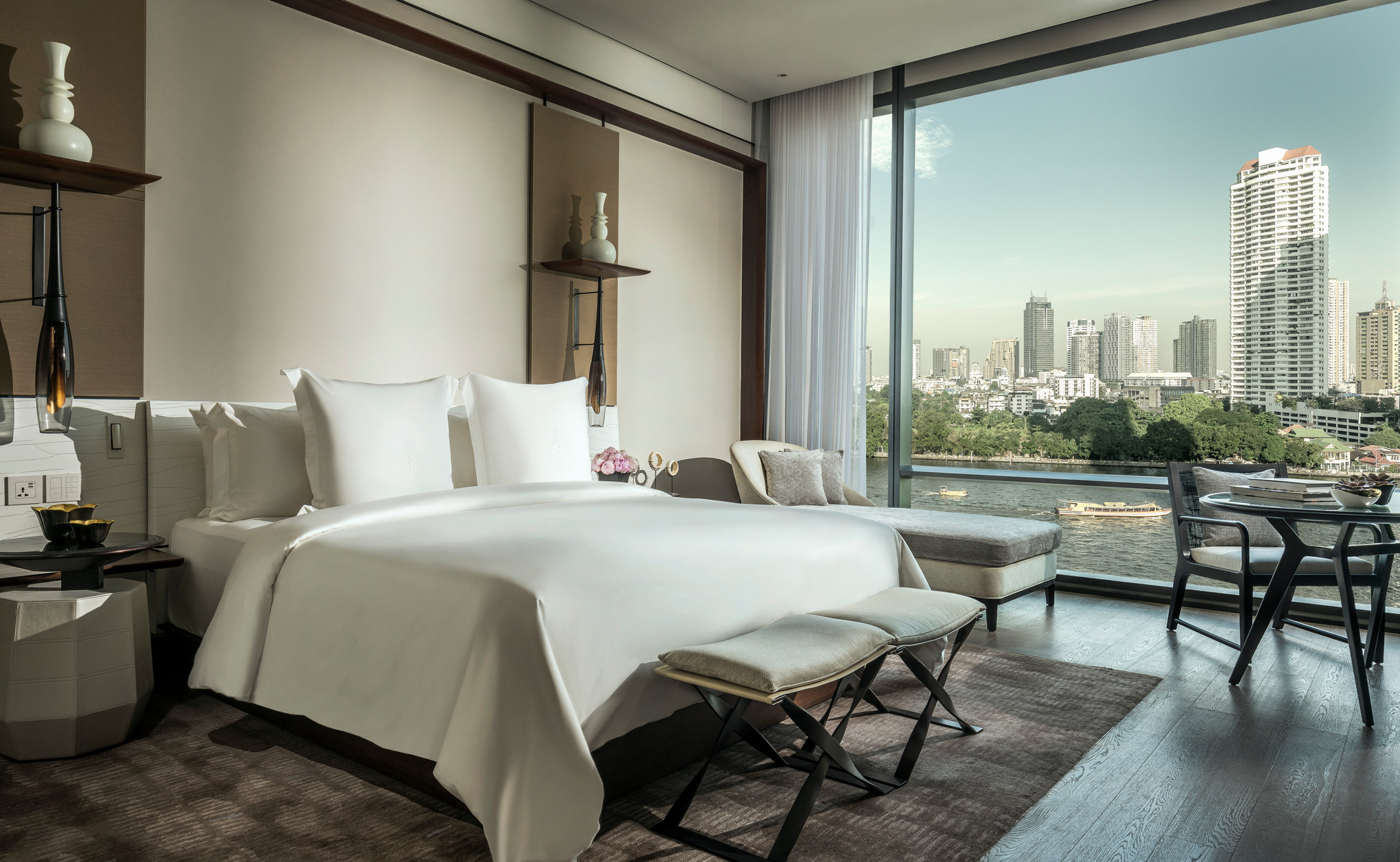 Encapsulating the essence of riverside experience
The Chao Phraya River embodies the spirit of Bangkok's life on its banks and waters reflecting the colorful and dynamic nature of the intriguing city. Inspired by the majestic river, Jean-Michel Gathy infuses the energy, flow and movement into the design of the hotel to reflect the natural splendor of the location. Expressing the inherent fluidity of the water demanded far more than interior design touches in the lush and abundant outdoor landscapes.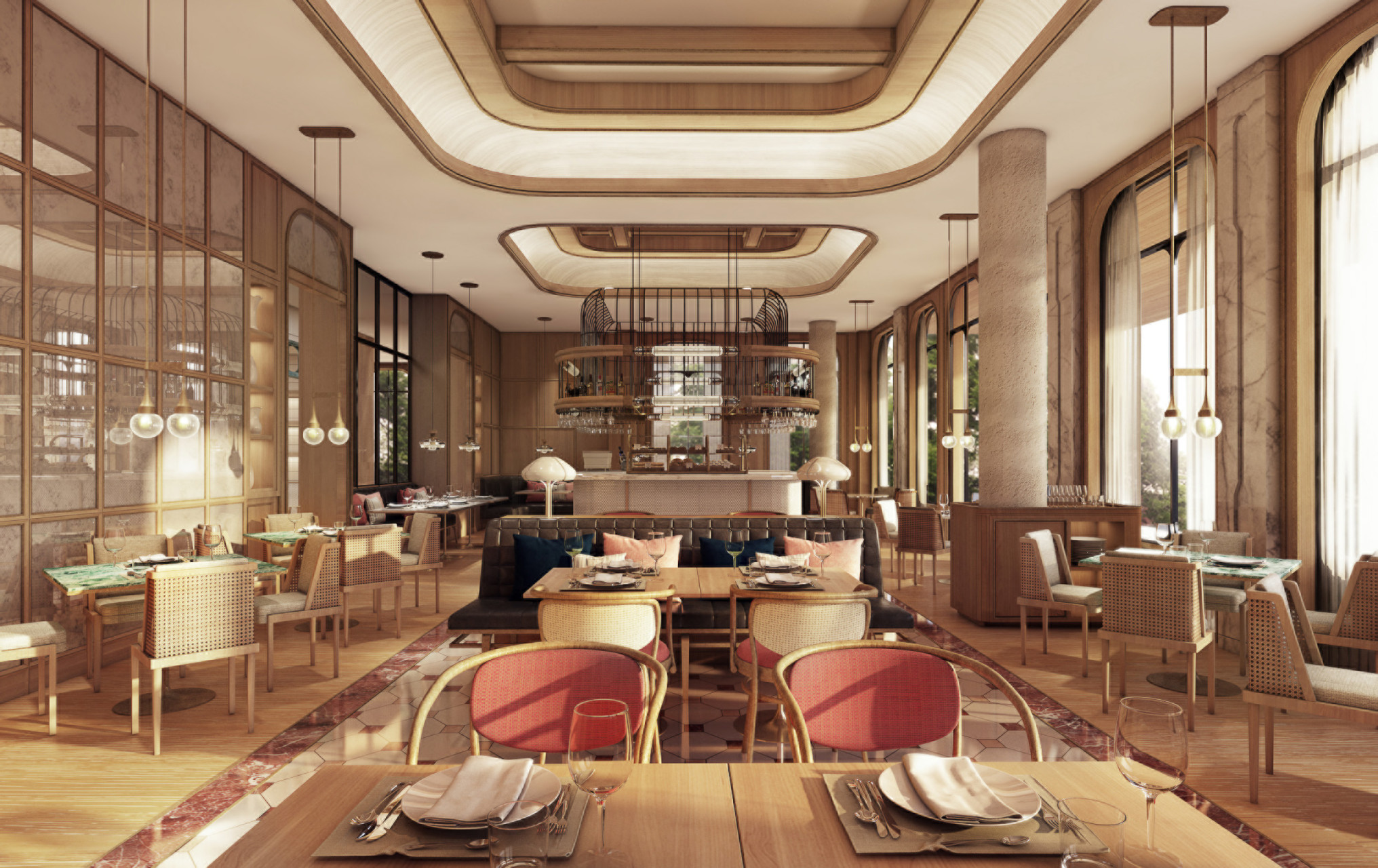 Four Seasons Hotel Bangkok at Chao Phraya River's cascading design and open spaces afford an array of views. Its riverside setting seamlessly unifies the natural beauty of Thailand with both the historic and modern aspects of the city of Bangkok for an urban resort vibe. High ceilings and glass walls provide breathing space, while pools and flowing water echo the constant movement of the Chao Phraya River.
Staying in tune with the urban resort concept, the peaceful hotel ambiance invites guests to feel instantly relaxed and at home. The hotel grounds are uniquely arranged around a series of cascading green courtyards, each one with its own distinctive but interconnected and related mood and points of interest. A combination of structural elements, trees, fountains, reflective ponds and materials are used to achieve subtle distinctions between them. A distinctive example can be seen at The Lounge where reeds are introduced into the design to create a soothing natural statement.
A seamless transition
Paying homage to the site's culturally rich and vibrant Chao Phraya River, Jean-Michel Gathy seamlessly blends indoor and outdoor spaces, converging landscape together with interior design. Working closely with the architects and making the absolute best of the hotel's generous proportions, Jean-Michel Gathy has enriched the stunning variety of volumes in the architectural design, while infusing a rare sense of seamless transitions between each of the hotel's distinctive spaces.
Jean-Michel Gathy also adds: "In such a magnificent setting, transitions are paramount. Dramatic ceiling alignments, open arches, and the use of parallel exquisite materials within and outside the buildings all contribute to a defining sense of unity amid variety. The overall effect is supremely engaging yet also restful."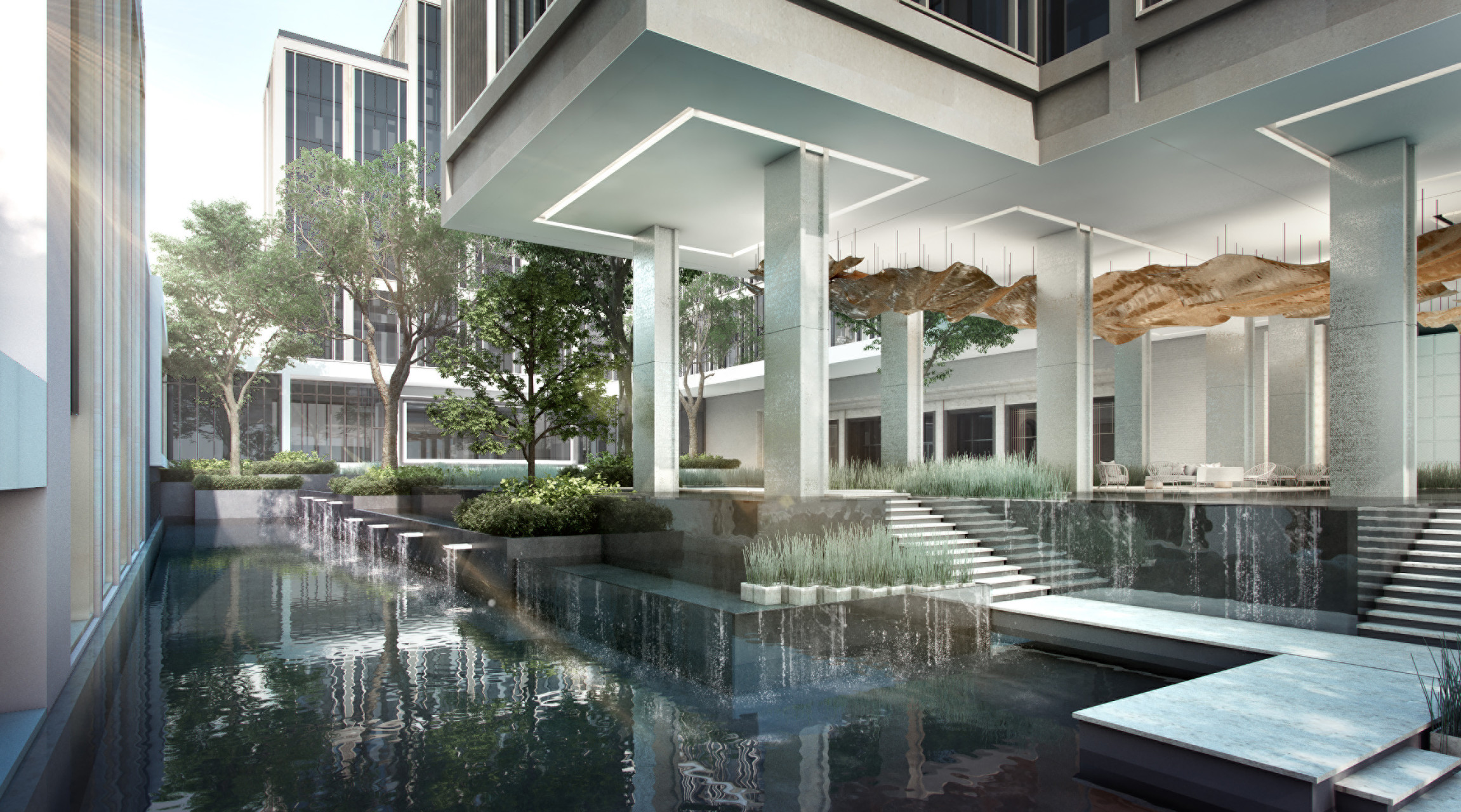 Classy with a hint of Thai
"Bangkok is a truly engaging and incredible city that inspires me with its energy and rich heritage." shares Jean-Michel Gathy who has also drawn on the inherent contrasts of locality, bringing a subtle approach to Thai influences which he describes as "Classy with a hint of Thai". Jean-Michel Gathy integrates elegant touches of Thai influence into everything from the elevator frames, to fabrics and other intricacies.
Gentle tones and silk are selected and used for the interior to inspire a feeling of refined lightness and as a contemporary expression point and more importantly to inspire a feeling of Thai culture and values. When guests enter the tranquil grounds from Chareoenkrung Road, a nature-inspired welcome awaits before the atmosphere becomes grander in the interconnected courtyards.
A defining art collection by Jean-Michel Gathy
Thailand's natural beauty and the city's urbane charms come together in every aspect of the interiors, punctuated by a defining art collection curated by Jean-Michel Gathy himself. Celebrating the country's legendary craftsmanship and artistry, a dedicated Art Space in the hotel showcases the talents of contemporary Thai artists along with individually commissioned art installations throughout public and private spaces, both indoors and outdoors.
Jean-Michel Gathy has thoughtfully imbued along the way, the luxury DNA of the legendary Four Seasons brand. Quality, sophistication and understated elegance prevail, all essential characteristics that perfectly encapsulate the prestige thoughtfully encapsulated at Four Seasons Hotel Bangkok at Chao Phraya River.
---
Petrie PR is a dynamic boutique Asia based PR agency providing specialist communications strategy for the luxury lifestyle, travel, property, design and spa sectors.
Regionally and internationally connected, our reach spans all the most influential media in China, Hong Kong, Singapore, Taiwan and Indonesia as well as emerging markets including Malaysia, Vietnam and Thailand.
Find out more about us.