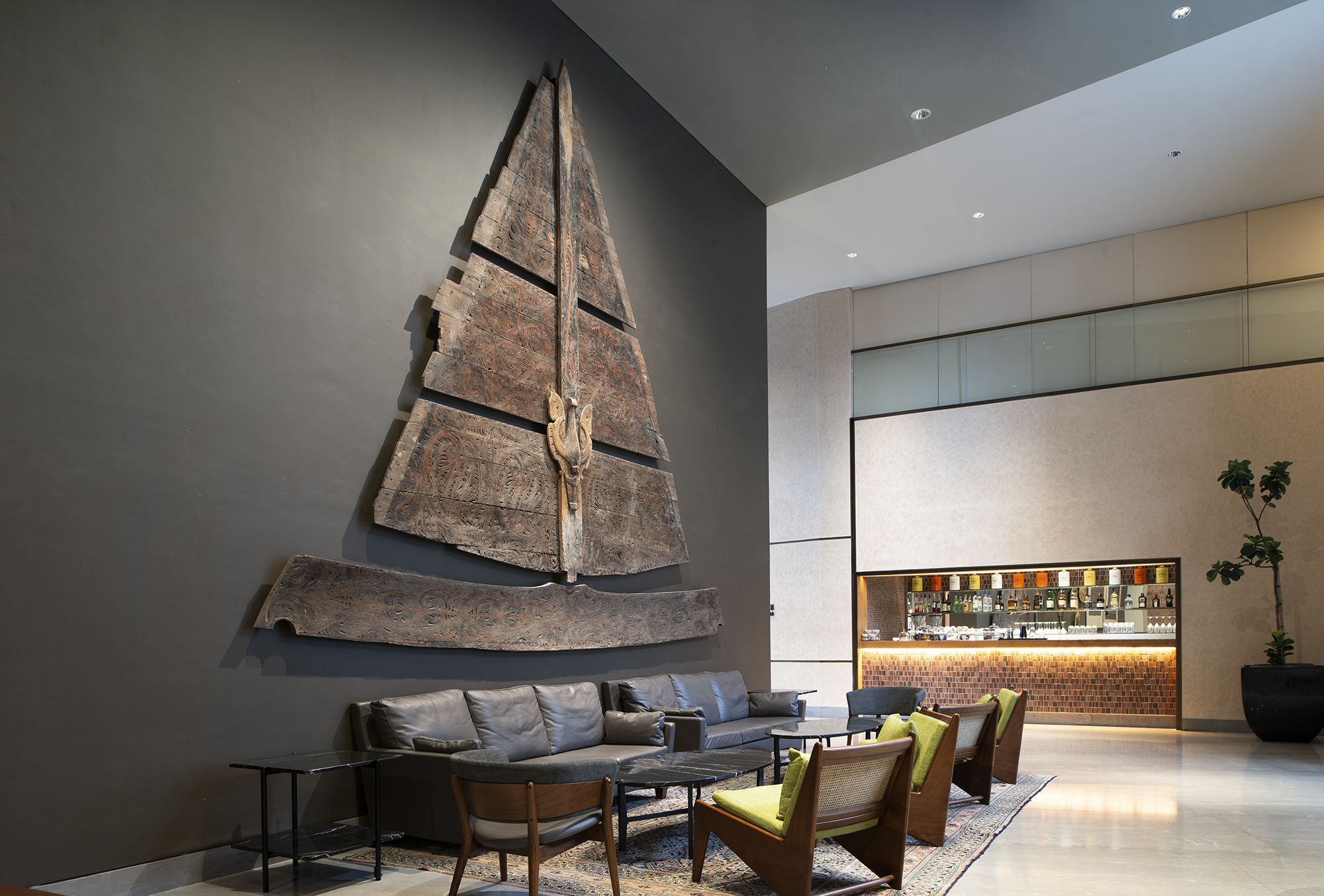 02 Aug

Indonesian Heritage Art Finds A Home At Alila Scbd

Art features prominently within the modern, cosmopolitan environment of Alila SCBD, from the contemporary art installations at the hotel entrance and lobby, to the heritage art pieces and cultural artefacts that grace the hotel's Artisian Bar.

Located next to the lobby at ground level, the Artisian Bar is designed as a gathering space for the artisan community. Its high ceilings and modern, minimalist furnishings create a relaxed atmosphere for creative events and chill-out gatherings, decorated with a collection of curated artworks that celebrate the artistic heritage and indigenous culture of regions across Indonesia.

All of the art pieces in the Artisian Bar are part of a private collection and are mostly from the 19th century, around 70-100 years old. They include:

Chicken Pair

Located at the entrance to the Artisian Bar, this antique art piece featuring a pair of chickens hails from the island of Madura, which lies just north of Surabaya. The piece was once part of the decoration on the back of a ship and dates back to the 19th century. In Maduranese culture, the chicken is a symbol of diligence, hard work and persistence.

Toraja House Art

This large, wooden, triangle-shaped structure is a distinctive frontage feature of a traditional Toraja house. Toraja is an ethnic group from the Tana Toraja Regency, commonly referred to as 'Tator' or 'Land of the Toraja', a tribal highland in South Sulawesi, situated 315 km north of Makkasar.

Hanging Tenun

A series of three traditional woven cloths (tenun) hang on the wall, showcasing the textile patterns unique to different regions of Indonesia. They include a cloth from Palembang, South Sumatera, which is inspired by Chinese and Indian patterns, and two pieces from the island of Flores in East Nusa Tenggara, which are typical of the traditional woven fabric worn throughout this region and at all cultural occasions, such as births, weddings and funeral ceremonies.

Indonesian Dance Masks

A collection of Indonesian dance masks, mostly from Java and Bali, are the work of native Indonesian tribes who still perform traditional masked dances. Carved from wood and painted, the masks traditionally represent nature or ancestor spirits.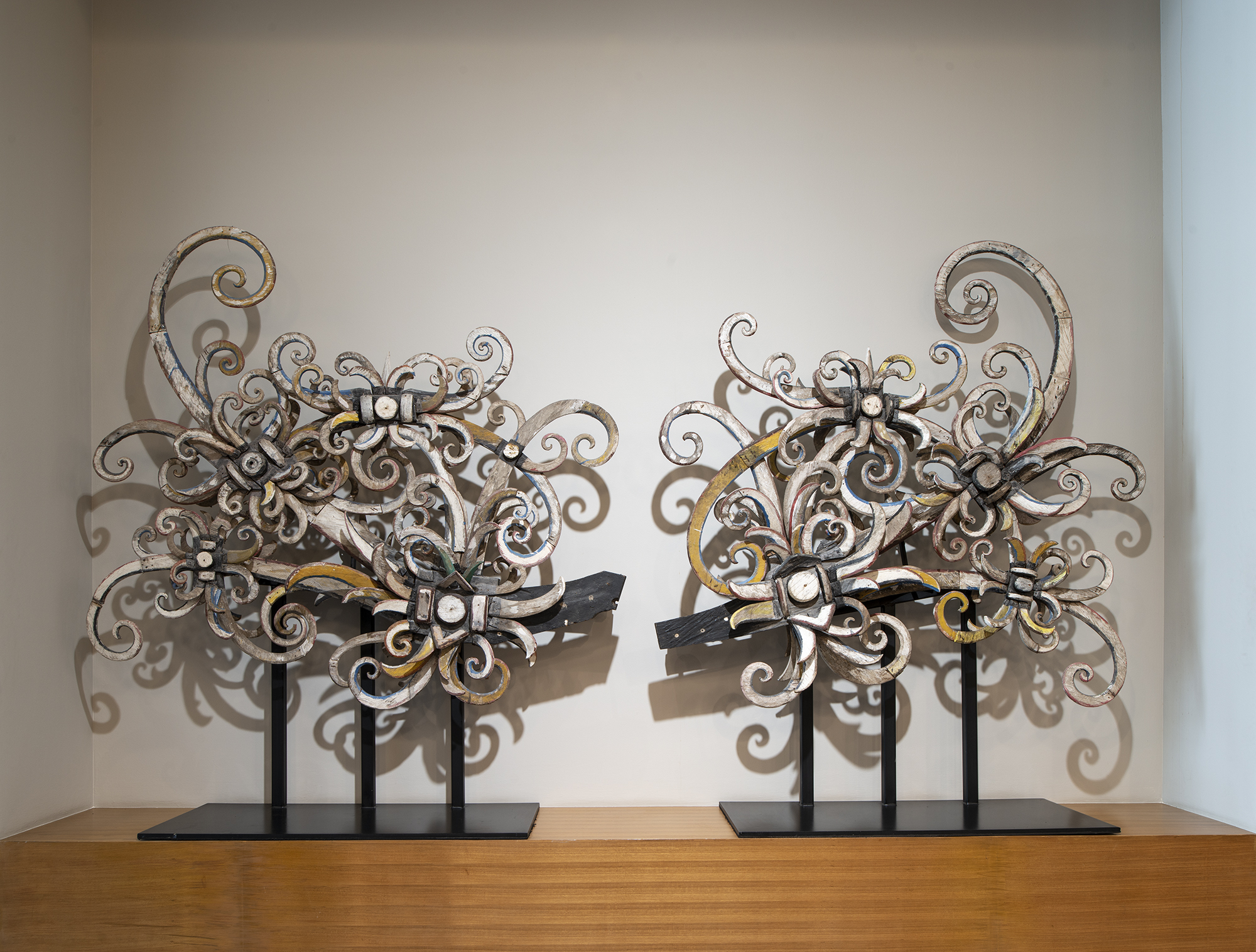 The Octopus and Ferns
This intricate wood carving of octopus and ferns symbolizes an intertwined relationship and its harmony. Originating from the Dayak tribe in Kalimantan, this piece actually formed part of a ship dock gate back in the 19th century.
Ceremonial Shields
The four ceremonial shields that adorn one wall come from a collection of hundreds of traditional ceremonial shields from Cirebon, West Java. Their design is influenced by Indochine colours and patterns. The rest of the collection is owned by art museums and art collectors.
Whether staying at Alila SCBD or gathering in the Artisian Bar for a relaxing drink or creative event, these unique works of art provide the perfect spark to conversation while enhancing the guest experience.
For more information about Alila SCBD Jakarta feel free to email us at scbd@alilahotels.com.
---
Petrie PR is a dynamic boutique Asia based PR agency providing specialist communications strategy for the luxury lifestyle, travel, property, design and spa sectors.
Regionally and internationally connected, our reach spans all the most influential media in China, Hong Kong, Singapore, Taiwan and Indonesia as well as emerging markets including Malaysia, Vietnam and Thailand.
Find out more about us.