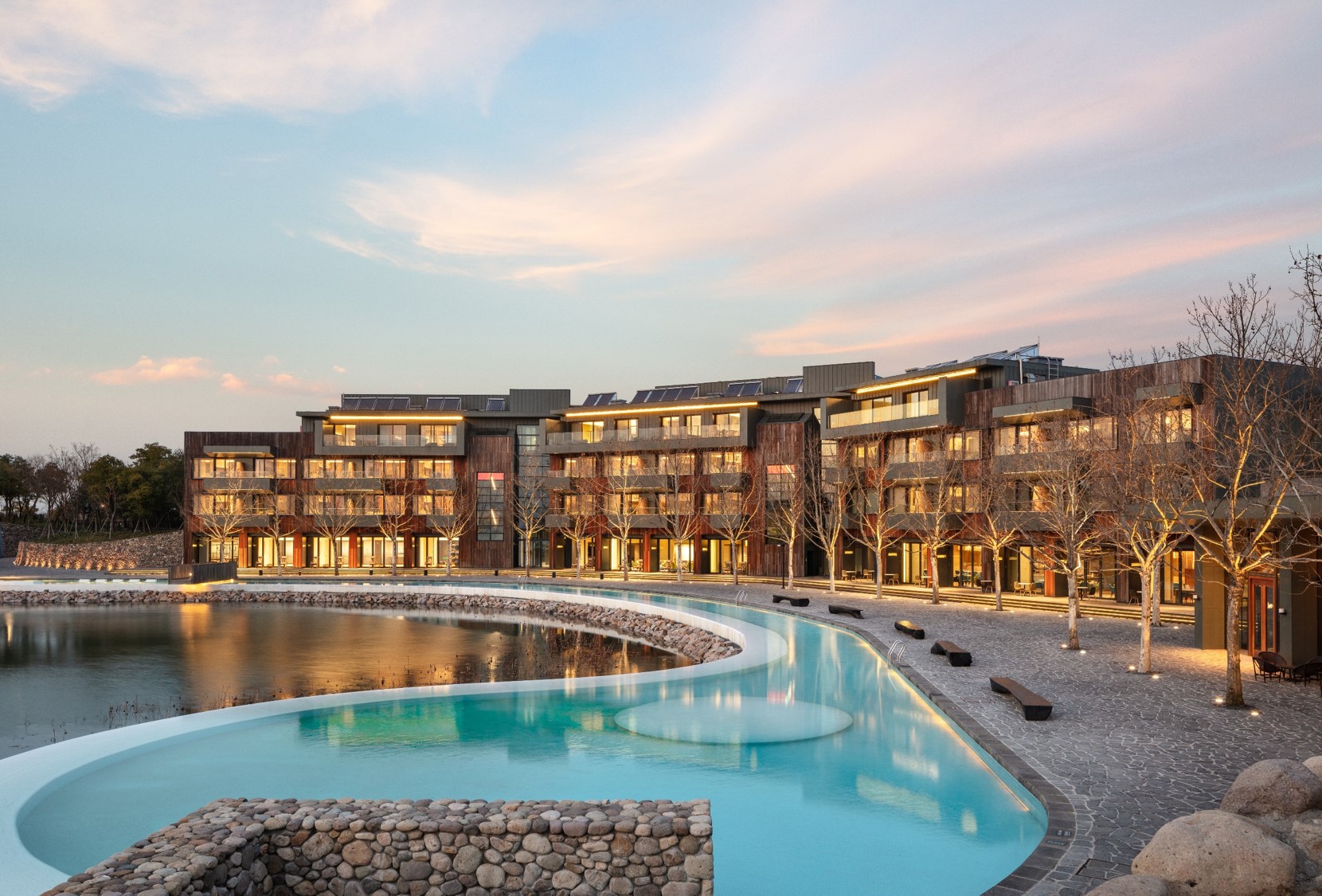 02 Sep

Evolving with Nature – OCTAVE Institute Takes the Lead on Sustainable Development with Holistic Approach

Sustainability is a frequently used word and a concept discussed by many in today's global context. However, long-term commitment to sustainable practices requires great love, wisdom and insight. Practicing and promoting sustainability is at the core of OCTAVE Institute's ultimate mission and value, and defines the direction it evolves.

Founded by Frederick Chavalit Tsao, Chairman of IMC Pan Asian Alliance Group, OCTAVE Institute is the manifestation of his vision and insight on sustainable development. In 1995, Tsao founded The East West Cultural Development Centre, a research institute dedicated to the study of human sustainable development. Created based on numerous years of Fred's research and contemplation, OCTAVE Institute is a mindful living platform that fuses traditional Eastern wisdom with modern Western science to help guests heal social relationships and create an eco-friendly, sustainable and harmonious living community that they seek. At OCTAVE Institute, sustainability becomes a consistent way of thinking behind every aspect of living, from eating, sleeping to holistic healing, and a practice which we hope to extend from community to the society to influence more people and behaviors.

Sustainable Eating – The Third Good Food Summit "Kick-starting the Twenties"

Food is the first necessity of mankind, and today's world is still facing the challenge of food crisis. We, who are blessed with abundant food supplies, need to treat food with a sustainable and forward-looking approach, and seek solutions to address potential future food issues. From August 15 to 17, 2019, the Third Good Food Summit hosted by The Good Food Fund of China Biodiversity Conservation and Green Development Foundation will be held at SANGHA Retreat by OCTAVE Institute, presenting a number of inspiring solutions.

Advocating "Zero Waste", the Good Food Summit will be held at SANGHA Retreat by the Yangcheng Lake with the theme of "Kick-starting the Twenties", aiming to brainstorm on the necessary solutions and actions for the food industry in the coming decade. Issues and topics to be discussed during the two-day summit include: How to achieve plant-based diet; how to improve animal welfare; how to reduce food waste and plastic pollution; what we can do with food to achieve better public health and improving the environment; new trends of sustainable development in the global food industry, etc. Mr. Eddy Jailani Ram, Managing Director of Hospitality & Village at SANGHA Retreat, along with exceptional scholars and entrepreneurs from around the world will attend the summit and give keynote speeches. A customized mindful culinary program curated by Mr. Paul Then, Executive Chef of SANGHA Retreat, along with the resident nutritionist Ms. Gabrielle Luo, using premium ingredients sourced from organic farms, will be offered to guests at the Summit.

What is noteworthy is that this year's Good Food Summit is practicing the maximum level of Zero Waste with measures including replacing plastic products with existing materials; advocating "Clear Your Plate" concept to reduce food waste; implementing garbage sorting and recycling; reusing, recycling and redesigning old materials for event setup, e.g name tags are made from materials brought by the Summit participants. The Zero Waste policy advocated by the Good Food Summit coincides with Sangha Retreat's pursuit of sustainable development, together we hope to encourage and inspire more conferences and trade shows to adopt a "greener" approach. THOUGHT FOR FOOD Market farmers' market will also take place during the Summit at the Market Plaza of SANGHA Retreat with over 20 stands selling organic produce, spices, lifestyle products and handicrafts. Local residents will be more than welcomed to join this fun, interactive event.

Low-carbon Sustainable Living in Harmony with Nature

The Good Food Summit will be held at SANGHA Retreat, a harmonious well-being community promoting mindful living, and a prime example of sustainable community development. SANGHA Retreat offers a sanctuary where one can fully immerse in nature and feel a strong sense of connection with nature: the delightful indoor spaces are filled with natural light, built with eco-friendly practices using local stones, recycled blue bricks, dead wood and wood salvaged from old boats, and decorated with furnitures and flooring made with natural wood materials; other green measures undertaken by the retreat include installation of a solar energy system, a reclaimed water treatment system and a rain water harvesting system to achieve optimal utilization of water resources.

With deep gratitude and respect for the resources taken from nature, SANGHA Retreat strives to achieve the highest efficiency in daily operations: instead of plastic bottled water, guests will be provided with purified water in reusable glass bottles; the leftover bath amenities in the guest rooms are reused in the laundry room; vegetable stems and roots are used to create juices or soups; used coffee grounds are used as organic fertiliser at the on-site Community Farm. From architectural and interior design to daily operations, SANGHA Retreat actively promotes sustainability through various creative and pragmatic practices.

Meditation in Nature – Embarking on a Sustainable Healing Journey for the Body and Mind.

Our inward journey is also in need of such a sustainable perspective and approach. This August, OCTAVE Institute will present a series of workshops hosted by two energy practitioners, delivering a sustainable and holistic healing journey for the urban dweller.

From August 16th to September 3rd, renowned choreographer, stage director, yoga and Gyrokinesis® instructor, Gary Joplin, will host his incredible mind and body workshops at both SANGHA Retreat in Suzhou and THE LIVING ROOM by OCTAVE Institute in Shanghai, including Embodiment to awaken the inner energy, Movement-Based meditation Gyrokinesis® and TransLucent, which explores changing our future by connecting with our past. With 12 years experience of stage directing and choreography, Gary masterfully combines healing with art. Within the boundaries of mind and body, he guides actors, audiences and participants into inward reflection through a unique blend of dance moves and acting, paving the way to self-healing.

Hand painting mandala is an ancient meditation tool extending beyond time and space and in different cultures. In the process of coloring mandala, one embarks on a journey to connect with the inner-self and the true origin. From August 22 to 27, THE LIVING ROOM by OCTAVE Institute presents a series of workshops hosted by Ramesh Sapkota, a royal sound therapist from Nepal who, alongside his BA in Sanskrit Mythology and Fine Arts, is also a master in shaman musical instruments including cymbals, drums and harps. Sharing OCTAVE Institute's pursuit of the unity of body, mind and energy, Ramesh will host several workshops at THE LIVING ROOM including Flower Mandala – Meditation and Singing Workshop, a Morning Revival Sharing session, and a Moonlight Energy Sharing session, delivering a sense of holistic healing and sustainable happiness for the participants.
---
Petrie PR is a dynamic boutique Asia based PR agency providing specialist communications strategy for the luxury lifestyle, travel, property, design and spa sectors.
Regionally and internationally connected, our reach spans all the most influential media in China, Hong Kong, Singapore, Taiwan and Indonesia as well as emerging markets including Malaysia, Vietnam and Thailand.
Find out more about us.