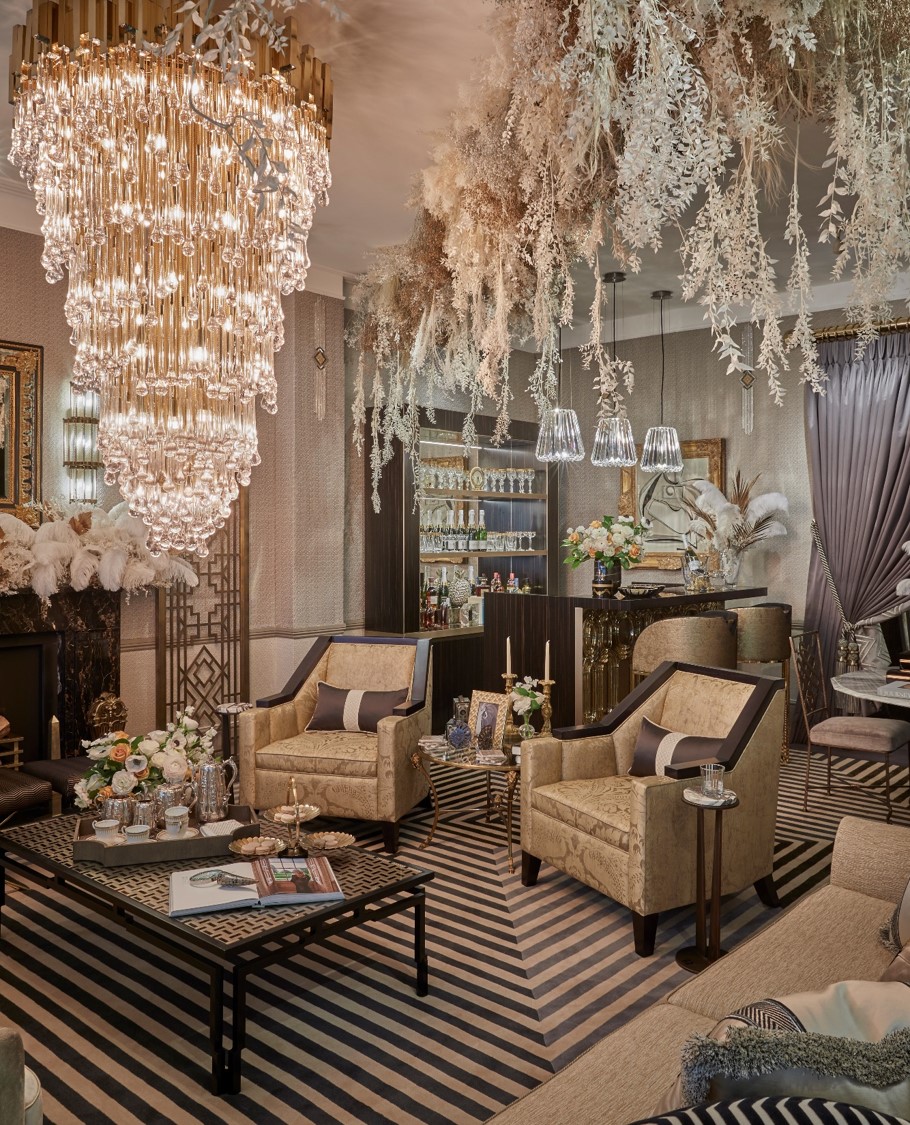 16 Apr

Introducing The Gatsby Suite By Katharine Pooley For Turnell & Gigon During London Design Week 2019

Internationally renowned interior designer Katharine Pooley is delighted to draw on F. Scott Fitzgerald's rendering of this most iconic era as depicted in his masterpiece 'The Great Gatsby' as inspiration for her upcoming pop-up at Turnell & Gigon at Home, which will be launching at Design Centre, Chelsea Harbour on Sunday, 10th March 2019 during London Design Week 2019.

Inspired by the combination of luxurious materials, exquisite craftsmanship and crisp modernist form synonymous with the Art Deco period, Katharine makes use of her favorite clean lines and timeless elegance of that period to create a stage set that is full of vitality, unapologetic opulence and positive energy.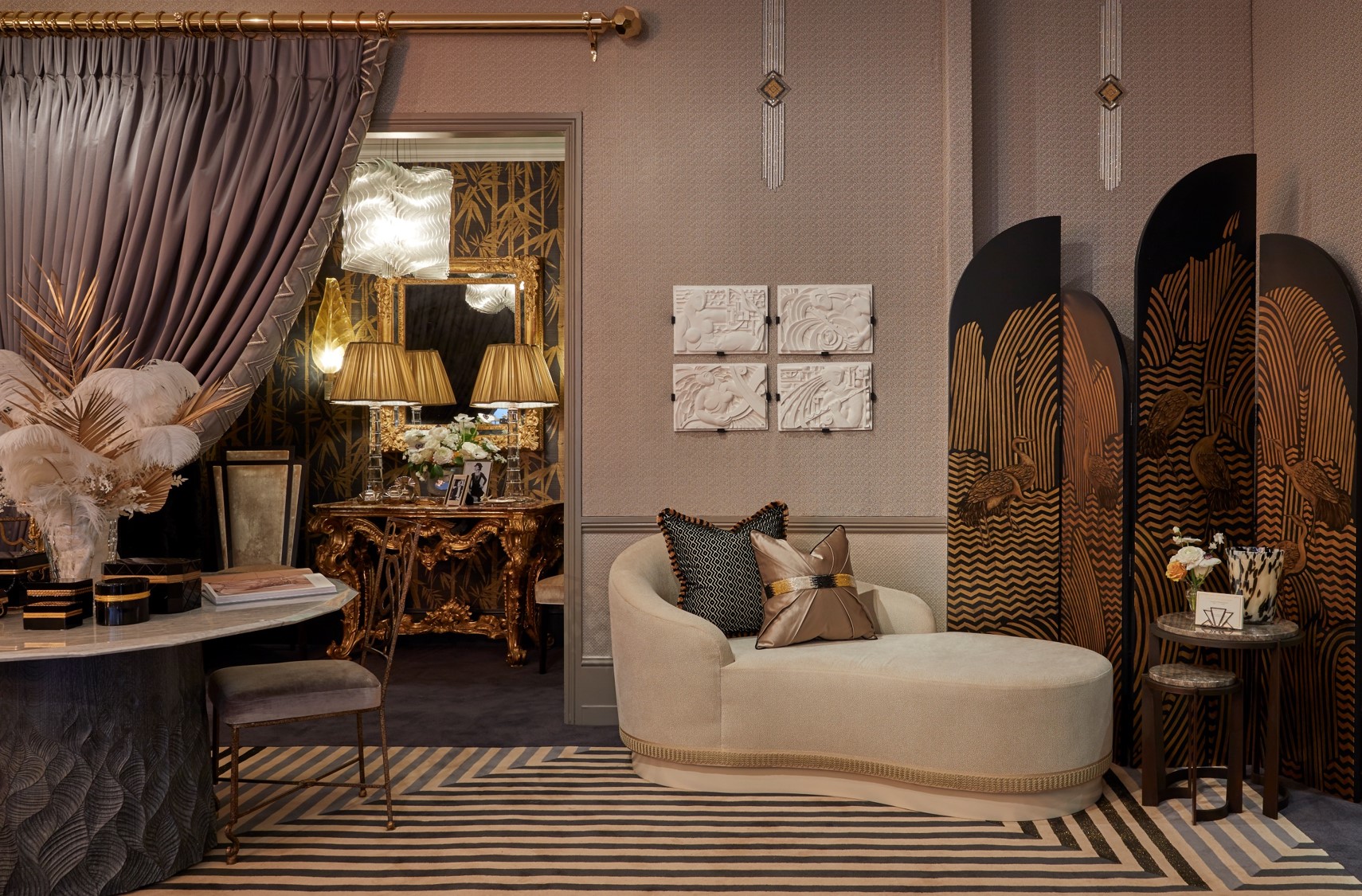 With projects in the most colourful and disparate corners of the globe, Katharine's design vision is essentially malleable and always evolving. From Highland castles to Arabian palaces, clifftop African retreats to Asian beach villas and London townhouses to American penthouses, each project is unique and remarkable.
This spring, Katharine has drawn on F Scott Fitzgerald's rendering of this most iconic era as depicted in his masterpiece "The Great Gatsby" as her inspiration for the much-anticipated Pop up at Turnell & Gigon at Home, which will be launching at Design Centre, Chelsea Harbour on Sunday, 10th March 2019 during London Design Week 2019.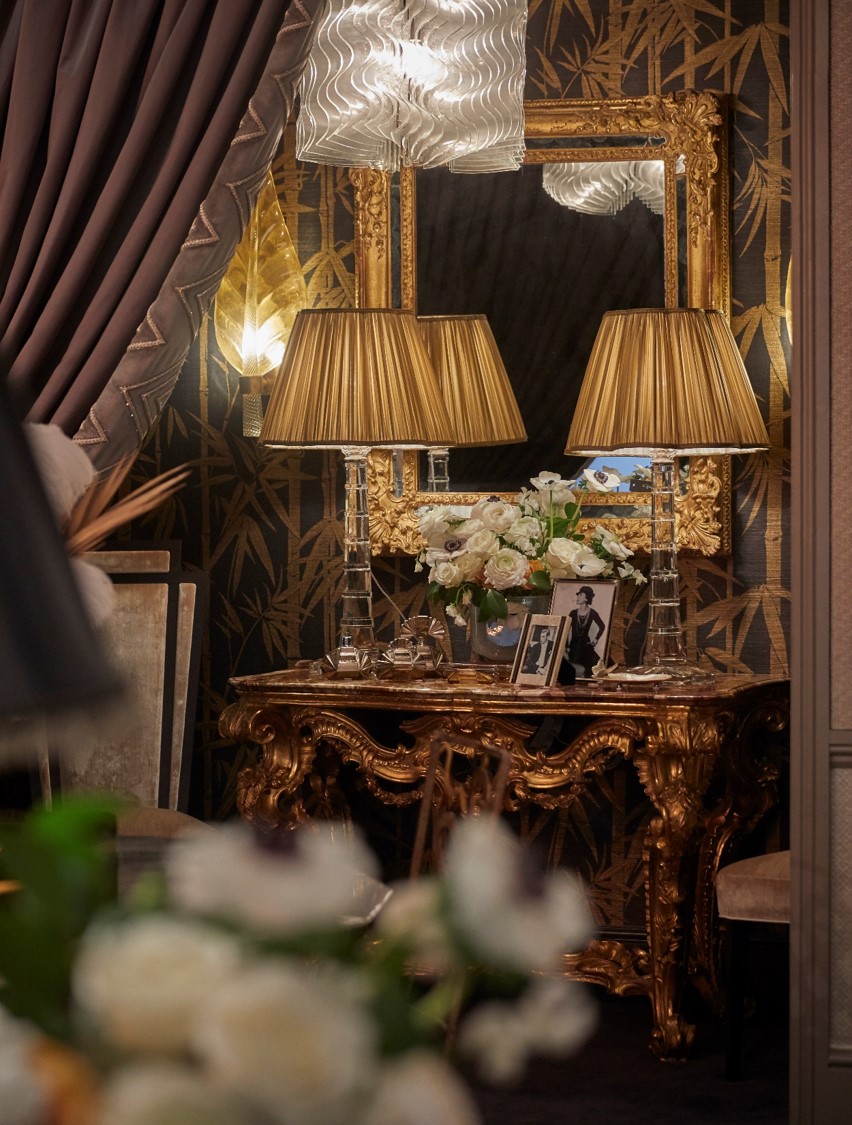 Katharine especially loves to use clean lines, and timeless elegance of the Art Deco period in her designs. She explains, "My appreciation of the Art Deco period relates to the sheer elegance of style as well as being an emotional response to what this aesthetic stood for. The pre-war years in America and France seem so exuberant, so luxe and joyful it is hard not to be drawn to them and draw inspiration.  This pop-up interior is in effect a sumptuous stage set, a theatrical setting for the most glamorous of lives."
"Kit Kemp's interior for Turnell & Gigon at Home in 2018 was a wonderful space, beautiful and elegant of course, but also thought provoking because it transported you to a different place – the exotic Caribbean. For 2019, I have been working with the hugely talented team at Turnell & Gigon to create the same transformative effect", Katharine added. With a different setting this time – Long Island in New York in the 1920s, Katharine hopes to make everyone experience the spellbinding interior.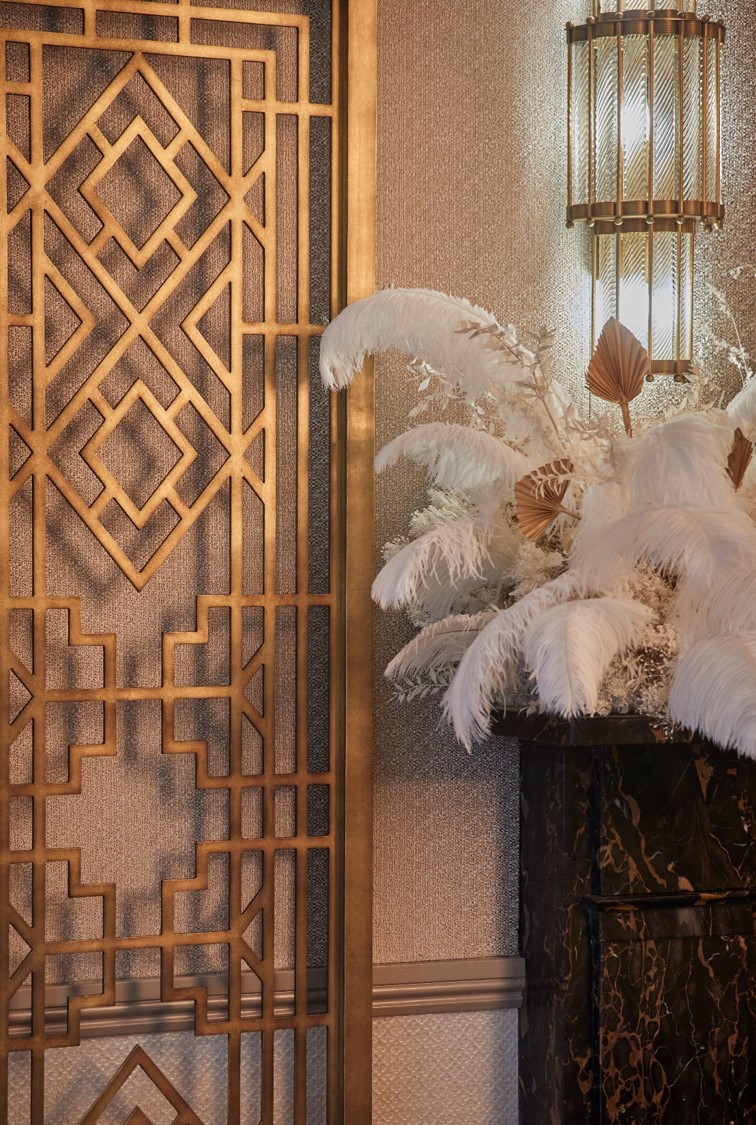 About the Space:
Fabrics, trims and carpets from Turnell & Gigon and Tim Page Carpets are layered beautifully throughout. One of the stand out pieces that will be showcased in 'The Gatsby Suite', will be an incredible Torricelli Table from Silverlining, constructed in lime waxed oak, carved with an undulating leaf motif, polished nickel inlays and grey-white Bardiglio Nuvolato Marble. Throughout the space, Katharine has included splendid chandeliers and crystal pendants from Lasvit; world renowned for their meticulous detailing and ground-breaking designs in Czech glass. While the walls throughout are clad in fabric and wallpapers from Turnell and Gigon extensive collections, joiner extraordinaire Lanssering has created the main attraction, a feature bar in one corner, showcasing a selection of finishes from Sterling Studio's specialist finish surfaces to Lasvit's woven glass front.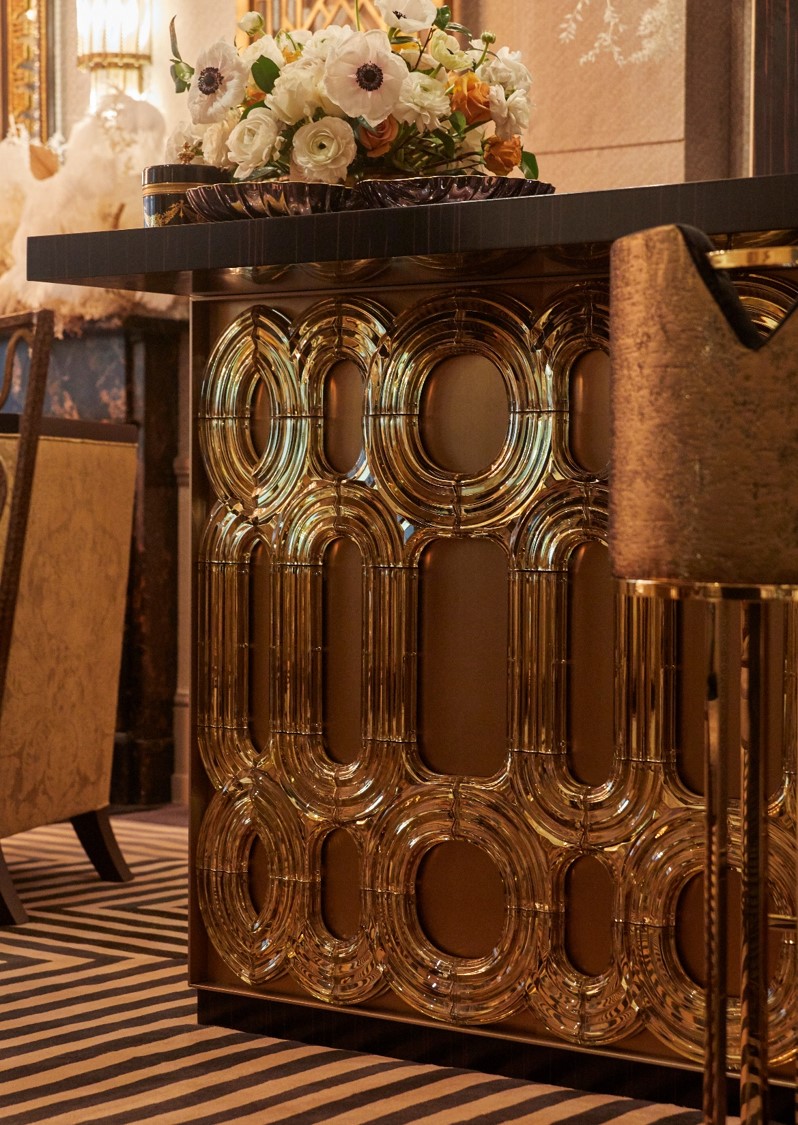 Accessories and furniture pieces in the Deco style have been sourced from the antiques emporium Guinevere, with a masculine antique fireplace from Jamb which adds depth and grand historical detailing.
Hand selected pieces from Katharine's Walton Street boutique add feminine flourishes in a selection of indulgent finishes including; stingray, mother of pearl and crystal – with vases filled with an abundance of blooms from Woodbrown Flowers.
Bespoke hand tufted carpets from Tim Page Carpets are a spectacular addition to the space  – created to Katharine's design with a beige grey and black geometric pattern made all the more striking with the subtle addition of gold lurex – the perfect graphic backdrop for the bespoke upholstery pieces from Katharine's favourite upholsterers: Ben Whistler and Bray Designs.
The Ochre House dining chairs are upholstered in a Turnell & Gigon Fabric that made an appearance in the recent 'The Great Gatsby' film directed by Baz Luhrmann. These are complemented by a bespoke table from Amy Somerville.
Metal detailing is added throughout with the addition of bronze and marble tables from Katharine's own range for Adam Williams Designs and bespoke bar stools from FRD and hand painted screens from the artist Piero Centofanti and Patrick Ireland Frames.
Curtains manufactured and installed by Design & Design2 have been hung on the poles from Tilly's, which complement the truly exquisite gold mesh blinds in the windows supplied by French artist and textile designer Sophie Mallebranche.
---
Petrie PR is a dynamic boutique Asia based PR agency providing specialist communications strategy for the luxury lifestyle, travel, property, design and spa sectors.
Regionally and internationally connected, our reach spans all the most influential media in China, Hong Kong, Singapore, Taiwan and Indonesia as well as emerging markets including Malaysia, Vietnam and Thailand.
Find out more about us.