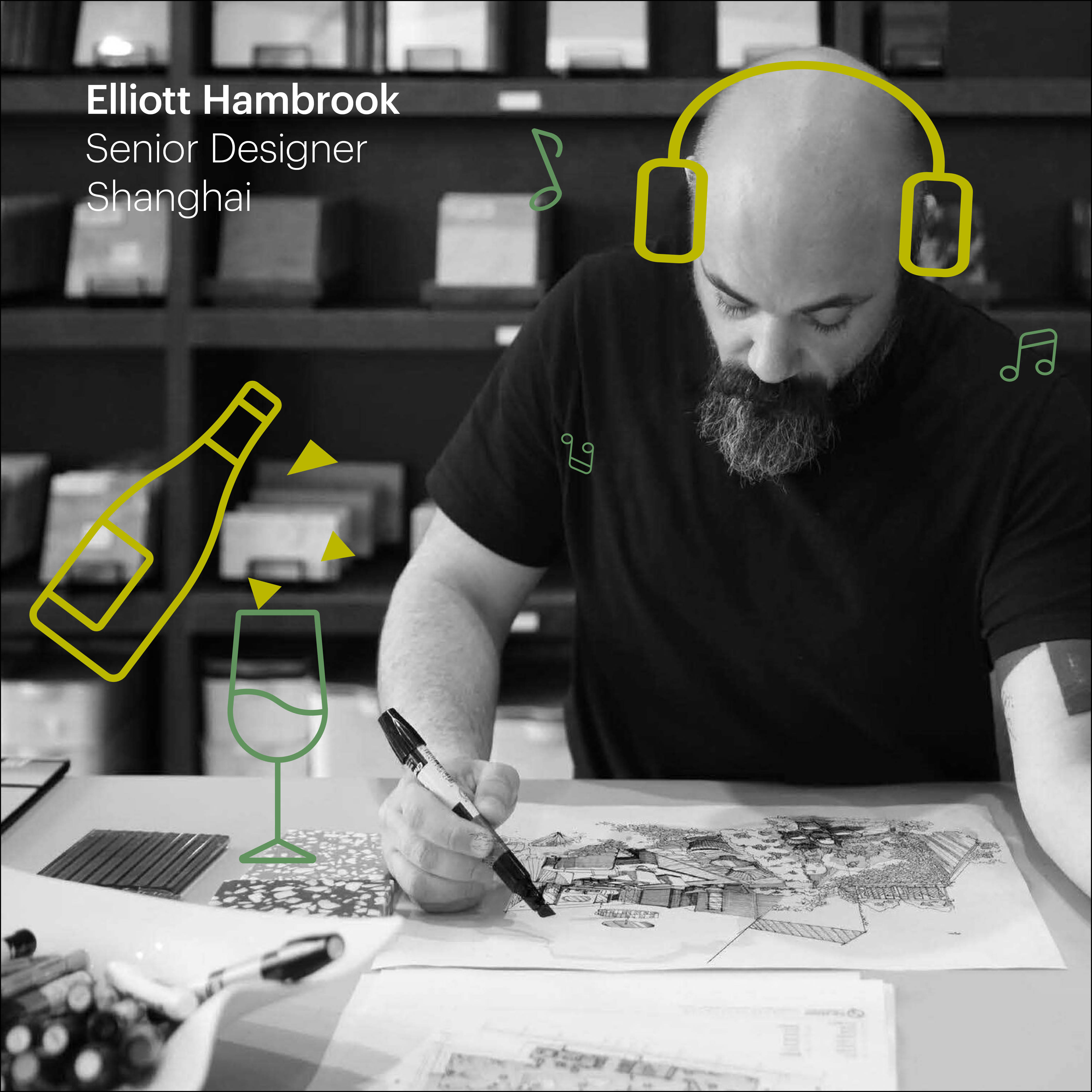 21 May

Collectively Wilson: Get to Know Elliott Hambrook
Get to Know Elliott Hambrook , Senior Designer of Wilson Associates Shanghai office
Read original article HERE
---
Hi Elliott. Thanks for joining us today. Let's start off with an easy question to get started. What was the last gift you gave someone?
The last gift I gave someone was to my wife. However, it's been awhile – thanks for the reminder!
What are the most proud moments of your life, both personally and professionally?
In life, hanging my oil paintings in my first solo exhibition. In work, I was actually quite happy when I joined the team here!
I didn't know you painted. Is that where you find inspiration for work?
Actually, I find my inspiration through music. Imagining a soundtrack to the thing I'm designing. Sounds often really represent what people want from an experience in a space. Listening to music is also an easy and efficient way to access the local culture of the site you are working on. Also, working with a material sample palette in front of me helps me think in a tactile way and get past the flatness of working on paper, or in front of a screen. Half a bottle of Syrah doesn't hurt either.
" Public speaking gives me butterflies. I was asked to speak to a group of clients once. The "group" turned out to be an audience of two thousand for a national televised broadcast! "
What advice do you have for young designers? Is there any advice you wish you would have received?
Make sure you get noticed because you love the craft. Keep asking for the kind of work/projects you want to be on so you can drive your career forward.
Last question: at the end of the day, what excites you the most?
Seeing my baby boy when I get home and telling him about my day.
---
Petrie PR is a dynamic boutique Asia based PR agency providing specialist communications strategy for the luxury lifestyle, travel, property, design and spa sectors.
Regionally and internationally connected, our reach spans all the most influential media in China, Hong Kong, Singapore, Taiwan and Indonesia as well as emerging markets including Malaysia, Vietnam and Thailand.
Find out more about us.