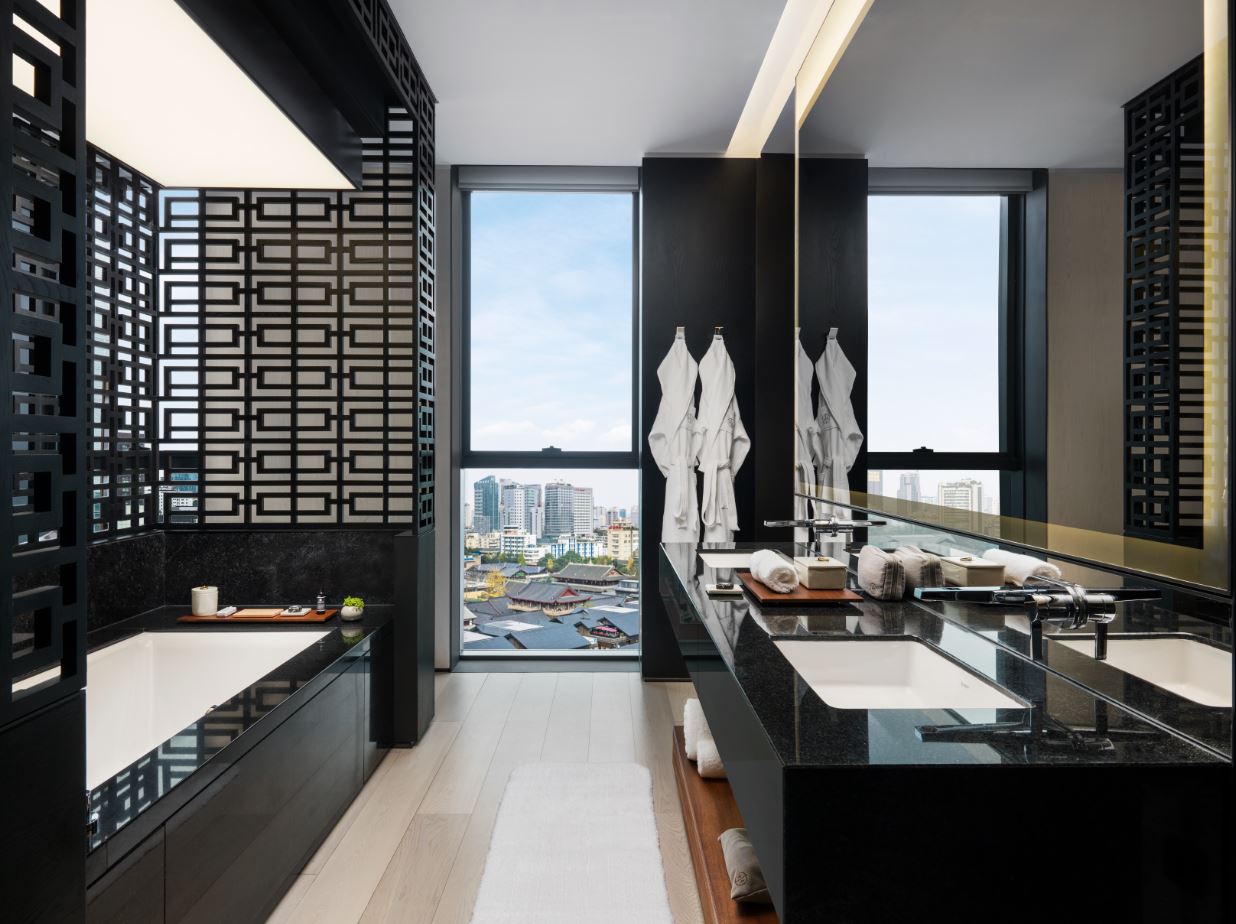 18 Nov

Celebrate The World's Most Beautiful Bathrooms

Along with United Nations' initiative to promote importance of a nice bathroom, we have picked the world's most beautiful bathrooms for luxury travelers' inspiration.

Cheval Blanc Randheli, Maldives (Designed by Jean-Michel Gathy)

From an article written by Claire Wrathall on Telegraph: Jean-Michel Gathy has long been an innovator and a trendsetter. Without him, reflecting pools might never have become a key component of late 20th-century tropical-resort design, nor for that matter Buddha sculptures as decorative objects ("I had one in my house in Hong Kong in 1983," he shrugs.) The current fashion for firelight, which he used in The Chedi in Muscat back in 2003 and again last winter at its recently opened sister hotel in the Swiss Alps, might never have taken off. Then there's overwater hammocks, or "basking nets", he dreamt up for the One&Only Reethi Rah in the Maldives, in 2005, and immense spa-like bathrooms with freestanding tubs and places to sit and recline. "Naughty bathrooms," he calls them.

"The best hotel is the one you go to with someone you love," he adds. "You can have the best room in the world, but if you are with your mother-in-law, it won't be so nice whereas if you are with your wife or your girlfriend, it will be fabulous."

The Reverie Saigon, Ho Chi Minh City, Vietnam 

With an unprecedented collaboration of Italian designers behind The Reverie Saigon's interiors, the hotel did not quietly announce its arrival in the luxury scene. It's boldly – and unapologetically – building a reputation as the most spectacularly appointed hotel in the region. Eschewing the conventional for the extraordinary, understatement for overstatement, and the indigenous for the Italian, The Reverie Saigon celebrated its debut with a jaw-dropping design that's turning heads everywhere. Four of Italy's leading furniture designers – Provasi, Colombostile, Giorgetti and Visionnaire – lend their legendary talents to the world-class spaces, rooms and suites of The Reverie Saigon. Amongst the most opulent of these inspiring abodes, the hotel's classic suites exude continental sophistication and decadent desire.

"I can't think of any other property anywhere in the world that has brought together so many of Italy's leading furnishings design brands", said Giulio Cappellini, art director of the Milan-based Poltrona Frau Group and an iconic trendsetter in the industry. "Except perhaps a museum".

Nihiwatu, Sumba Island, Indonesia

The experience of Nihiwatu (Nihi) is one of unregulated freedom, understated luxury and unforgettable memories. "On the edge of wildness", Nihi is an intimate island retreat and a true cultural immersion. Located on the island of Sumba in Eastern Indonesia (400km east of Bali) the Resort is an outpost for: world-class surfing, the best sport fishing in Indonesia, stand-up paddle boarding down the Wanukaka River, bird-watching for the island's eight endemic species, an insight into one of the last intact Animist cultures, and hiking through breathtaking waterfalls and butterfly trails.

Located high in the tree canopy, the forest-inspired three-bedroom Mamole Villa is accessed via a 'floating' wooden bridge private entrance, leading to the enchanted tree-house accommodation, infinity pool and natural lagoon.  Each two-storey bedroom is a separate unit with open-air living spaces, bathroom, private plunge pool and west-facing viewing deck.

The House Collective

The Upper House, a luxury hotel located in Hong Kong, is well-known for its comforts of understated residence. In the 1,230-sqft (114sqm) Upper Suite, guests can relax in the comfortable bespoke furniture and be inspired by captivating views from the living room's L-shaped sofa, window seat or deep limestone-clad free-standing bathtub. And there's a separate bedroom with a king bed and a spa-inspired bathroom.

The Temple House, a distinctively different luxury hotel in Chengdu, is a beautiful blend of traditional and modern design. In Studio 90, guests can enjoy the views from the private balcony in this superbly comfortable and elegant studio room. Bespoke furniture and soft furnishings in natural materials create a tranquil haven. The spa-inspired bathroom gives guests the choice to soak in a full size bathtub or take a refreshing rain shower.

Alternatively, in the Courtyard Suite which spills out into a secluded garden, guests can enjoy the contemporary two-level suite which has a separate bedroom with king bed and stunning custom-made wood furniture plus an inviting spa-inspired bathroom featuring a standalone round tub.
---
Petrie PR is a dynamic boutique Asia based PR agency providing specialist communications strategy for the luxury lifestyle, travel, property, design and spa sectors.
Regionally and internationally connected, our reach spans all the most influential media in China, Hong Kong, Singapore, Taiwan and Indonesia as well as emerging markets including Malaysia, Vietnam and Thailand. We provide effective, integrated solutions, offering a tailored bespoke approach to support objectives and determine the best results to help drive business.
Find out more about us here