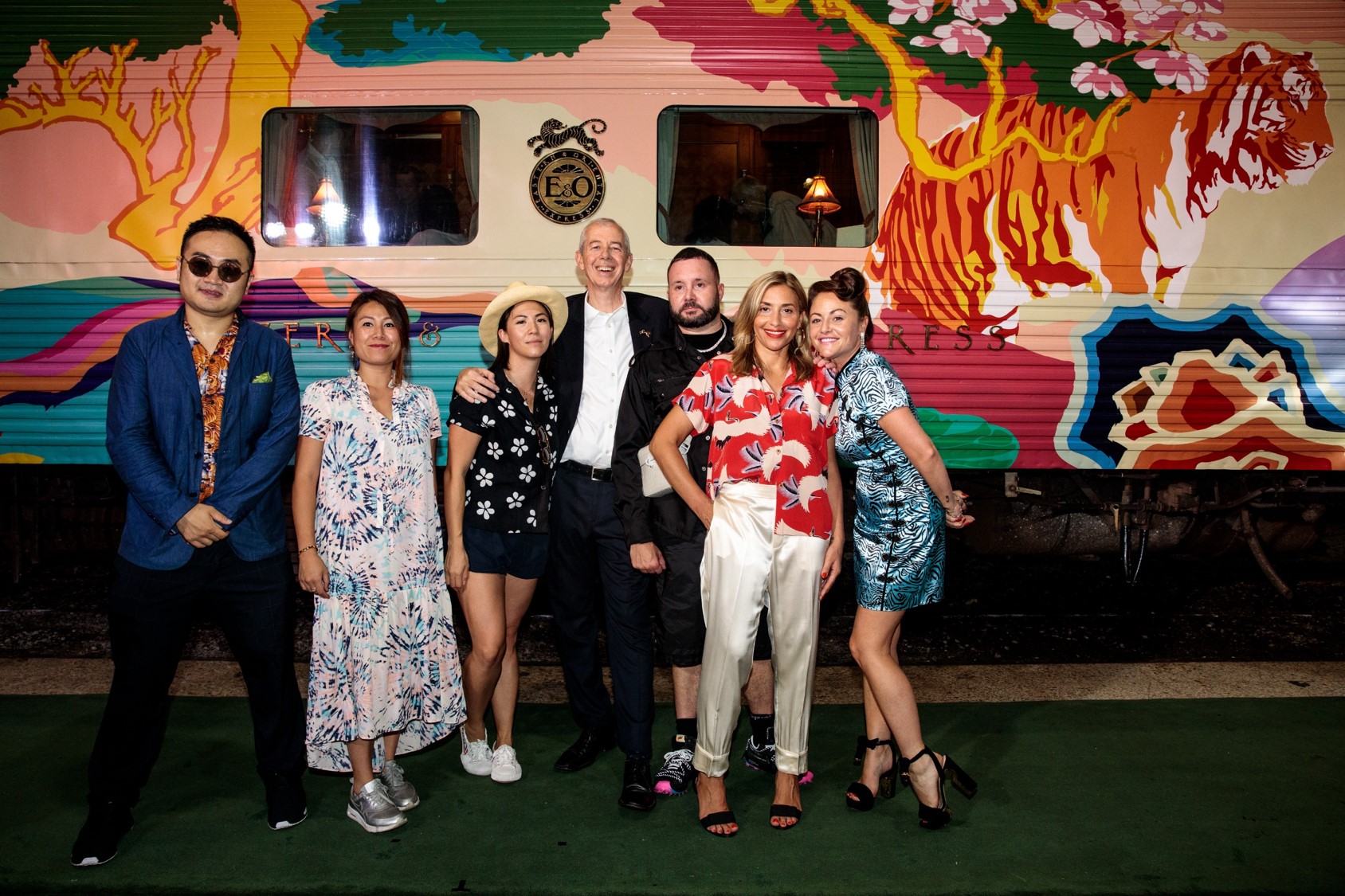 10 Sep

Belmond And Save Wild Tigers Unveil Tiger Inspired 'Art In Motion' At Launch Of 'Tiger Express'

Today, the Eastern & Oriental Express departs on its 'Tiger Express' journey from Bangkok to Singapore in association with global charity initiative 'Save Wild Tigers'. The trip aims to raise awareness of the plight of the world's critically endangered wild tigers.

The start of this trip also marks the unveiling of the train's third 'Art in Motion' ahead of the new season. The first of two trains in the Belmond collection to be transformed this year, the Eastern & Oriental Express' 'Art in Motion' design has been conceptualised to coincide with the message of the 'Tiger Express'.  The next train to be decorated will be Belmond Andean Explorer.

As part of the 'Art in Motion' series, the 'Tiger Express' sees the external livery of two carriages given a tiger flair by renowned British Chinese Artist, Jacky Tsai, a Save Wild Tigers' ambassador and the name behind Alexander McQueen's iconic floral skull.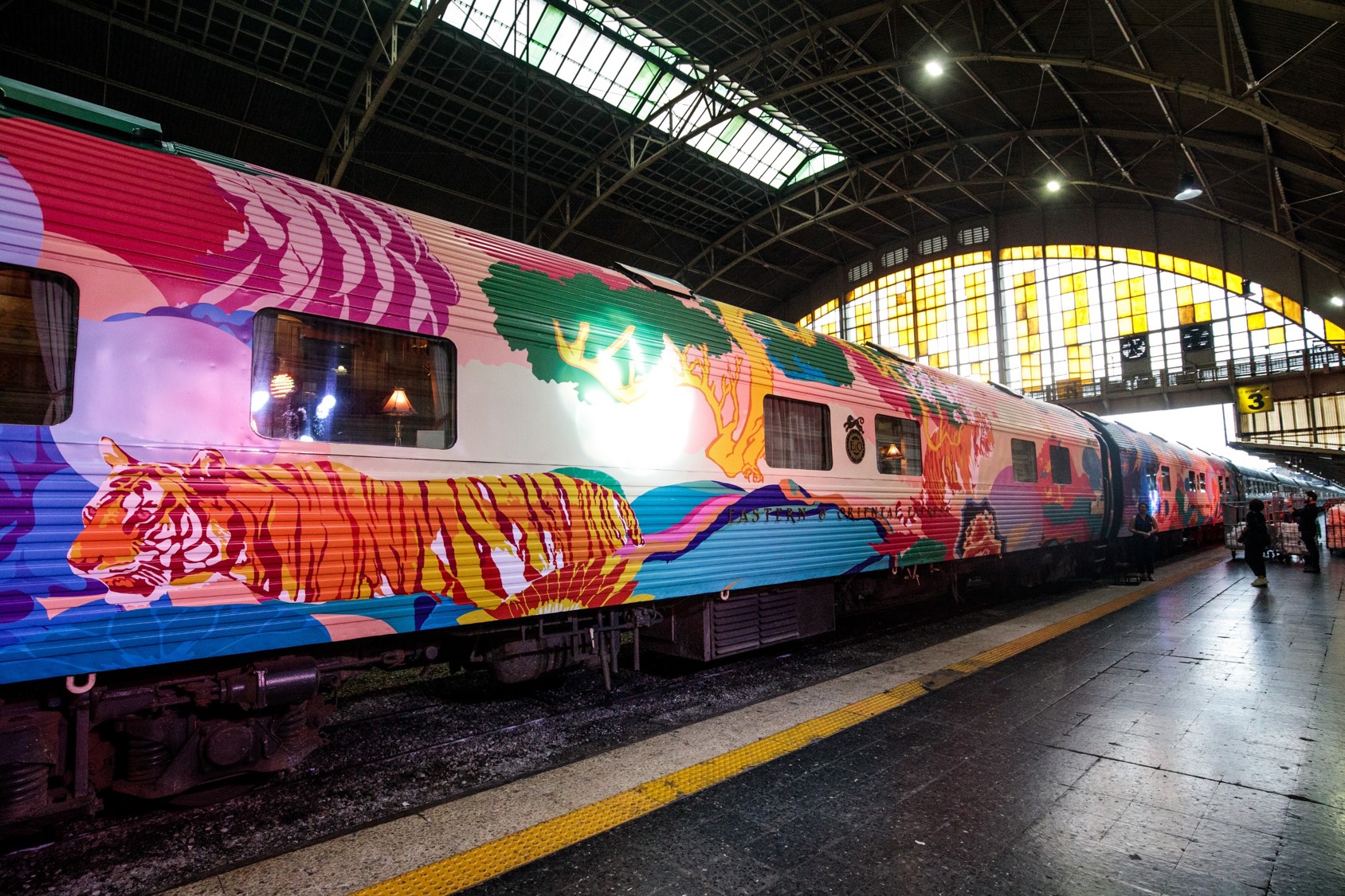 THE ARTWORK
"I wanted to create a visual reminder of the majesty of tigers, that in a similar way to the train, travel through Southeast Asia. I have done this by curating tiger inspired artworks along the external livery of two of the carriages. The design fuses traditional eastern artistic techniques and imagery with western references to create an original style that seeks to establish balance and harmony.  Inspired by my Tiger Art on Canvas, it's a powerful reminder of the beauty of these majestic creatures" explains Tsai.
THE TIGER EXPRESS
Running from 7 – 12th September, guests will travel in luxury from Bangkok to Singapore through historic wild tiger territories in Thailand and Malaysia. In Bangkok, guests will stay at the 5-star The Siam Hotel Bangkok and attend a cocktail reception hosted by The Siam Hotel and Save Wild Tigers. During the journey, guests will embark on several excursions, including a visit to the River Kwai Bridge and a tour of Kuala Kangsar. Moreover, UK MasterChef Winner Ping Coombes will be on board creating special menus channelling the geographical settings.
At journey's end, in Singapore, the passengers will stay at the newly refurbished Raffles Hotel where a closing reception with entertainment from Jazz Singer Alemay Fernadez and the auction of Jacky Tsai's original Tiger Art on Canvas will take place. During the reception YTL Hotels will host an exhibition of 14 photos from the acclaimed 'Eye on the Tiger' exhibition that was held at the Royal Albert Hall, London last year.
To mark the occasion, several Save Wild Tigers ambassadors and celebrities will be attending the unveiling and joining the journey including Kim Jones, Global Artistic Director, Dior Men, Melanie Blatt, singer from All Saints, Jaime Winstone, Actress and Victoria Tang-Owen, Creative Director,  Shanghai Tang and Master Chef winner Ping Coombes
Simon Clinton, Founder of Save Wild Tigers comments, "If no action is taken wild tigers could be extinct in just 10 years. The 'Tiger Express' is set to raise awareness of this tiger crisis – generating support for wild tigers from such high profile personalities reminds us all how special wild Tigers are and why it's essential we collectively all do our best to protect them from extinction."
For full details on the Eastern & Oriental Express and bookings visit www.belmond.com/eastern-and-oriental-express or call reservations via number 001 800 8392 3500. To learn out more about Save Wild Tigers visit savewildtigers.org
---
Petrie PR is a dynamic boutique Asia based PR agency providing specialist communications strategy for the luxury lifestyle, travel, property, design and spa sectors.
Regionally and internationally connected, our reach spans all the most influential media in China, Hong Kong, Singapore, Taiwan and Indonesia as well as emerging markets including Malaysia, Vietnam and Thailand.
Find out more about us.