30 Jan

Belmond Mount Nelson Hotel launches new 'Tea Sommelier' experience and a new-look Tea Lounge

Belmond's new 'Art-Tea-st' Experience in Cape Town

To celebrate the tradition of afternoon tea at Cape Town's iconic blushing belle, Belmond Mount Nelson Hotel, Belmond introduces a Tea Sommelier, the first of its kind in South Africa.

The Tea Sommelier, purveyor of the art of taking tea, is on hand to guide guests through various tea masterclasses, including a traditional tea ceremony, complex tea tastings and fine dining food pairing.

 

'Expert-teas'

Tea was first brought to Cape Town in the 1700s by ships docking in the harbour on their way back from the East and the tradition of Afternoon Tea has been intrinsically linked with Belmond Mount Nelson Hotel for 119 years.

The expertly-trained Tea Sommelier is a fount of knowledge on the vast library of over 40 teas available for guests in the Tea Lounge, including 13 new leaf blends introduced for 2018. Tea ceremonies include a traditional Gongfu Tea Ceremony, dating back thousands of years, connecting guests in a calm and relaxing way with the tradition of drinking tea using high mountain oolong leaves in a fragrance and flavour-filled seven-step infusion process.

For those keen to learn more about pairing loose teas with fine dining cuisine, the Executive Head Chef and Tea Sommelier work together to pair five canapes and delicacies, such as macaroons or salmon, with accompanying tea from across the world to awaken all senses.

Passionate about tea and the appreciation of this time-honoured tradition, Tea Sommelier Craig Cupido comments, "I have always felt that tea is about connection and has a calming influence, especially when served during a traditional tea ceremony.  Many are surprised that so many teas can be paired with fine dining dishes and I enjoy educating all our guests on the many positive properties tea can offer."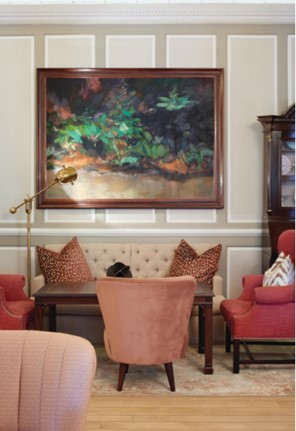 A rosy hue, inside and out
The much-loved Tea Lounge and Garden Veranda at Belmond Mount Nelson Hotel have been the heart and soul of the rosy property for many years. Following extensive refurbishment works, the spaces now connect guests with the magnificent gardens upon arrival. Subtly designed to reflect the famous pink exterior, the space warmly welcomes guests as they sit down to enjoy one of the many tea blends available. The rose petals in the classic Mount Nelson blend of six different teas perfectly complement the shades of pink fabrics and the au boison rugs in the lounge.
Award-winning interior designer, Inge Moore of Muza Lab says, "In redesigning the public rooms, we were very conscious of our responsibility towards Mount Nelson's unique heritage, the spirit of the hotel and its legendary gardens. We are continuing the story, not reinventing it."
In the conservatory, the palmed wallpaper, parlour palms, giant strelitzia trees, hanging baskets and bright orchids create the ambience of a wintergarden filled with light and plants. A large fireplace at one end anchors the room and the many mirrors and plants help to bring the garden right into the room.
To find out more about the Tea Sommelier service or to make a booking, please phone Restaurant Reservations on +27 21 483-1948 or e-mail: restaurantreservations.mnh@belmond.com
---
Petrie PR is a dynamic boutique Asia based PR agency providing specialist communications strategy for the luxury lifestyle, travel, property, design and spa sectors.
Regionally and internationally connected, our reach spans all the most influential media in China, Hong Kong, Singapore, Taiwan and Indonesia as well as emerging markets including Malaysia, Vietnam and Thailand.
Find out more about us.