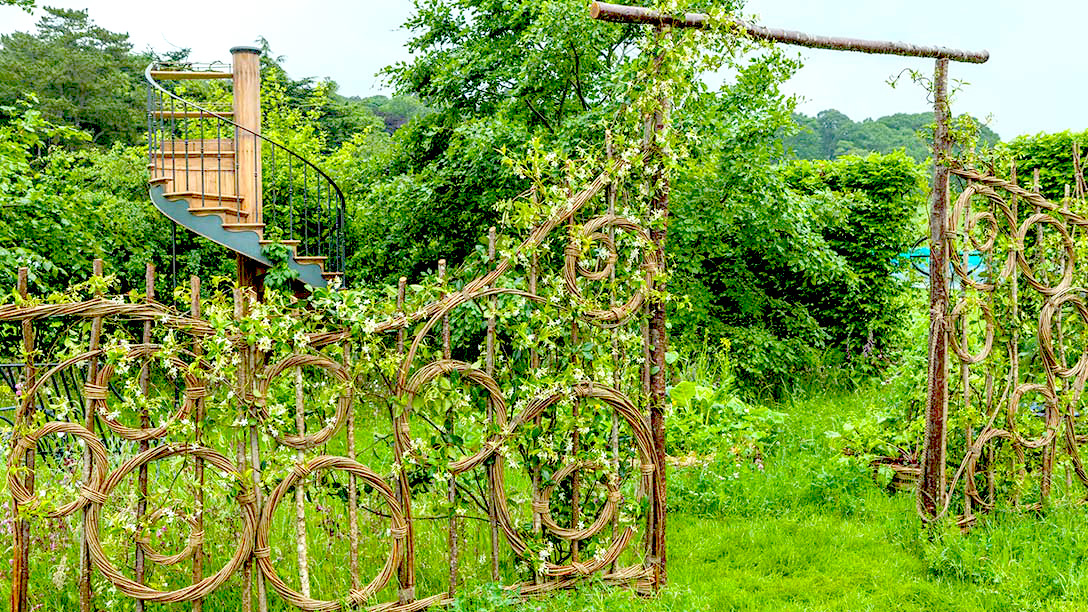 08 Jun

Belmond reveals 'Enchanted Gardens' at new RHS Show – RHS Chatsworth

Today, Belmond unveils its first show garden at RHS Chatsworth Flower Show, Derbyshire, 'Belmond Enchanted Gardens' from 7-11 June 2017.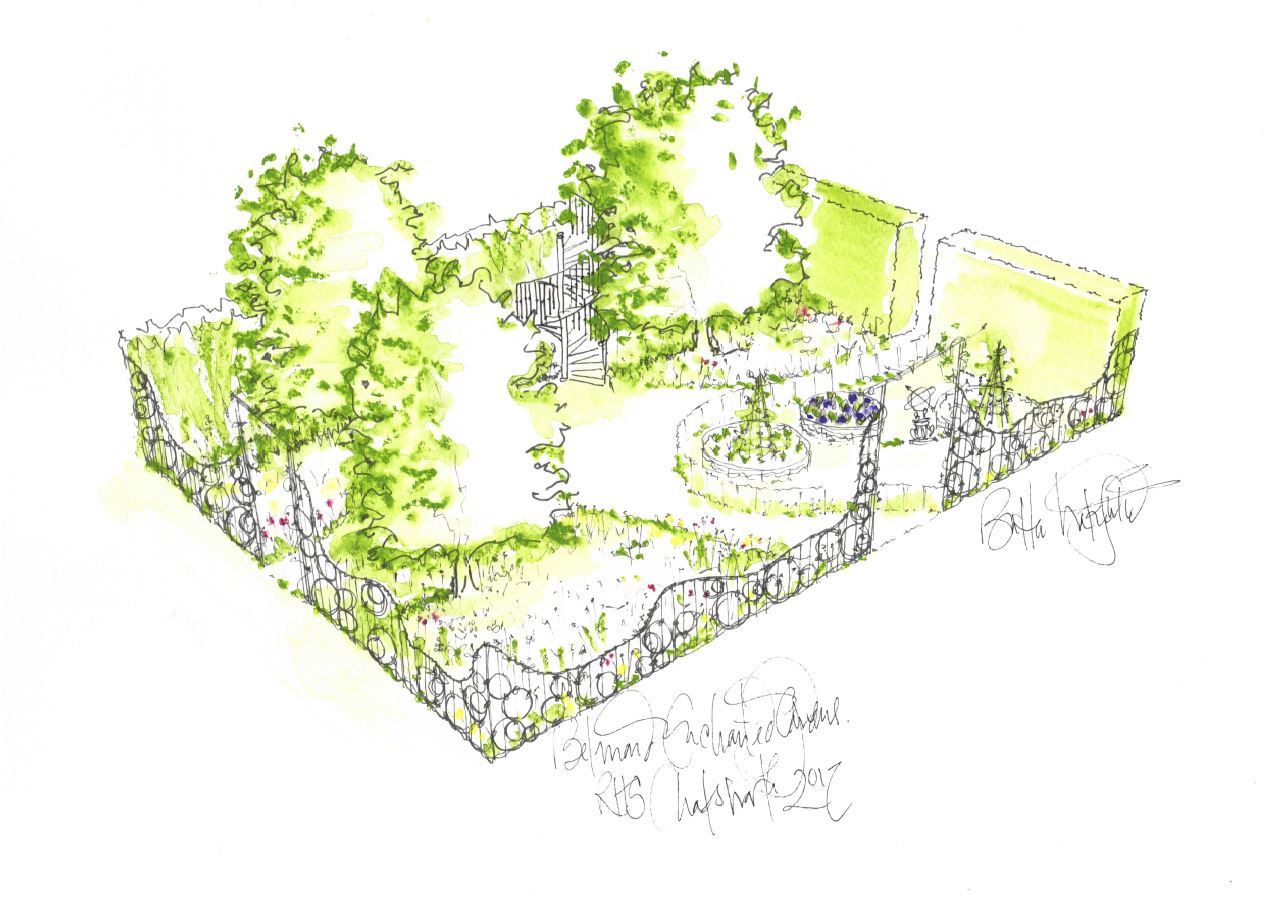 Designed by Butter Wakefield, Belmond's garden is a thoughtful combination of playfulness and practical planting, showcasing the international world of Belmond's gardens, from the legendary Belmond Hotel Cipriani's Casanova Gardens where the roguish seducer is reputed to have held secret assignations with his lovers, to the historical gardens of Belmond El Encanto, Santa Barbara with century old wisteria.
The twist
The first new RHS show in ten years, RHS Chatsworth Flower Show invites designers to blend tradition with the unexpected; visitors to 'Belmond's Enchanted Garden' will experience 'tradition re-imagined' with a central 'Twist' at the heart of the garden, a staircase planted as a metaphor to a journey but in this case, a journey to where visitor's imaginations will take them.
In a further 'twist' to the unexpected, the top of the staircase becomes a bar, creating 'tastes of enchantment' using ingredients grown in the garden to create recipes from around the world of Belmond.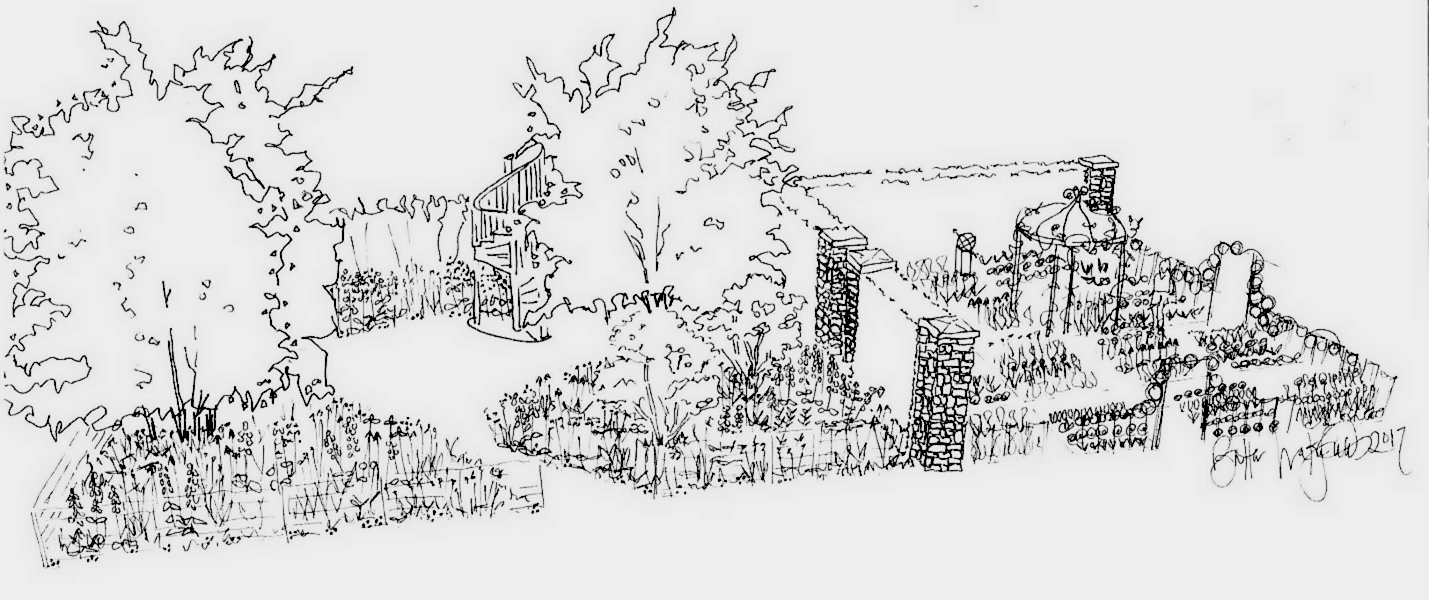 A realm of magic and imagination
Stepping through the rose covered entrance, beyond the artisan hazel and willow fencing, visitors are invited into a world of enchantment, where time stands still and nature and culture live together.
A wildflower meadow planted with foxgloves, ox-eye daisies and pink and white campion create an ethereal retreat to take time for quiet contemplation, or taking inspiration from the bronze sculpture, 'boy with a book' find a spot beneath a tree and read a while. An armillary sphere, points to a world of discoveries and celestial time.
Produce of Provenance
Vegetable beds bursting with produce native to Belmond's destinations around the world have been raised at Belmond Le Manoir aux Quat'Saisons in Oxfordshire which boasts over 250 varieties of vegetables.
Butter has designed a garden that reflects the significant role gardens play in the guest experience, both as a place to rest and relax. Many feature kitchen gardens, a source for Belmond's chefs to create mouthwatering dishes using organic, nature ingredients grown within the hotel grounds such as at Belmond Hotel Residencia, set on an old olive farm that produces its own olive oil.
Designs on Nature
"With Belmond Enchanted Garden, I have created a beautiful space for vistors to pause and reflect and get that magical feeling of being on holiday, when the layers peel away and you can begin to rest and relax." Comments Butter Wakefield.
"The circles that I have used throughout the garden represent the constant flow of nature and the rhythm of the changing seasons, from the circular willow beds to the fencing and central twist – I hope guests will take away the wonder of doing things slightly differently."
Tales of the Unexpected
Creating a fully immersive show garden, 'The Twist' will feature an 'in conversation series' throughout the show at 12pm and 4pm each day; highlights include Catherine Blyth, author of 'On Time; Finding your Pace in a World Addicted to Fast' on Wednesday 7 June and Henrietta Couthald and Bridget Elworthy, The Land Gardeners and experts on productive gardens on Friday 9 June.
---
Petrie PR is a dynamic boutique Asia based PR agency providing specialist communications strategy for the luxury lifestyle, travel, property, design and spa sectors.
Regionally and internationally connected, our reach spans all the most influential media in China, Hong Kong, Singapore, Taiwan and Indonesia as well as emerging markets including Malaysia, Vietnam and Thailand.
Find out more about us.