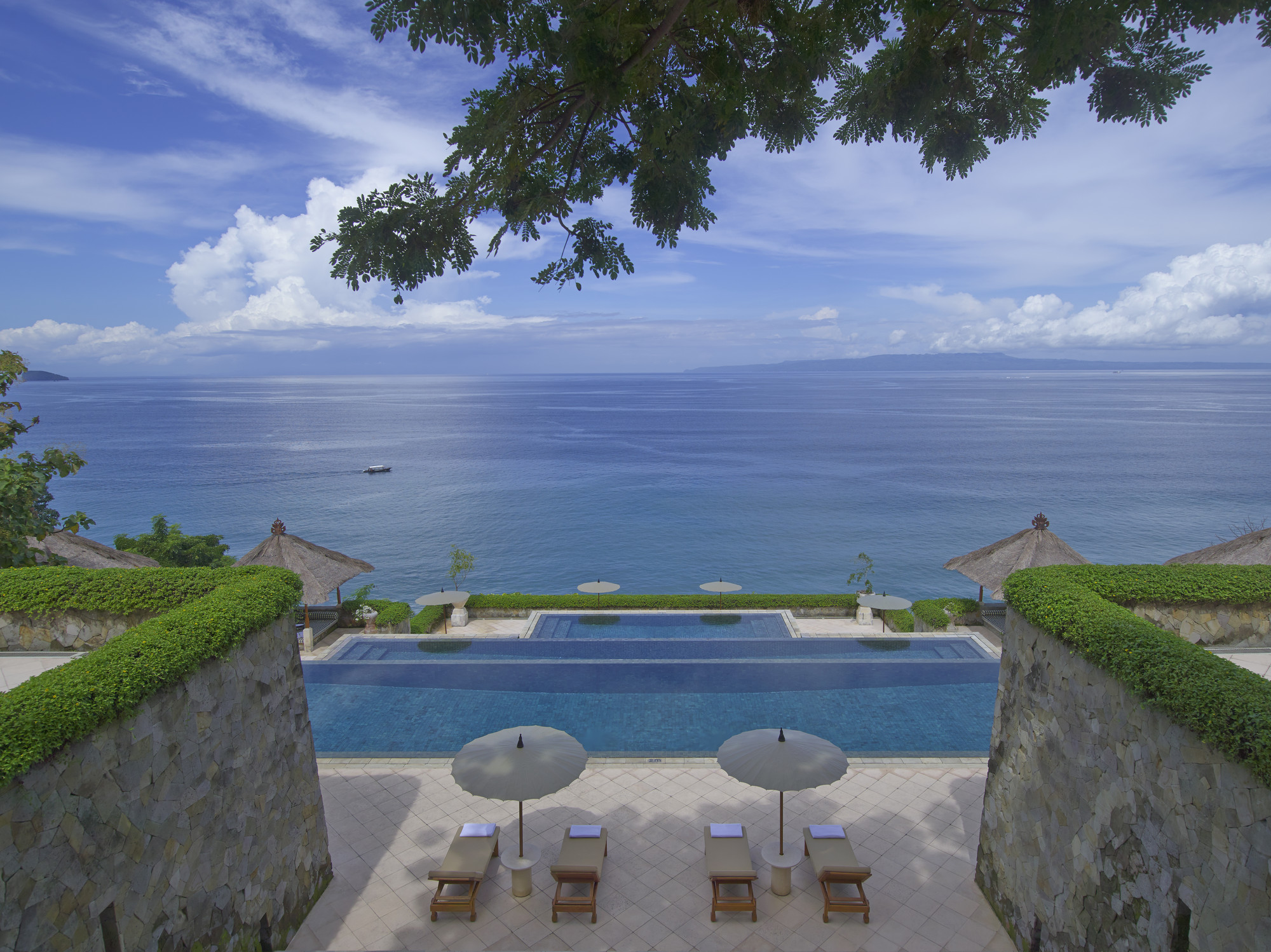 19 Sep

A Balinese Affair – AMAN

With sacred mountains wearing rice-terraced skirts and beaches scalloping the dramatic coastline, it's no surprise that Bali is known as the Island of the Gods; nor that this verdant paradise with its welcoming culture and its deep reverence for all living things is one of the world's most romantic destinations. To celebrate a romantic milestone in Bali is an unforgettable experience, but to celebrate at one of the island's three Amans is the experience of a lifetime.

Located in Bali, Amandari, Amankila and Amanusa offer unique destinations with spectacular natural surrounds, utter privacy, and a warm and inviting ambience, making them ideal venues for weddings and honeymoons. From arrivals by helicopter, signature couple's spa treatments, exceptional private dining experiences and romantic excursions that can be tailored, each Aman can seamlessly orchestrate every behind the scene detail to promise dream-worthy romantic celebrations.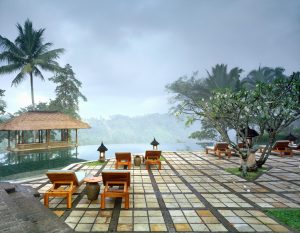 AMANDARI, Ubud
Perched above the Ayung River Gorge, set among verdant fields of green rice terraces close to Bali's spiritual and cultural heart of Ubud. Amandari is an inland retreat, an enchanted tropical wonderland filled with lush green flora and fauna. The serene 30-suite resort meanders along the lip of the gorge in the protective embrace of the forest. Mimicking the rice paddies below, the resort's gently curving swimming pool offers magnificent views that span the horizon, while the garden drops away from a raised open-sided pavilion, perfect for wedding ceremonies or musical performances.
An intrinsic part of the local community, Amandari has its own temple in a peaceful glade. The island's unique form of Hinduism permeates the very fabric of daily life in the villages around Amandari, and ceremonies to purify and harmonise relations between humans, the environment and the realm of the Gods take place regularly according to the lunar calendar. For those celebrating a wedding or another special milestone, a local priest can perform a Balinese cultural blessing at Amandari, Amankila or Amanusa. This blessing bestows upon the couple a Hindu prayer that asks for hope, physical strength and the determination and ability to face all life's challenges. The blessing ends with the tying of a yarn bracelet around each person's wrist to symbolise love, health and happiness.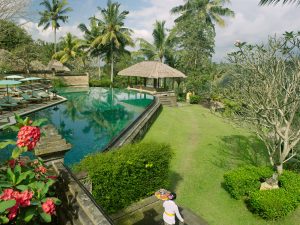 Other amorous experiences at Amandari include the side-by-side Village Spa Journey, encompassing a combination of the Balinese Melukat purification ceremony and holy water rituals with a full-body exfoliation, a body wrap of mineral-rich volcanic clay and a therapeutic head massage in the resort's secluded Aman Spa. The Ayung Valley Hike offers guests a gentle trek with a personal guide through the rice terraces, orchards and forests of the Ayung River Gorge, culminating in a picnic breakfast enjoyed in a lofty open-sided pavilion with magnificent views of the valley below. Amandari's traditional Megibung Balinese Feasting Menu is available to couples hosting any form of celebratory lunch or dinner, while a host of entertainment options can be arranged, from gamelan music to Tari Penyembrama dancing.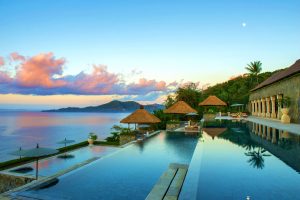 AMANKILA, Manggis
Offering consummate privacy overlooking the Lombok Strait, 33-suite Amankila is a dramatic hillside retreat backed by Mount Agung. Designed to float amidst fragrant frangipani and bougainvillea bushes, with raised walkways and a signature three-tiered pool, the resort drops gracefully from its regal entrance to a private coconut grove and a serene Beach Club with a private black volcanic sand beach. A magnificent staircase leads from the reception pavilion down to the colonnaded bar and restaurant, both with stunning sea views, and down again to the first tier of the main swimming pool. The library and the Terrace Restaurant are situated on this tier, as well as a number of bales for lounging poolside. With its host of possible venues and settings for ceremonies and receptions, the resort is ideal for destination weddings.
Amankila's coconut grove, Beach Club and private beach which provide the resort's most magical venues. Petals strewn to create an aisle between delicate vases of tuberoses, candles afloat on the Beach Club pool, an intricate bamboo arch beneath swaying coconut palms and a bonfire on the beach are just some of the details that make each Amankila wedding memorable. Receptions can be held within the Beach Club or around the pool, or even on the beach depending on the time of year. Alternatively, guests are able to reserve the entire coconut grove, Beach Club and beach just for two. Whether dining poolside or on the beach, you are looked after by a personal chef and waiter, and after your meal are left alone with just a bonfire lighting the night sky, your own beach bale to relax within – and a bell should you need anything.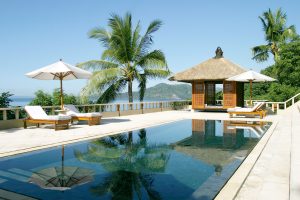 Ideal for proposals, honeymoons or more intimate wedding celebrations, Amankila's 249 square metre Indrakila Suite has its own private pool and expansive terrace with incredible sea views. The poolside lounging bale can be set up for nights beneath the stars, and private dining is always an option. Indulge in-suite with the 'Royals in Love' signature treatment, based on pre-marriage pampering and purifying rituals from the royal palaces of Central Java.
Beyond the gates, Amankila's romantic offerings continue, take an island-hopping cruise with Champagne breakfast onboard, or enjoy martinis at sunset on the slopes of Mount Agung. Amankila has an open-sided bale high in the hills, where house dips, charcuterie, olives and salsas are served as the sun paints the sky a myriad of pinks. Couples can combine this romantic late afternoon wind-down with an adrenalin-fueled mountain biking adventure beforehand, or a fascinating tour of craft villages nearby including Tenganan, where the rare double ikat cloth is woven.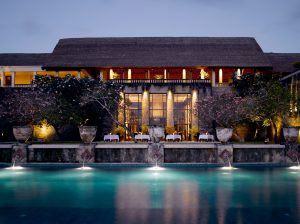 AMANUSA, Nusa Dua
Facing the rising sun on the privileged peninsula of Nusa Dua, 35-suite Amanusa rests on a hillside with all-encompassing views of the Indian Ocean. Landscaped gardens fringe the emerald fairways and greens of the Bali National Golf Club that puddle at the resort's feet, and a pristine white sand private beach and Beach Club lie just 1,500m away. Designed to emphasise its serene setting and maximise views, the resort offers a number of truly breathtaking venues for special events.
The grandeur of Amanusa's arrival pavilion with its high ceilings and magnificent views leads via two raised pathways to the spectacular Bar and The Terrace Restaurant – each set atop stone plinths with 270° views of the peninsula. Between these two lofty venues lies the swimming pool, bordered on the ocean side by pergolas draped with bougainvillea. Across the pool, protected by stone walls on three sides is a tranquil courtyard and lawn shaded by established frangipani trees, it would be hard to find a more romantic and intimate alfresco venue. Opening onto this courtyard is the atmospheric Italian Restaurant, set into the stone.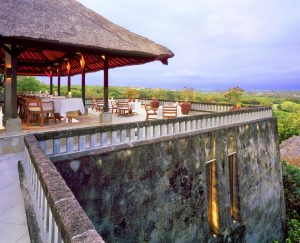 Less than five minutes' drive away, Amanusa's Beach Club lies on one of Bali's most beautiful beaches, offering safe swimming and snorkelling on an unspoilt reef just offshore. Home to nine thatched bales ideal for romantic sunrise breakfasts or relaxing in after a beach BBQ for two. As a ceremony or reception venue, the Beach Club can cater for up to 150 people and can host spectacular entertainment options including fireworks, a traditional lion dance (Barong Ket), a dramatic Kecak bonfire dance or a Jejog musical performance, among others.
While tuberoses are Amankila's signature bloom, the resort works with a renowned florist whose bespoke candle and floral arrangements are designed and personalised to each venue and event. The resort can also help arrange other event specialists, from makeup and hair stylists to photographers and videographers.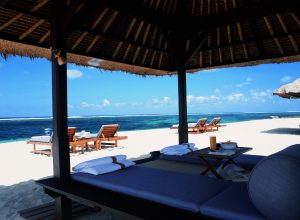 Unique experiences for two at Amanusa include sunrise breakfasts, beach BBQs, a sunset tour of the famous Uluwatu Temple, a private Hindu blessing by a local priest at Amanusa's temple and spiritual Full Moon Meditation on the private beach. Amanusa offers tennis courts and a range of water sports, as well as priority bookings at the Bali National Golf Club. Just a 25-minute drive away, couples and their guests can enjoy the shopping and nightlife areas of Legian and Seminyak, while further afield lie the attractions of rural Bali, from white water rafting, trekking and mountain biking to temples and picturesque villages off the beaten track.
As with every Aman, the experienced teams at Amandari, Amankila and Amanusa help plan personal, one-of-a-kind ceremonies and receptions, assisting with every detail from menu planning to bureaucratic matters. Whether you have a surprise proposal, an intimate ceremony, a lavish wedding banquet or a special anniversary celebration in mind, the Aman team at each resort will offer seamless and intuitive support.