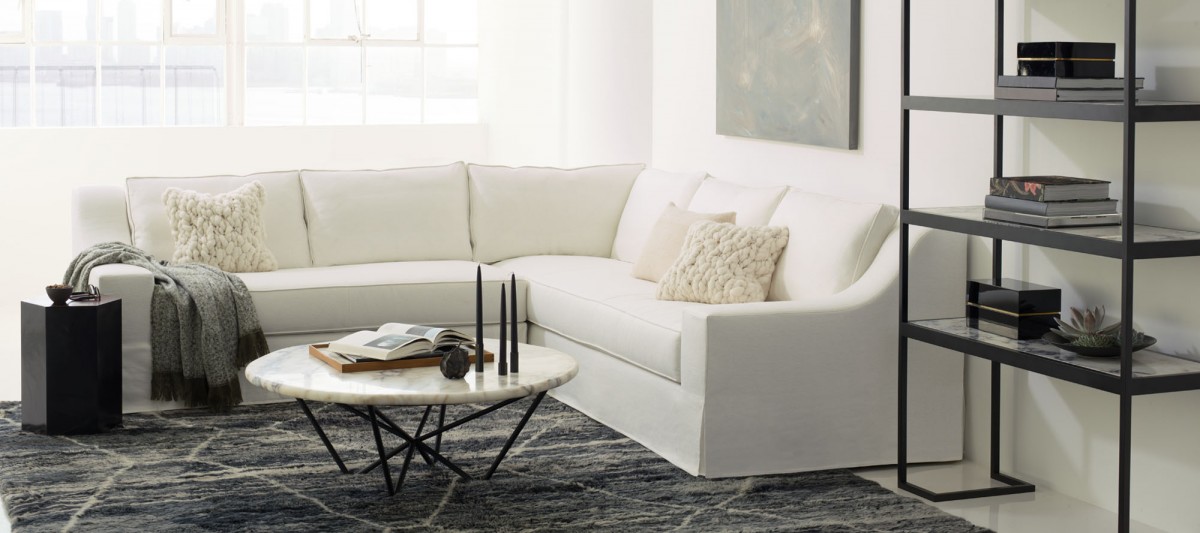 06 Jul

Baker Relaunches Milling Road As Standalone Brand And Introduces Kara Mann Collection For Milling Road

Baker®, a leading designer and manufacturer of fine home furnishings unveils Milling Road® as its own distinct brand with a new collection in collaboration with internationally renowned designer and influential stylemaker Kara Mann.

Modern finishes and memorable touches of the Kara Mann Collection for Milling Road bring to life a never‐before seen range of offerings from Baker.  It also marks the designer's first furniture line – developed from concept to creation – in partnership with the Baker team.  The 54 statement pieces in the collection are a reflection of the designer's signature style, which has been called edgy yet sophisticated, for the everyday home. The Kara Mann collection will also mark the first in a series of guest designer partnerships lending their creativity and designs to the new Milling Road portfolio.

"The inspiration for this collection came from our research into Baker's archive. We combined that heritage with my own background in design, art and fashion to create a furniture collection that is infused with both modern edge and relaxed glamour," said Kara Mann, founder and creative director of KARA MANN.  "With this new collection, I want our customers to feel inspired to transform their everyday living spaces into refined and impactful interiors. Together with Baker, we are so excited to officially unveil the new collection today to the design community.

The Kara Mann Collection for Milling Road is part of the Baker strategy to evolve alongside the changing home furnishing landscape, while staying true to the Baker heritage rooted in distinctive design, craftsmanship and exquisite details.  "The definition of luxury is evolving.  Luxury is not merely a price point, but encapsulates an authentic experience melding the finer elements of service, attention to detail, craftsmanship and personalization.  Baker is embarking on a new path with Milling Road that delivers on this fresh and stylish approach.  Milling Road is casual sophistication reimagined," said Gregory Heller, vice president product marketing, development & visual display for Baker. "Collaborating with dynamic designers, like Kara Mann, continues our long‐standing history of partnerships with design icons.  Her fashion‐forward collection brings a relaxed, yet refined approach that appeals to buyers looking to create vibrant and sophisticated living spaces."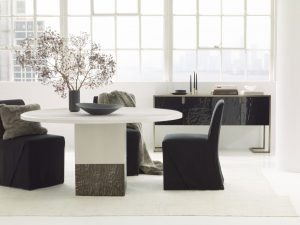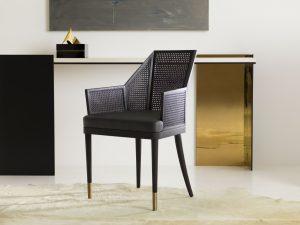 Offering customers a range of home accessories and furniture with elevated design aesthetics at more accessible price points, KARA MANN and future Milling Road curated collections, are designed for a wide audience range and will allow customers to define their design with a blend of standout statement and everyday pieces in their homes. Milling Road will also appeal to design enthusiasts looking for customizable options with its 100 varieties of fabric choices, including unexpected finishes and 30 types of fabrics specific to the Kara Mann collection, to create ideal spaces.  With delivery between two and four weeks, customers can also expect to bring their designs to life with quick Milling Road deliveries.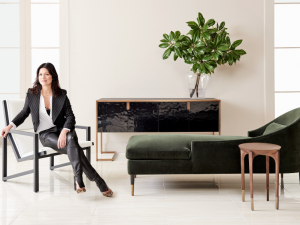 The Kara Mann Collection for Milling Road offers memorable pieces for every corner in the home, from the dining room to the bedroom including:
Cane Dining Chair and Arm Chair (MR7040/41)‐ These classic dining chairs utilize traditional caning, but keep it modern with sharp, geometric shapes and silhouettes.
Liquid Dining Table (MR7036)‐ Fluid metal legs curve gracefully beneath the solid veneered tabletop. This table is beautiful from all angles.
Straight Up Desk (MR7087)‐ With a simple turned‐metal form, the straight‐up collection is graphic with attitude.
The Kara Mann Collection for Milling Road is available for order through Baker Showrooms and at select dealers.  For more information on the new Kara Mann collection for Milling Road visit MillingRoad.com, or follow the brand's new Facebook, Instagram and Pinterest pages. Baker Hong Kong, G/F 19-27 Wyndham Street, Central.
— 
About KARA MANN
With offices in New York and Chicago, KARA MANN serves an international roster of discerning clients and industry leaders on both residential and commercial projects.  Mann is known for creating environments that align her background in fashion, art, and design by re‐imagining the possibilities of spatial design. Often bringing together a wide range of cultural references ‐ from iconic fashion houses, to contemporary art, to classical interiors, she conceives unexpected combinations through materiality and architecture.
Mann was recently tapped as the interior designer and design architect for the renovation of the historic Hotel Chelsea. In addition to her work with Baker, she has had many successful collaborations, including with the venerable leather house Moore & Giles.
Her work has been featured and referenced in leading international outlets including: Elle Décor, The New York Times, Traditional Home, House  Beautiful, Design Bureau Magazine, Coastal Living, Chicago Tribune and domino, to name a few, as well as multiple design books.
About Baker
Founded in 1890, Baker has been the hallmark of design excellent and uncompromising quality. The company is a division of the Kohler Co. Interiors Group, a wholly owned subsidiary of Kohler Co. Under its Furniture sector resides Baker along with The McGuire Furniture Company. Sister brands Ann Sacks Tile and Stone, Inc., Kallista plumbing and Robern mirrored cabinetry and vanities are part of the Kohler Interiors Decorative Products sector.
About Atelier A
Atelier A+ is the Baker authorized dealer exclusively serves the Hong Kong, Shenzhen, Macau and Hainan Island markets. Formed by a dynamic group of passionate people dedicated to helping the design community, land developers and discerning customers furnish their homes or projects with the most exquisite Baker and McGuire furniture.