06 Dec

Aspen Art Museum & Aspen Skiing Company Announce 2016-17 Season Lift Ticket Designs by Contemporary Artist Laura Owens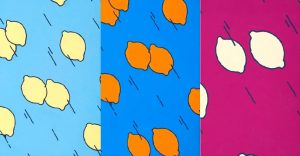 Season Lift Ticket Designs by Contemporary Artist Laura Owens
Commemorating eleven consecutive years of collaboration, the Aspen Art Museum (AAM) and Aspen Skiing Company (ASC) announce an edition of eleven images by Los Angeles–based contemporary artist Laura Owens to appear on the 2016–17 ski season lift tickets. The depictions of lemons raining from the sky, a reoccurring motif within Owens's work, are simultaneously reminiscent of Pop Art silkscreen prints and seventies illustrations.
As part of the AAM and ASC's longstanding Art in Unexpected Places partnership, the new artwork debuted on 24th November 2016, opening day for the 2016-17 season. Tickets with last year's artwork are on sale now. Known for paintings often depicting borrowed motifs, as well as limited-edition, handmade books, Owens has taken direct pictorial references from a book series she produced in 2015, featuring appropriated imagery and texts from spam emails for the lift tickets. Owens's practice blurs representation and abstraction, drawing extensively from a wide variety of art historical sources, from Chinese landscape painting and the work of European painters like Henri Toulouse-Lautrec, to Color Field painting and Pop Art. Owens combines the grid and the gesture, balancing stenciled or screen-printed images with hand-painted marks.
For the past eleven years, ASC/AAM collaborative lift ticket commissions have been produced by such internationally important artists as Yutaka Sone, Peter Doig, Karen Kilimnik, Jim Hodges, Carla Klein, Mamma Andersson, Mark Grotjahn, David Shrigley, Mark Bradford, Anne Collier, and last year, Takashi Murakami.
In addition to the lift tickets, the ASC and AAM have collaborated on the installation of on-mountain projects throughout ASC properties at all four Aspen-area mountains' ticket offices, restaurants, hospitality divisions – The Little Nell and the Limelight Hotel Aspen.
---
Petrie PR is a dynamic boutique Asia based PR agency providing specialist communications strategy for the luxury lifestyle, travel, property, design and spa sectors.
Regionally and internationally connected, our reach spans all the most influential media in China, Hong Kong, Singapore, Taiwan and Indonesia as well as emerging markets including Malaysia, Vietnam and Thailand. We provide effective, integrated solutions, offering a tailored bespoke approach to support objectives and determine the best results to help drive business.
Find out more about us here.