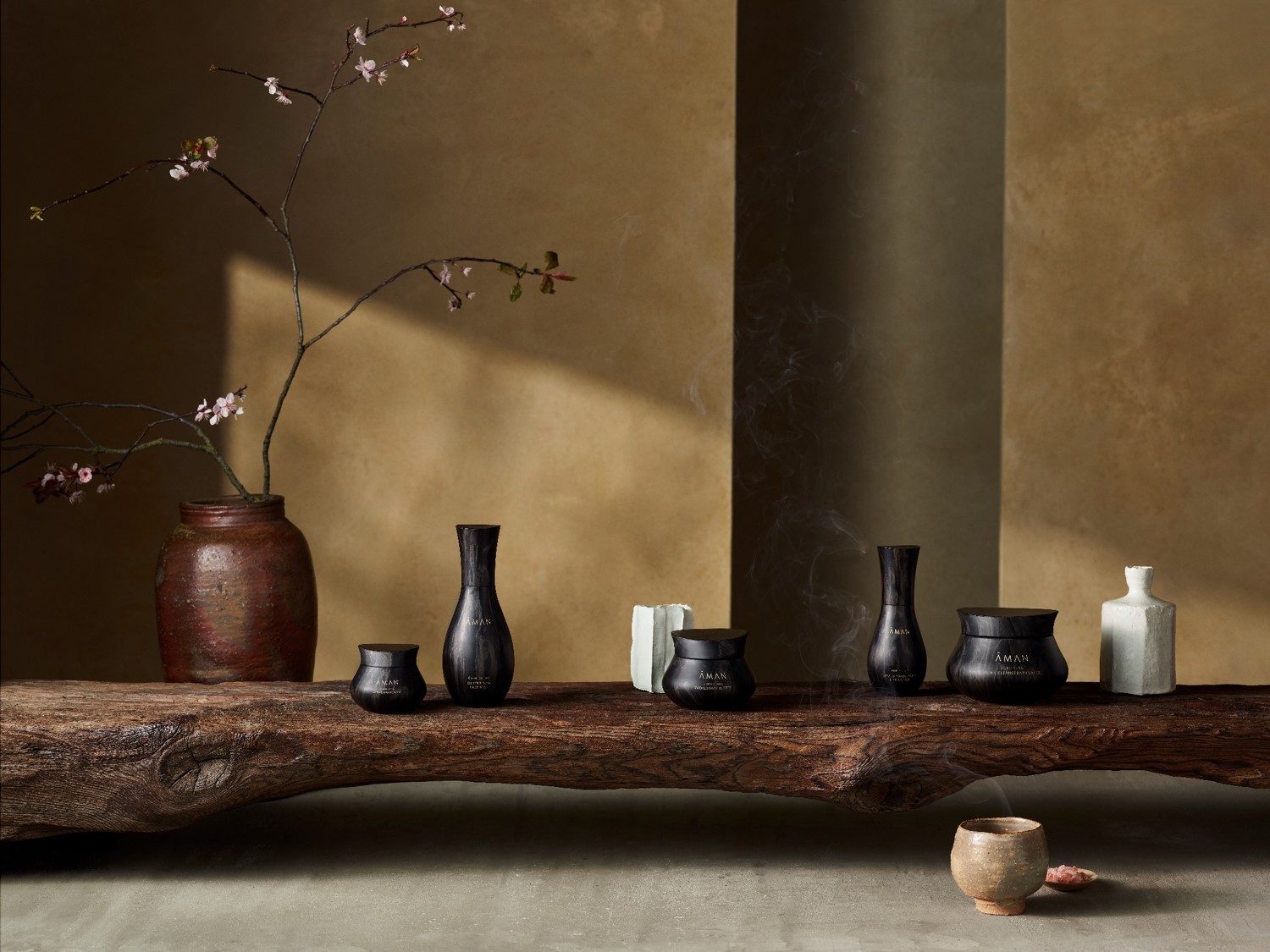 20 Apr

Aman Skincare: Aman At Home

Offering peaceful sanctuaries across the globe, Aman's philosophy has always been to welcome guests as if into the home of a close friend.  Created bespoke for the brand, the Aman Skincare collection not only embodies and celebrates, but is also inspired by Aman's constellation of hotels and resorts. With a variety of products, Aman Skincare makes it possible to experience the sense of Aman and escape the frenzy of daily life from the comfort of ones' very own home. The collection not only nourishes but transports to another location; from Amanpuri on the beaches of Thailand to Amanemu in the forests of Japan. The range has been formulated using exotic and natural ingredients, many of which are indigenous to, and have been wild harvested in Aman destinations around the world.

Blended to bring both tangible physical benefits and lasting emotional balance, Aman Skincare embodies three distinct wellness pathways that harness the natural settings of the brands resort and hotel locations. The Grounding pathway presents products that are earthy in their essence, drawing inspiration from mountains and deserts. The Purifying pathway offers refreshing and rejuvenating qualities, with ingredients sourced from the ocean, and the Nourishing pathway aids energy revival and derives from the lush greenery and forests that can be found in many of the destinations that Aman inhabits.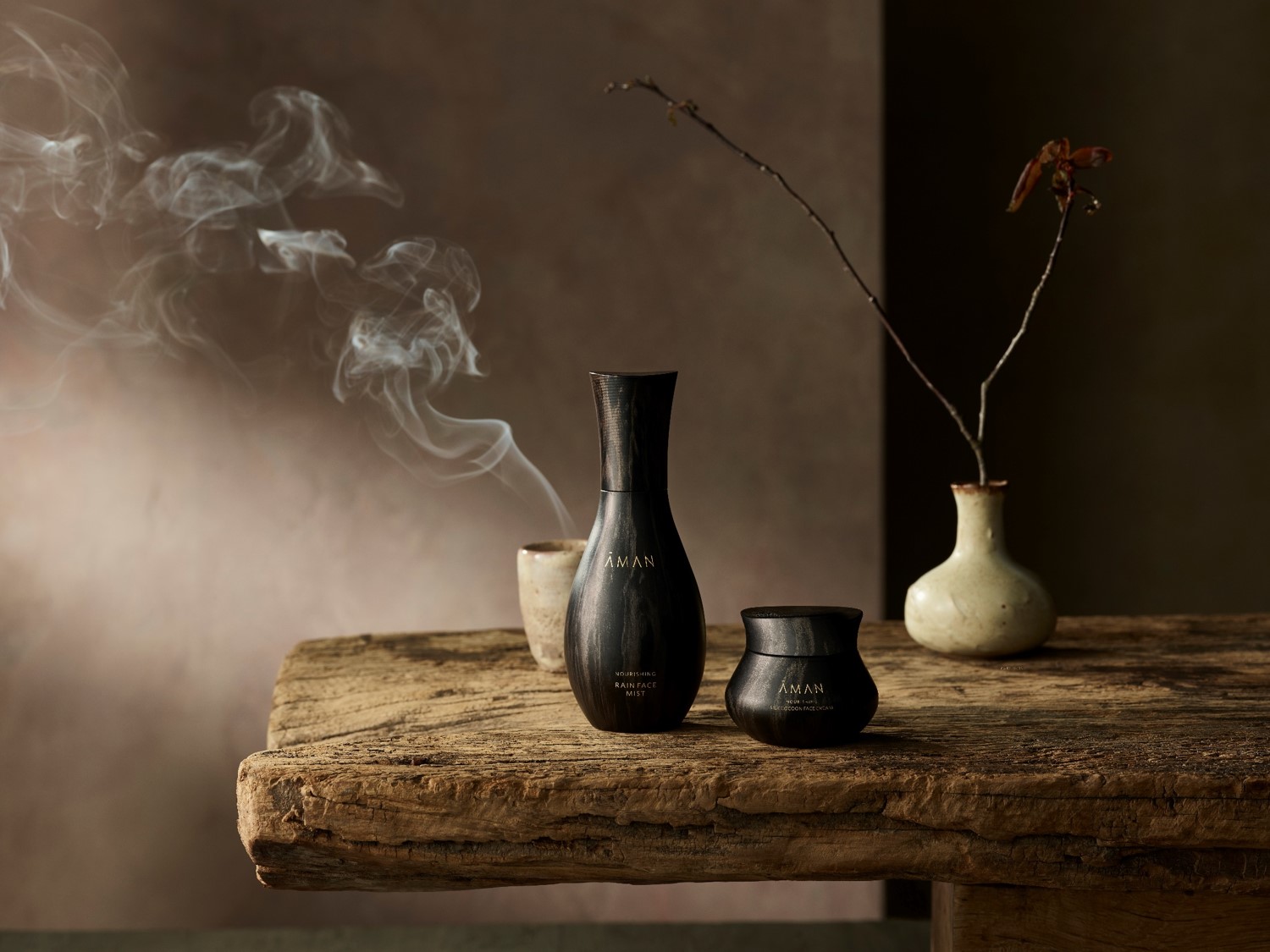 These pathways are linked with the wellness offerings at Aman resorts and hotels across the globe, making Aman Skincare the perfect way to sample this lifestyle at home. Much of the collection can be used in combination with other products to create a personalised ritual perfectly suited to the individual. The home is a personal sanctuary, dedicated to one's mental and physical wellbeing and what better way to sustain this than with a home spa ritual.
The Purifying Quartz Scrub and Soak, an invigorating two-in-one bath treatment, harnesses the healing properties of quartz, to exfoliate skin, stimulate circulation and cleanse negative energy fields to release tension. Used in conjunction with the Grounding Maca Cleansing Powder, a magnesium-rich mud cleansing powder that boosts sensitive, tired and pollution-weary skin and promotes the skin's cellular health, one can cast away the effects of the day. Followed by either of Aman's most loved formulations, the Purifying Hyaluronic Face Hydrator, for those with oily to combination skin, or the Nourishing Silk Cocoon Face Cream, for all skin types, the skin will feel refreshed, smooth and hydrated, the ideal way to begin a pleasant night's sleep.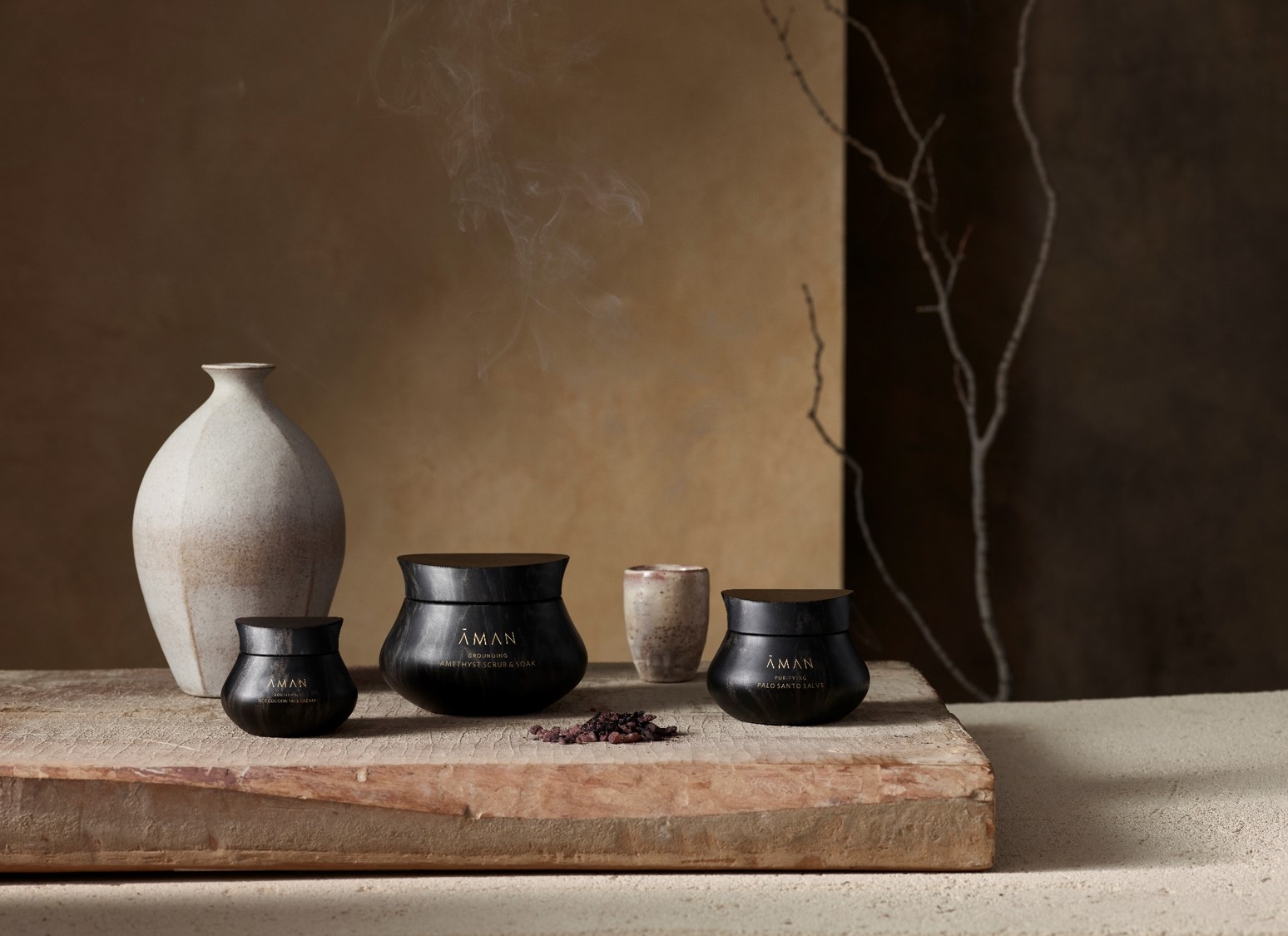 For those looking to ease physical and emotional tension and combat the effects of fatigue and stress, the Grounding Amethyst Scrub and Soak, paired with the Purifying Active Marine Mask, stimulates the circulation and collagen production. To preserve the skin's elasticity and promote a flawless complexion begin this ritual with the Purifying Marine Face Wash, which can be used daily on even the most sensitive skins. Kalpariane®, a trademarked seaweed extract with powerful rejuvenating properties, preserves the skin's suppleness, and reinforces the hydro-lipid barrier that protects against sensitivity.
As part of the Grounding pathway, the Grounding Miracle Mud Mask, a botanical mineral mask breathes new life into dry, listless skin. The mask's aroma has been created to mitigate the effects of stress and anxiety and is ideally used in conjunction with the restorative Purifying Palo Santo Salve – a balm that helps to reduce free-radical damage and support skin repair – or with the intensely hydrating, antioxidant-rich Nourishing Sacred Heart Balm. Preceded by the Nourishing Jade Scrub and Soak, a rejuvenating scrub treatment with cooling jade that hydrates, tones and revives, one can design their own deeply healing and strengthening spa ritual at home.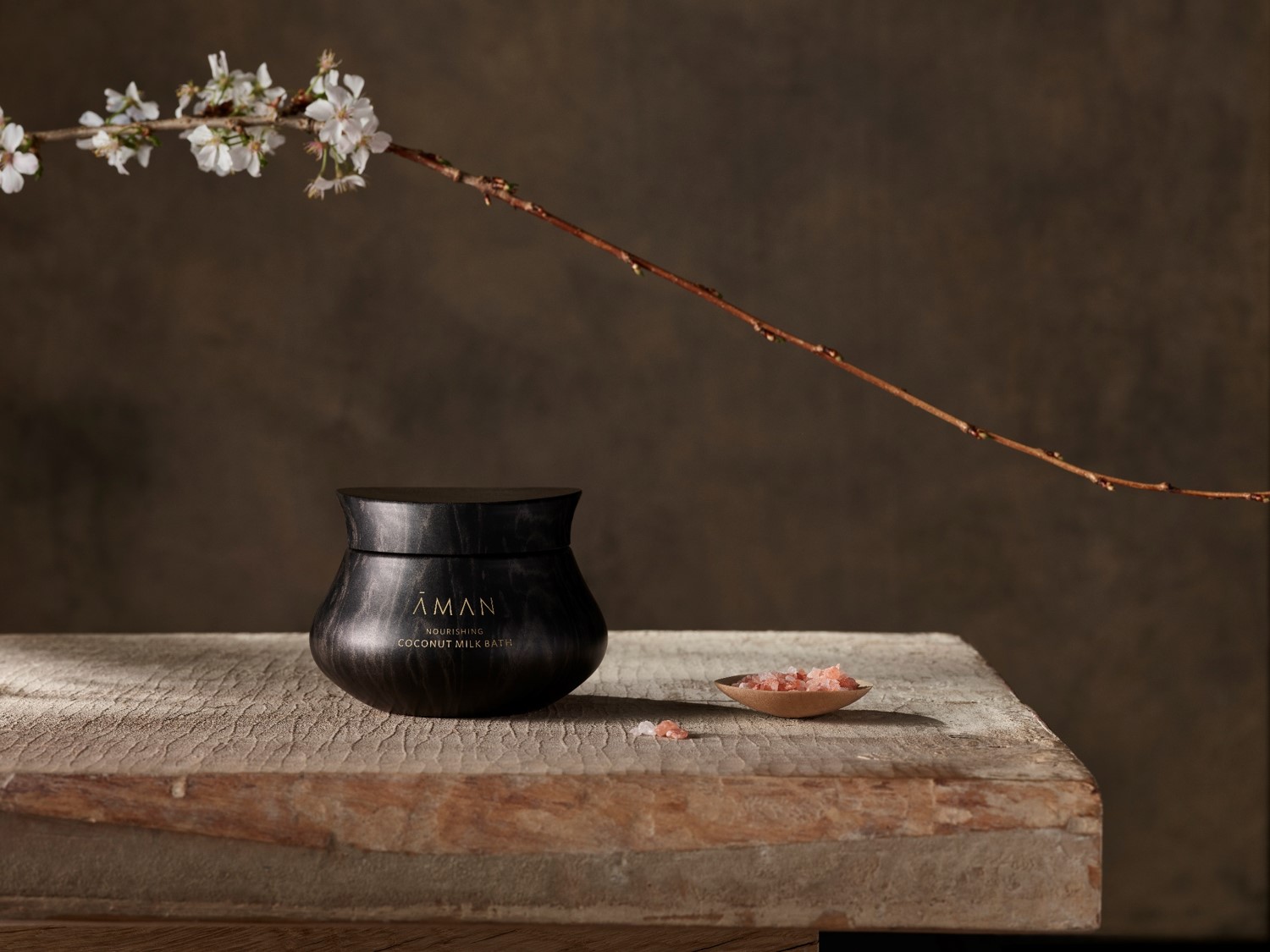 New for 2020, the Ultimate Bath Set combines four powerful products from all three of Aman Skincare's healing pathways. It revives and revitalises and creates an authentic and immersive spa experience at home. This set nurtures healthy, glowing skin while renewing energy levels and imparting a sense of peace and tranquillity. Included in this set is the Purifying Auric Cleanse Bath Salts, Nourishing Golden Body Serum, Nourishing Body Mist and Grounding Smoked Body Butter. These products tone, moisturise and beautify the skin while dispelling tension, lifting the spirits, and promoting a deep sense of emotional and physical wellbeing.
For more than 30 years, Aman has created an opportunity for guests to cast aside quotidian distractions and explore the possibilities of a better, more wholly nourished self from a place of serenity. From jungle to desert, countryside to city, Aman welcomes its guests into a comforting and holistic space to connect body and mind. The collection – which also includes hydrating face creams and serums, nourishing face masks, uplifting body oils, calming milk baths and pulse-point remedies – represents the spirit of Aman in a bottle, perfectly at place in the home.
Aman Skincare is sold online via shop.aman.com, across the collection in the resort boutiques and at the Aman Spa at The Connaught Hotel, London.
---
Petrie PR is a dynamic boutique Asia based PR agency providing specialist communications strategy for the luxury lifestyle, travel, property, design and spa sectors.
Regionally and internationally connected, our reach spans all the most influential media in China, Hong Kong, Singapore, Taiwan and Indonesia as well as emerging markets including Malaysia, Vietnam and Thailand.
Find out more about us.